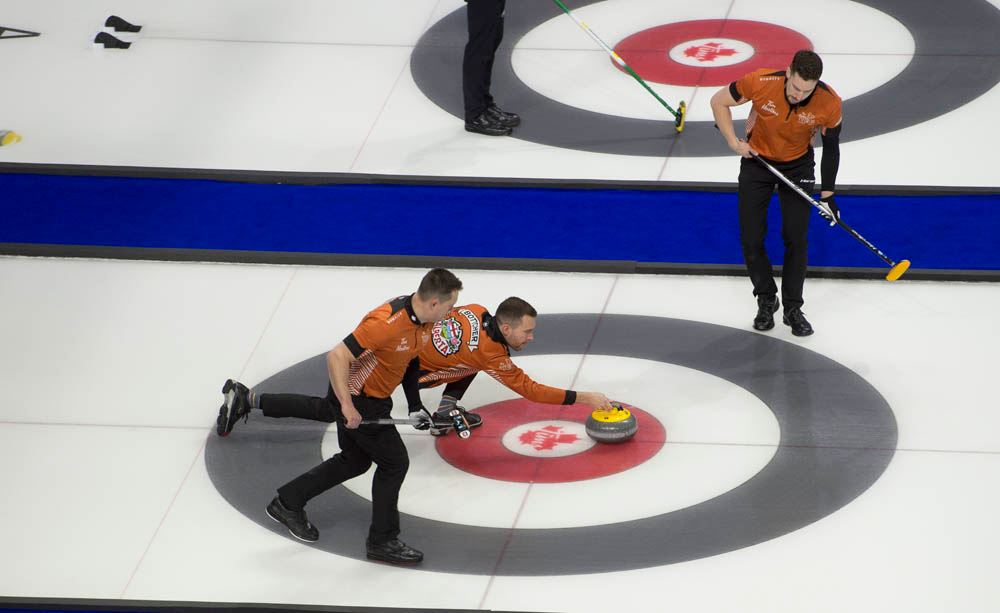 The 2023 Brier Playoffs are officially underway, with Brendan Bottcher (Photo: Michael Burns) and Mike McEwen both picking up victories in Friday's first-round elimination games.

By: Dylan Chenier

London - Brendan Bottcher is off to the page-playoff at the 2023 Tim Horton's Brier in London, after the 2021 national champion picked up an 8-5 win over Northern Ontario's Team Horgan in the first round of the playoffs on Friday afternoon in London.

Friday's sudden-death game got underway with Bottcher opening the scoring in the first end with a single point, after which Horgan would respond with a deuce to lead 2-1. With his final shot in the third, the Northern Ontario skip was a hair wide on his attempt at a nose hit to sit three, which allowed Bottcher to turn around and score three for himself, putting Wild Card #1 up 4-2 after three ends of play.

After giving up a steal of one in the fourth, Horgan needed a bite of the button with his last shot in the fifth to score one. Unfortunately, the skip wasn't heavy enough on his throw, giving up a second consecutive steal of one. At the break, Team Bottcher led 6-2.

Coming back in six, both teams would put plenty of rocks in play, with Horgan scoring a single point on his last shot, cutting Bottcher's lead to three. Wild Card #1 would put another one on the board in seven to lead 7-3 with just three ends remaining.

Down by three with the hammer eight, Horgan needed to score multiple points to maintain a realistic shot at victory. The skip instead would be forced to draw for a single point. An uncharacteristic miss by Bottcher on his last shot in the ninth gave Horgan a steal of one, but Wild Card #1 would retain hammer and a two-point lead coming home in the tenth.

Team Wild Card #1 was able to put things away in the tenth, with Bottcher scoring a single point to add one more to his tally, with the 2021 Brier champion taking the win 8-5. "I think that was one of our better games of the week. We came out... and played great and capitalized when we got a couple of half shots and [find] ourselves in the playoffs," Bottcher said after the win.

With the victory, Team Wild Card #1 now advances to the page-playoff seeding draw where they will face Matt Dunstone and Team Manitoba on Friday night for a spot in Saturday's 1v2 page-playoff game. "A win tonight [is] big, [it] puts us in a [really] good spot. I think we're playing well and if we do all the right things and claw to win tonight, that will be huge for us," added the skip.

Meanwhile, today's loss brings an end to Tanner Horgan's 2023 Brier tournament, with the 25-year-old making the playoffs in his first appearance at the men's national championship. "[In] this moment, there's a lot of mixed emotions. I mean, if you told us at the start of the year that we'd be in the Brier playoffs, then we would have been pretty happy," Horgan said.

"Obviously, ending on a loss is not what you want to do. But, this will give us lots to think about over the summer, and I'm sure this will fuel us coming back into it next year."

The loss also marks the end of Northern Ontario lead Colin Hodgson's Brier career, as the longtime competitor announced his departure from the sport prior to the start of this year's tournament. "It's something that I didn't see happening earlier in the season," Hodgson said of the ability to play in one more men's national championship.

"We were not in a great place a few times and we were one shot away from it ending in a very different fashion and I think that would have been sad. So yeah, it's just nice to be able to finish it up in a way that you know, I can look back on in the future."

The other page-playoff qualification game on Friday afternoon saw Mike McEwen's home-province Ontario rink defeat Kevin Koe and Team Alberta 9-8 in a thrilling back-and-forth battle between the two veteran skips. With the win, McEwen's rink now advances to the second round where they will face defending champions Team Gushue for a spot in the 1v2 game.

The losers of tonight's two draws will face off in the 3v4 page playoff game on Saturday afternoon. Friday's page-playoff seeding draw gets underway at 7:00 p.m. ET.