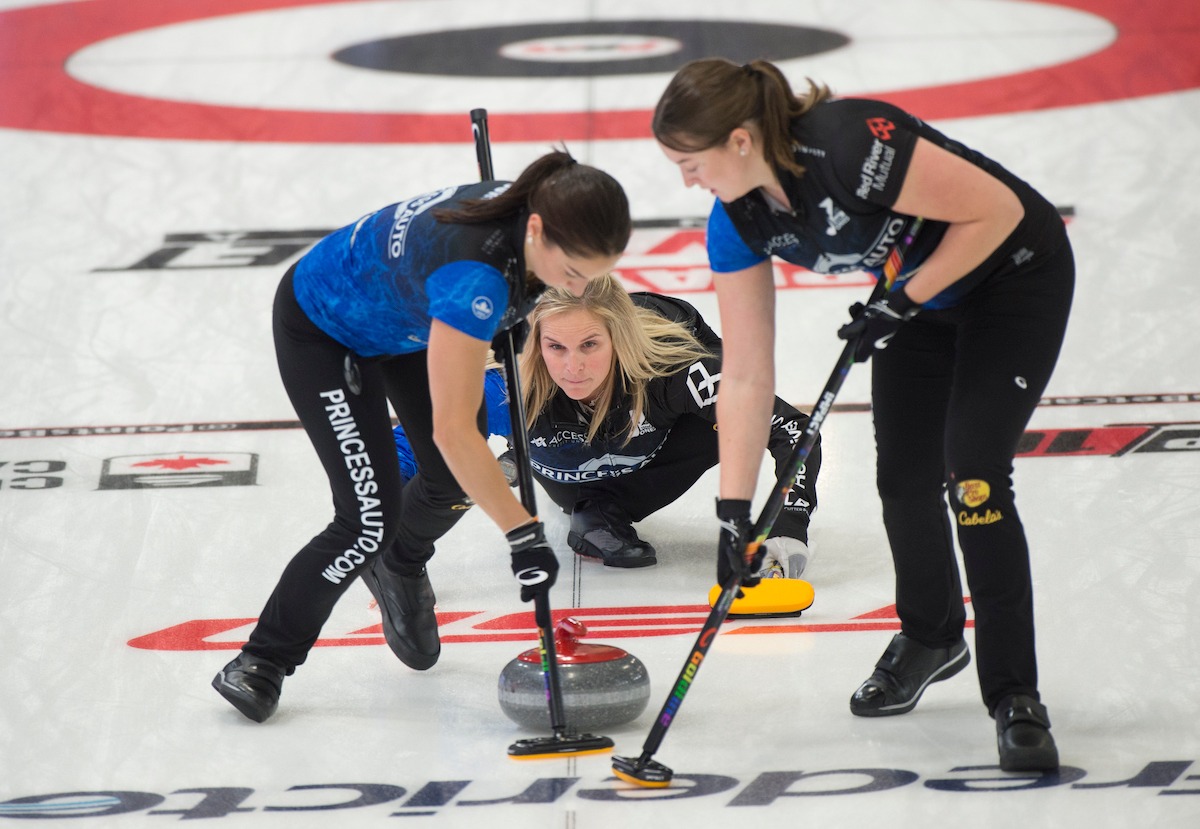 After Thursday afternoon's Draw 6, just three rinks are undefeated at the Manitoba Scotties in East St. Paul, as Teams Jones (Picture: Curling Canada), McLeod, and Lawes all sit at 3-0.

By: Dylan Chenier

After six draws of competition at the Manitoba Scotties Tournament of Hearts, just three teams remain undefeated, after Lisa McLeod's Portage-based rink got by Team Ackland 9-8 in Draw 6 on Thursday afternoon in East St. Paul.

Thursday's draw got underway with Team McLeod- third Janelle Lach, second Hallie McCannell, and lead Jolene Calum- picking up a deuce in the first end after starting with the hammer. After forcing Ackland to one in the second end, McLeod would extend her lead in the third with a score of one, putting her rink up 3-1 early on.

End number four would see Abbey Ackland's hometown squad pick up their first multiple-point end of the draw, scoring three to take a 4-1 lead after four ends of play. Team McLeod would quickly retake the lead in the fifth end, scoring a deuce to lead 5-4 heading into the break.

Coming back in the sixth, McLeod's rink would capture the first stolen point of the end, taking a single from Ackland to lead 6-4.

Down by two in the seventh end, Ackland was able to tie things up with an impressive draw for two points, but the skip from East St. Paul would once again relinquish the hammer heading into an important eight end of play. McLeod would keep things tight with just three ends remaining, settling for a single point in eight.

Down 6-7 with the hammer in the ninth, Ackland was looking for an impressive haul or a blank heading into the tenth. However, with McLeod's rock placement making a blank difficult, Ackland would be forced to attempt a hit for one on her last shot. Unfortunately for the 28-year-old, her final rock would sail right through both of McLeod's stones, handing the team from Portage a steal of two.

Despite a valiant effort by Ackland's rink in the tenth end, the team was unable to score the three points necessary to force an extra end, handing Team McLeod the win 9-8. With their victory, Team McLeod joins Jennifer Jones' rink as the only two undefeated teams in the Asham Express Red Group, both holding records of 3-0.

Jones was able to pick up her third straight victory of the tournament with an impressive 11-3 win over Team Calvert in Draw 6. Jones and McLeod will square off in an exciting matchup later this evening, at 7:45 p.m. CT.

Meanwhile, in the Asham Black Group, Kaitlyn Lawes remains undefeated at 3-0. Her next draw is set for Thursday at 4:00 p.m. CT against Darcey Robertson.

The 2023 Manitoba Scotties Tournament of Hearts continues this evening at the East St. Paul Arena, with Draw 7 set for 4:00 p.m. CT, while Draw 8 takes to the ice at 7:45 CT. Once round-robin action wraps up on Friday afternoon, the top three teams from each group will advance to the championship round.

All the action can be streamed live through Curl Manitoba's YouTube page.