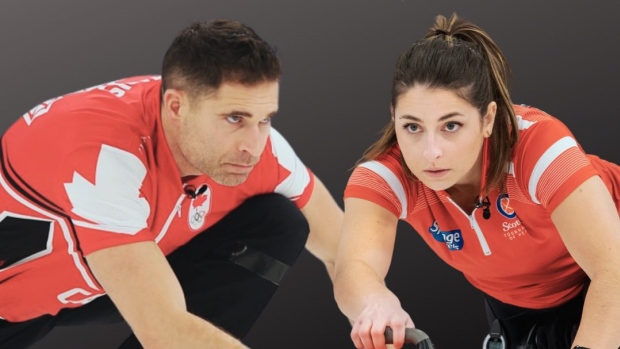 The new Canadian mixed doubles pair will have to wait to see where they land in the playoff picture (Photo: Team Birchard/Morris).

By: Cameron Sallaj

The round robin of the Winnipeg Open Mixed Doubles Super Series has concluded for the new pairing of Shannon Birchard and John Morris from Winnipeg and Canmore respectively. The team wrapped up their preliminary round action Friday night against Morris' former partner Rachel Homan and Tyler Tardi.

Homan/Tardi of Ottawa and Langley started the game with the hammer and counted one in the first end. Birchard/Morris then matched the score to sit even at one all.

The first deuce of the game was scored in the third by Homan/Tardi, but was again matched by Birchard/Morris, keeping the score even at three all.

Coming back in the fifth, Birchard/Morris stole a point for their first lead of the game. Homan/Tardi were able to get one back to remain tied but without hammer heading to the seventh.

The seventh end proved to be the deciding factor in the tight game, with Birchard/Morris able to crack three to put themselves ahead 7-4 with only one end to go. Homan/Tardi could only get one in the eighth and final end, resulting in a victory for Shannon Birchard and John Morris.

With their round robin now concluded at 3-1, Birchard/Morris will have to wait for Saturday mornings draw results to see if they will advance to the playoff round. Now at 1-2, Homan/Tardi have a slim chance of reaching the knockout round but first need to win their final round robin game against Walker/Muyres to stay in the mix.

Elsewhere in Draw 8, Skaslien/Nedregotten (1-2; Oslo, NOR) recorded their first victory of the event 9-7 over Gill/Hewitt (2-2; Melbourne, AUS) and Sauder/Sluchinski (2-2; Edmonton, AB) stayed alive following an 8-6 decision over Callum/Michaeleski (0-3; Winnipeg, MB).

Weagle/Epping (3-0; Toronto, ON) continued their winning ways with an 8-6 extra end win over Albrecht/Wozniak (1-2; Zurich, SUI) as did Scholl/Harsch (3-0; Oberstorf, GER) in a 9-5 game over Walker/Muyres (1-2; Edmonton/Regina).

The Winnipeg Open Mixed Doubles Super Series event sees twenty-five teams split into five pools of five. Once the round robin stage is complete, the top ten teams will move on to the playoff round with the top six automatically advancing to the quarterfinals. The championship round will be played Sunday with the event final set for 4:00 PM Eastern Time.

SCORES, STANDINGS, and STREAMING LINKS on www.CurlingZone.com.