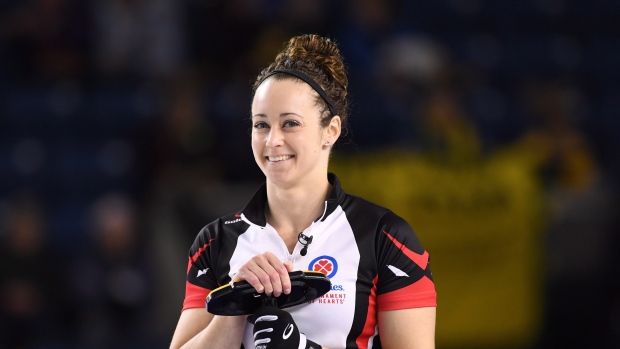 Former "super sweeper" (Photo: Curling Canada) competed in her first triathlon Saturday in Edmonton.

By: Cameron Sallaj

With her curling career in the rearview mirror, Joanne Courtney, the former lead for the Rachel Homan rink out of Ottawa, began her new career as a triathlete over the weekend in Edmonton.

In February 2022, Courtney announced that she would be stepping away from Team Homan following the 2021-22 season, citing that she was going to be focusing on her family and career. This led her to transition to becoming a triathlete, which was no easy feat for the former Olympian.

"My initial thought was there's no way I can do this, which is always when you get a little bit excited about something, because anytime you can look in the mirror a month, two months, six months down the road and see yourself able to do something you couldn't even come close to doing, I mean, that's the biggest thing, and that's what you chase a lot of your athletic career."

It was a learning process for Courtney through her training. When she decided to become a triathlete, she did not know how to swim.

"The last time I'd swum front crawl continuously was when I was maybe a pre-teen."




Successful mini training camp with my triathlon trainer!

I watched my first race, did a pool session to work on my swim technique, got on a tri bike and fell while clipped in, learned how to pack a bike, did a max HR test, and got out for my first open water swim!https://twitter.com/JoCourtney89/status/1526577824223662081/photo/1


May 17, 2022



Despite not having a set goal before the race, Courtney did better than she expected heading into her first ever race Saturday in Edmonton. In the PKO 25K, she finished with a time of 1:14:03, placing forty-ninth out of all two hundred and six participants in the race. She is expected to compete next in a 100K race in Dallas.





👏👏👏 @JoCourtney89

Jo has caught the triathlon bug after completing her first race #PTOTour #TheRaceIsOn July 23, 2022






One of the people on the sidelines cheering Courtney on was none other than her former skip and teammate Rachel Homan. For the upcoming 2022-23 season, the Homan lineup will be shuffled around due to Courtney's departure. Former third and second Emma Miskew and Sarah Wilkes will each move down the lineup one position each while the team adds new teammate Tracy Fleury to the back end.

Skipping her own team out of East St. Paul, Manitoba for the previous Olympic quadrennial, Fleury and her team finished runner-up at the Olympic Trials to the Jennifer Jones rink. The revised Homan team will look to create new success this upcoming season and pick up where Courtney left off. The team is currently scheduled to compete in the Autumn Gold Curling Classic and Red Deer Curling Classic tour events.