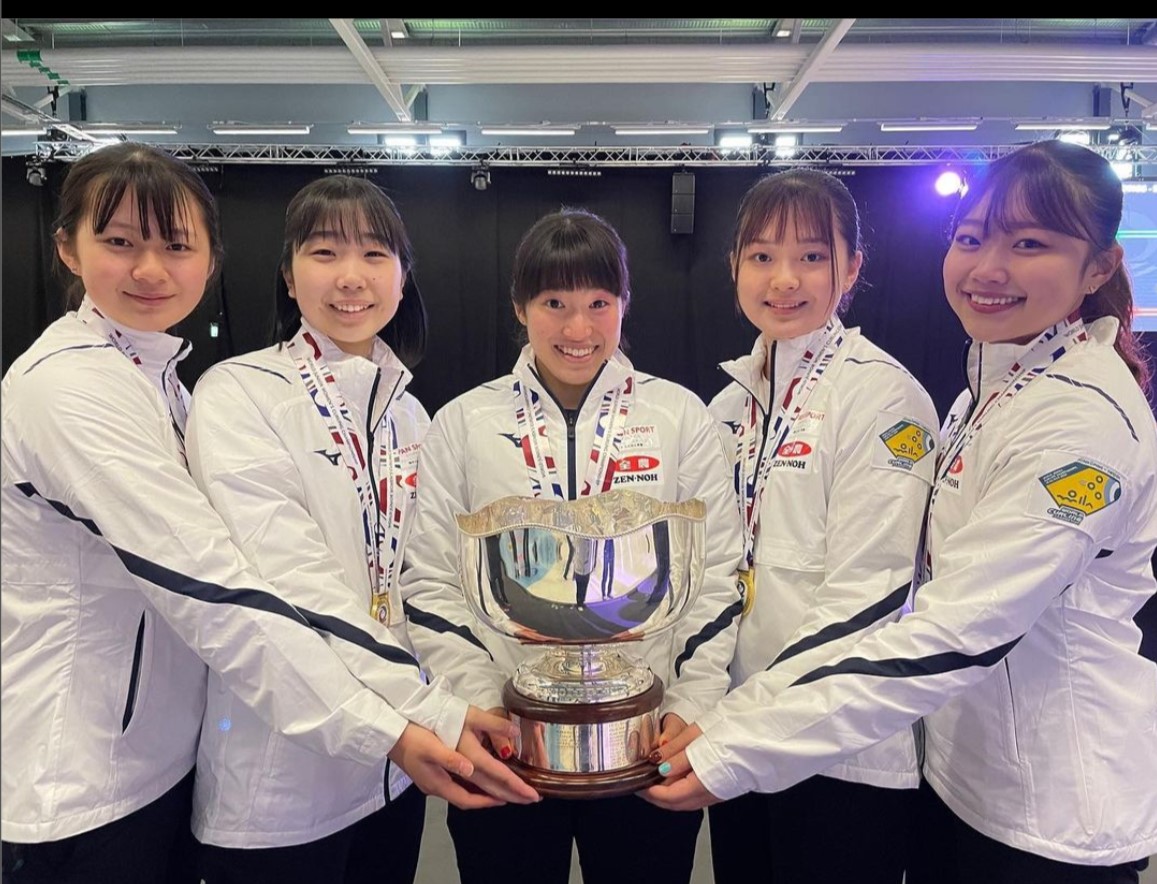 Japan's Sae Yamamoto rink from Karuizawa (Photo: Cheyenne Boone/WCF) are the 2022 World Junior Curling champions.

History was made in the women's final of the World Junior final as the game saw Japan win their first ever gold medal in an international curling competition. The team, consisting of skip Sae Yamamoto, fourth Miyu Ueno, third Eri Ogihara, second Yui Ueno, alternate Yuina Miura and coach Ayumi Ogasawara won 7-4 over Sweden's Moa Dryburgh in Sunday's final.

The Japanese rink began the game with the hammer and opened with a single point. The Swedish team matched this in the second, tying the game at one apiece.

Sweden took the lead for the first time in the third end with a steal of a single point. It was short lived, however, as Japan were able to convert a deuce in the fourth to jump ahead once again 3-2. Sweden tied the scoring once again with a single in the fifth end, making the score three all at the halfway point.

Japan played a clinical second half en route to securing the World Junior title. This started with a single point in the sixth end, followed by a pivotal steal in the seventh.

Dryburgh and her Swedish side were able to answer back with a single in the eighth, but they would trail 6-4 in the last end after Japan got another point in the ninth end.

Trailing by two in the tenth, Sweden needed to at least convert a deuce to send the game into an extra end. With Japan lying shot stone buried on the button, Dryburgh attempted an angle runback on her last shot to tie the game up, but she just missed the Japanese shot rock. Japan stole one in the end and took the victory by a final score of 7-4.

This is the first time Japan has ever won gold at an international curling competition since the country joined the WCF in 1985. The countries' previous best finish at the junior level was a silver medal by Akiko Katoh in both 1998 and 1999.

For Yamamoto, this was her last year of junior eligibility and she ended her junior career on a high note. The twenty-one year old skip previously placed fourth at the 2020 World Juniors in Krasnoyarsk, Russia.

Despite losing the final, the 2022 World Juniors were still a success for Moa Dryburgh and her Swedish rink. At just sixteen years old, the Swedish skip is among the youngest to ever reach the podium at a World Junior Championship and still has many more years of junior eligibility.

In the women's bronze medal game, the United States' took home third place honors with a 10-6 victory over Norway' Eirin Mesloe. The US team tied the game with a deuce in the eighth followed by two back to back steals of two to close out the competition.