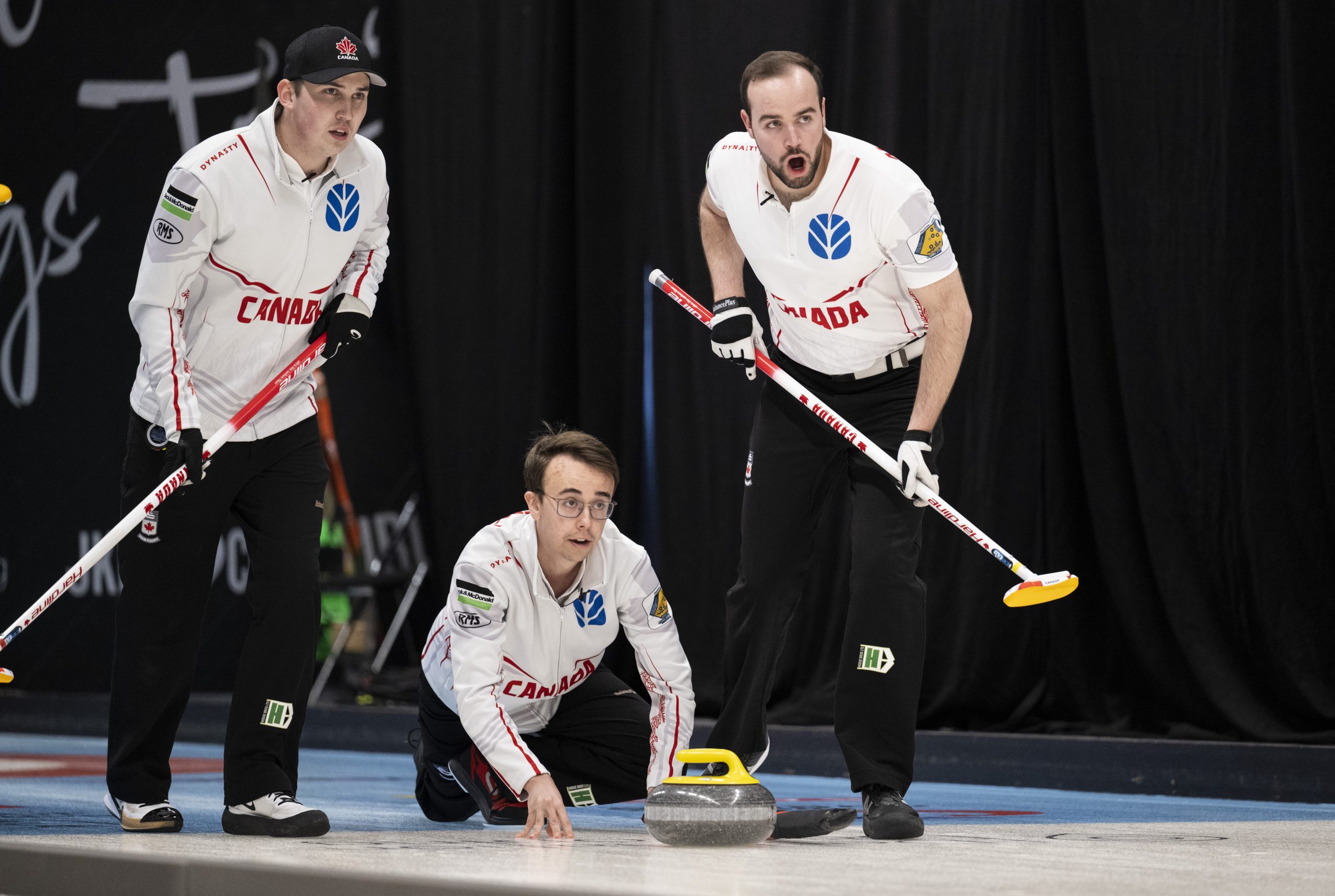 Team Canada's Owen Purcell rink (Photo: WCF) are within reach of a playoff spot at the 2022 World Junior Curling Championships after three straight wins in Jonkoping.

By: Cameron Sallaj

After finding themselves in the bottom half of the standings at the halfway point of the round robin, Team Canada's Owen Purcell rink from Halifax have found momentum and are now within reach of qualifying for the playoffs at the 2022 World Junior Curling Championships. The team, consisting of Purcell, third Joel Krats, second Adam McEachren, lead Scott Weagle and alternate Scott Mitchell, initially fell to 0-2 before picking up two straight victories to even out their record. They then fell to the Kim Schwaller Swiss rink to fall back to 2-3.

The Canadians sixth game of round robin play was against Scotland's James Craik rink, who were sitting atop the standings with a 5-0 record heading into the match. Team Purcell trailed 3-2 at the halfway point, but were able to pick up a key three points in the sixth end to jump ahead 5-3. Following a blank in seven, the Scottish side retook the lead with a deuce in the eighth end and a single point steal in the ninth to give themselves the 6-5 edge. They then forced Canada to one in the tenth, sending the game into an extra end.

In that extra, it would be Canada who would prevail with the 7-6 victory after stealing a single point. This handed Scotland their first and so far only loss of the event, and boosted Canada to an even 3-3 record in the standings.

After the game, Team Canada's second Adam McEachren said that "They're an unreal team. I know they maybe didn't have their best game this game, but they're still a phenomenal team. That win does more than just put a win under the 'W' section of our record. "Getting in a good win against a good team that's undefeated does a lot for our confidence."

Next, the Purcell rink went up against South Korea skipped by Lee Jae-beom, whom they were tied in the standings with. This game was a bit simpler as the Canadians were able to execute textbook strategy in order to secure the win over the Korean side. After sitting at one all after three ends, Team Canada were able to take two and force one ends four through nine, ultimately winning the game by a score of 7-4. The win vaulted Canada into a good position in the rankings, but still with work to do in order to secure qualification.

"We're definitely starting to get rolling here a little bit, I think we're more confident" said Canadian lead Scott Weagle following the match. "The ice is starting to straighten out, which I think is working to our favour, as well. But for the most part, it's the confidence."

In their most recent game, Team Canada faced another difficult opponent in Norway's Grunde Buraas, who sat above Canada with a 5-2 record heading into the game. Despite this, it was the Canadians who were able to jump in front by two after three ends, and later led 2-1 after five. The teams traded deuces through the ends six and seven, meaning Canada continued to lead by a single point. In the eighth, Team Purcell were able to put five points on the board to secure a 9-3 victory over the Norwegian side.

With the win, Canada now move into a tie for third place in the standings with both Norway and Switzerland, who are also 5-3. Scotland and Germany have already secured playoff spots with 7-1 records each, while the United States are one game back of the pack at 4-4.

In their final round robin game, the Purcell rink will face Sweden's Team Axel Landelius, who are currently sitting in ninth place with a 1-7 record. No matter if they win or lose, the Canadians must wait for the results of both Norway and Switzerland's games to know if they will qualify for the four team playoff round. The final men's round robin draw will get underway Friday morning at 8:00 AM Eastern Time.

In the women's competition, Canada's Team Isabelle Ladouceur have been eliminated from contention with a 2-5 record. The team lost their lone match on Thursday to the United States' Delaney Strouse 11-5, who have already secured the first women's playoff spot.

In order to avoid relegation, the Ladouceur rink, with third Jamie Smith, second Lauren Rajala, lead Katie Shaw and alternate Katy Lukowich must defeat South Korea's Kang Bo-bae (3-4) in their penultimate round robin game. That game will go Friday morning at 3:00 AM Eastern Time, while the team will close out their competition against Japan's Sae Yamamoto (5-2) at 1:00 PM Eastern Time.

SCORES, STANDINGS and STREAMING LINKS at www.CurlingZone.com.