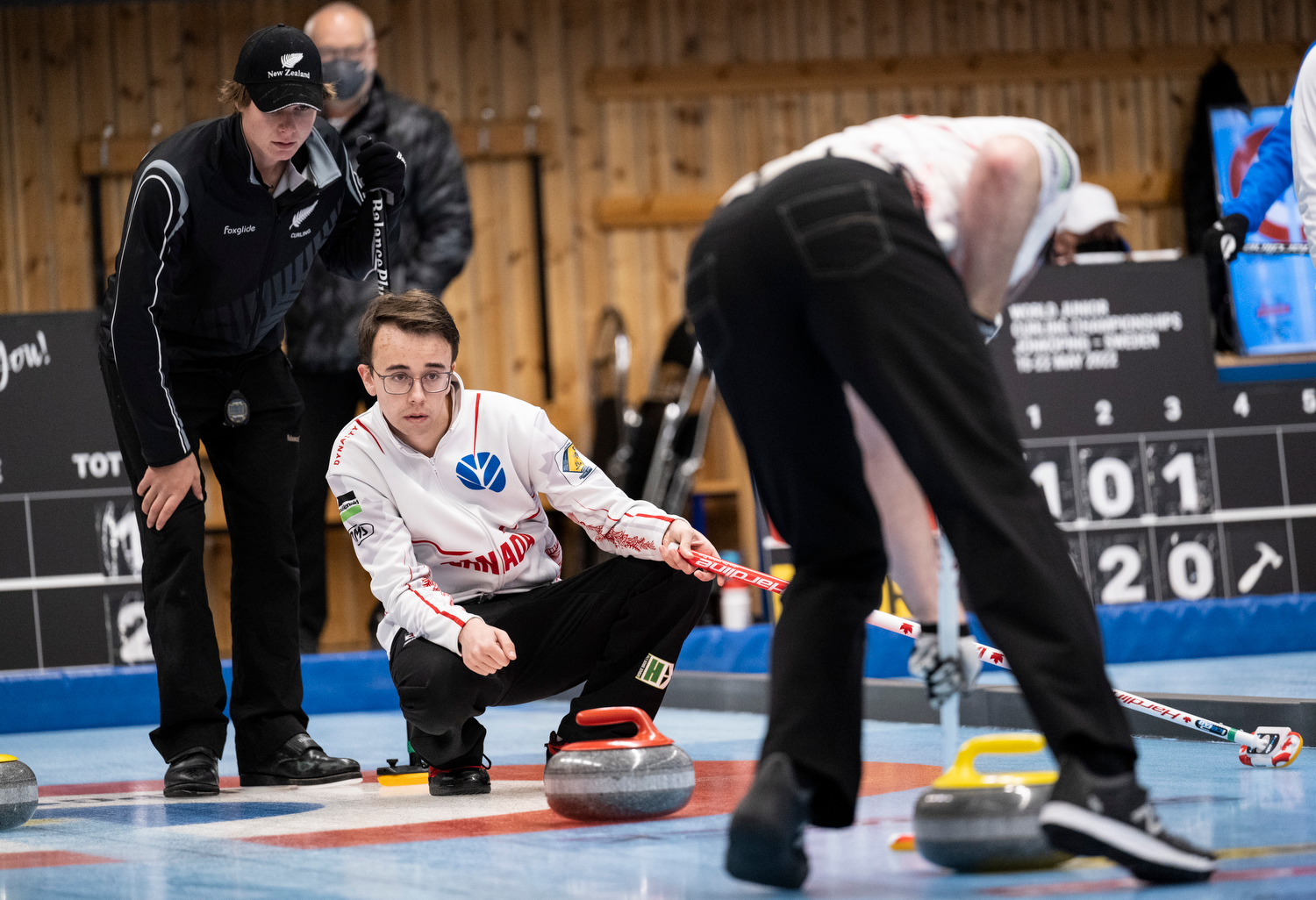 Canada's Team Purcell (Picture: WCF) split the day on Tuesday at the World Junior Curling Championships, picking up a win against New Zealand before falling to Switzerland.

By: Dylan Chenier

With the 2022 World Junior Curling Championships in Jonkoping now past the halfway mark, both Canadian teams remain in playoff contention as the weekend fast approaches.

After three full days of round-robin competition, Canada's men's rink skipped by Nova Scotia's Owen Purcell find themselves in sixth place in the standings, with a record of 2-3. Canada currently sits behind Norway and South Korea, with both rinks sitting at 3-2.

Meanwhile, on the women's side, Canada's Team Isabelle Ladouceur sits in seventh place with a 1-3 record. The rink from Sudbury currently trails Japan, Switzerland, and Sweden who are in a three-way tie for fourth place with 2-2 records.

Both teams Purcell and Ladouceur are just outside the playoff mix, with the top four men's and women's rinks advancing to this weekend's playoffs.

Tuesday saw Team Purcell pick up a dominant 10-2 victory against New Zeland before dropping a 7-5 contest to Team Switzerland in the evening contest. The rink has just one game on Wednesday, as they take on Scotland in the afternoon draw. The Scotts, skipped by James Craik, are currently in a tie for first place with a record of 5-0.

For Canada's women's rink, Team Ladouceur suffered their second-consecutive defeat on Tuesday, with an 11-5 loss to Switzerland. The squad will look to rebound as they take to the ice twice on Wednesday, first in the morning against Sweden before taking on Denmark in the evening draw.

With Tuesday's draws now officially in the books, there are just three days remaining in the round-robin before the attention switches to the playoffs. Both Canadian rinks remain in contention but will likely need to win the majority of their remaining games in order to advance to the weekend.

At the last edition of the world juniors, played in Russia in 2020, teams needed at least a 5-4 record to make it to the playoffs. Luckily, both teams still have enough games left to finish with a 5-4 record or better.

This week in Sweden, Canada is looking to repeat its junior successes from 2020, which saw the nation take home gold medals in both the men's and women's competitions.

The round-robin will officially conclude on Friday with the semifinals set for Saturday.