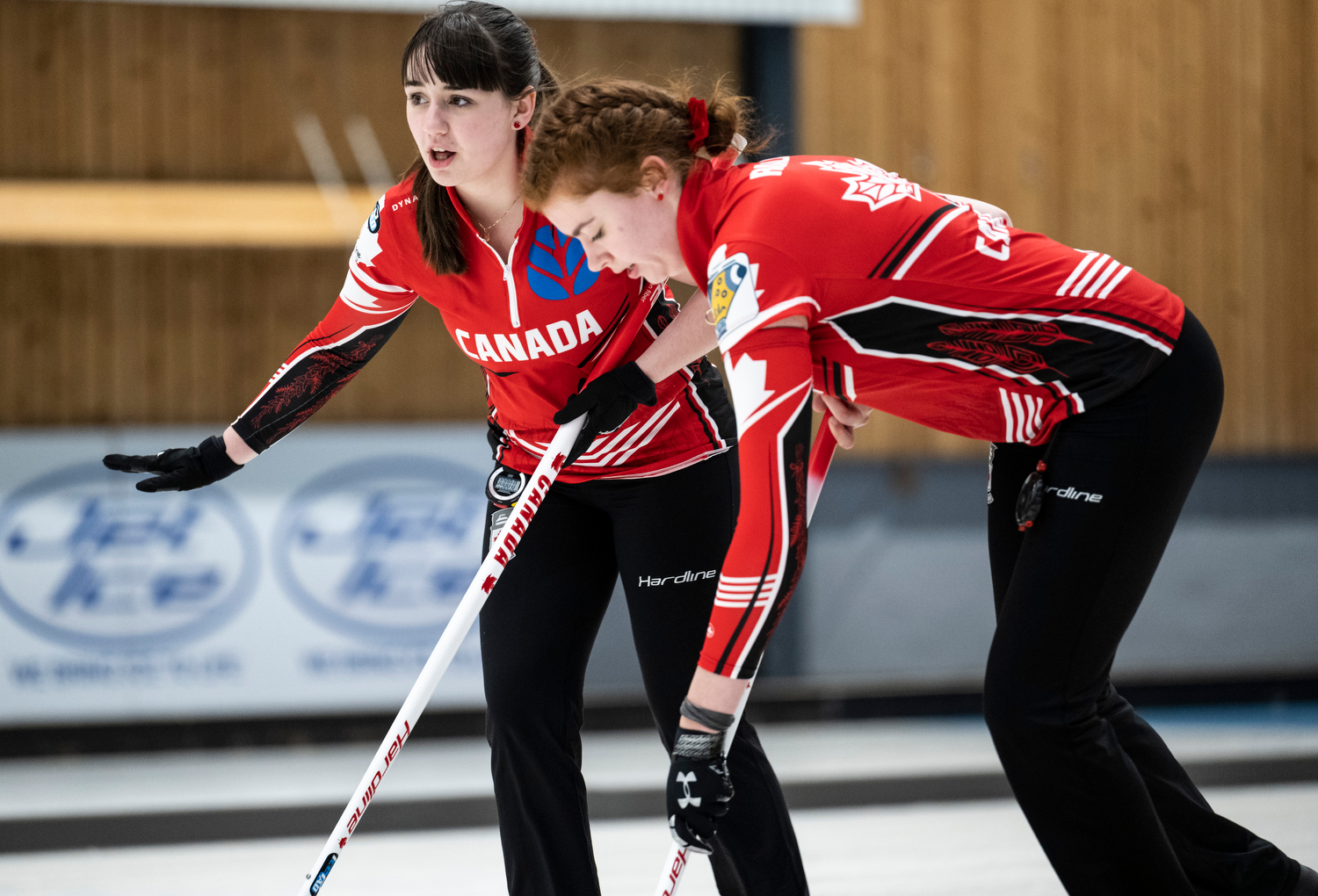 Canada's Team Ladouceur (Picture: WCF) picked up their first win of the World Junior Curling Championship, with an 8-6 victory against Switzerland on Monday morning.

By: Dylan Chenier

After suffering three straight losses on the first day of the 2022 World Junior Curling Championships, Canada rebounded on Day Two with the men's and women's rinks both picking up victories on Monday.

Up first, Canada's women's team, skipped by Emma Ladouceur, took a narrow 8-6 win against Team Switzerland in Draw 4. The Canadians scored a triple in the second end, as well as deuces in the fifth and seventh, en route to the victory.

This morning's win marked Team Ladouceur's first victory of the tournament after the rink fell to Scotland 9-7 in their opening draw on Sunday. While the team was pleased to get on the winning side of the standings, the celebrations were short-lived after the rink dropped their next game to Latvia in the evening draw.

With the Latvians scoring four in the second end, the team would then steal three in the third to lead 7-0 early on. While Ladouceur would close the gap considerably throughout the game, it was not enough for the Canadians, with the rink eventually falling by a score of 12-8.

After finishing the day with a record of 1-2, Team Ladouceur moves into fourth place in the women's standings. The rink will look to get back on the winning side of the column on Tuesday, as they face Norway in the afternoon draw. The Norwegians are currently in a tie for first place alongside Latvia at 3-0.

Meanwhile, on the men's side, Canada's Team Purcell took a rather one-sided 8-3 victory against Italy in Draw 5, securing the rink its first win of the event. The Canadians stole points in four consecutive ends, including two in the fourth, before scoring two more in eight to take an early win.


Owen Purcell 🇨🇦 makes the quiet weight double raise takeout to score two and take the win! 👏

Watch the #WJCC2022 live on the Curling Channel at https://t.co/fy3vfdBx89 #curling pic.twitter.com/cGz1NEawQG

— World Curling (@worldcurling) May 16, 2022

With the victory, Canada's men's team now improves to 1-2, with the squad hoping to even out their record tomorrow morning when they face New Zealand. Team Purcell will also face Switzerland in the evening draw.

After two full days of competition, Canada sits in a tie for fifth place in the men's standings, alongside the Italian rink. Germany, Norway, and Scotland all lead the way with 3-0 records.

The 2022 World Junior Curling Championships continue on Tuesday in Jonkoping, with Draw 7 set for 3:00 AM, with Canada facing Team New Zealand on Sheet E.