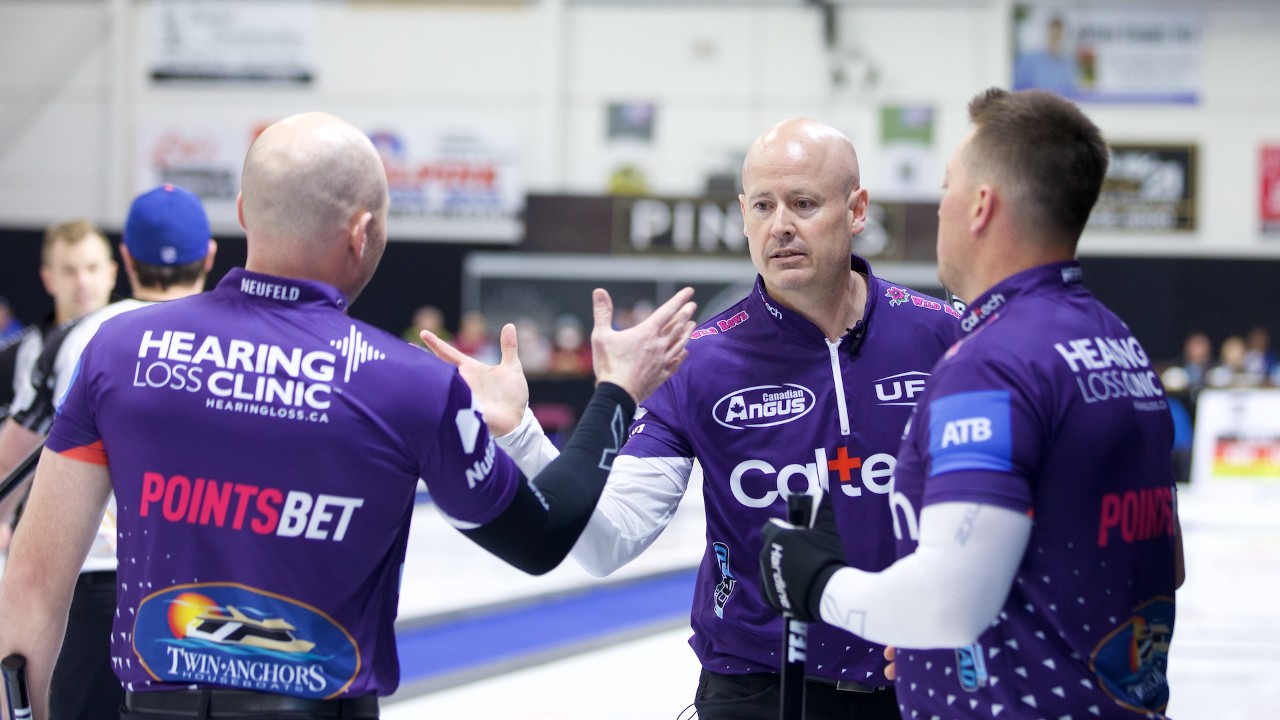 With a 4-1 record in the round-robin, Alberta's Team Koe (Picture: GSOC/ Anil Mungal) has earned a bye into this evening's semifinals.

By: Dylan Chenier

The playoff bracket on the men's side at the 2022 Champions Cup has been set, with Kevin Koe and Niklas Edin advancing directly to the semifinals.

The weekend will officially get underway with two quarterfinals set for 4:00 PM MT. In that draw, Northern Ontario's Team Jacobs takes on Jason Gunnlaugson of Manitoba, while Alberta's Brendan Bottcher faces off against Newfoundland's Team Gushue.

Of the six men's playoff rinks, Gunnlaugson, Koe and Edin have yet to win a Champions Cup in their careers, while the other three teams have each won the event once.

This week's tournament utilized a two-pool round-robin, with each rink playing five games. At the end of yesterday's final draw, Koe and Edin sat atop the standings with 4-1 records, earning a bye into the semifinals.

Meanwhile, on the women's side, a tiebreaker between Kerri Einarson and Korea's Team Kim will decide the final playoff spot. Both rinks finished the round-robin with records of 3-2 and will need to pull out one more win to officially make the playoffs.

Saturday's tiebreaker gets underway at 12:00 PM MT at the Olds Sportsplex, ahead of this evening's quarterfinals.

The winner of the Einarson vs Kim matchup will advance to the quarterfinals where they will face off against Ontario's Rachel Homan.

The other women's quarterfinal sees South Korea's Team Gim take to the ice against Manitoba's Team Fleury. The Fleury rink is searching for their second Grand Slam title of the season, while Team Gim is making their first-ever playoff appearance at a Slam.

Sweden's Anna Hasselborg, the 2022 Olympic bronze medalist, and Switzerland's Silvana Tirinzoni, the 2022 world champion, have both earned spots in Saturday night's semifinals.

All teams are looking to secure one of two entries in tomorrow's championship finals, with the men's game set for 10:00 AM MT, while the women's championship goes at 1:30 PM MT.