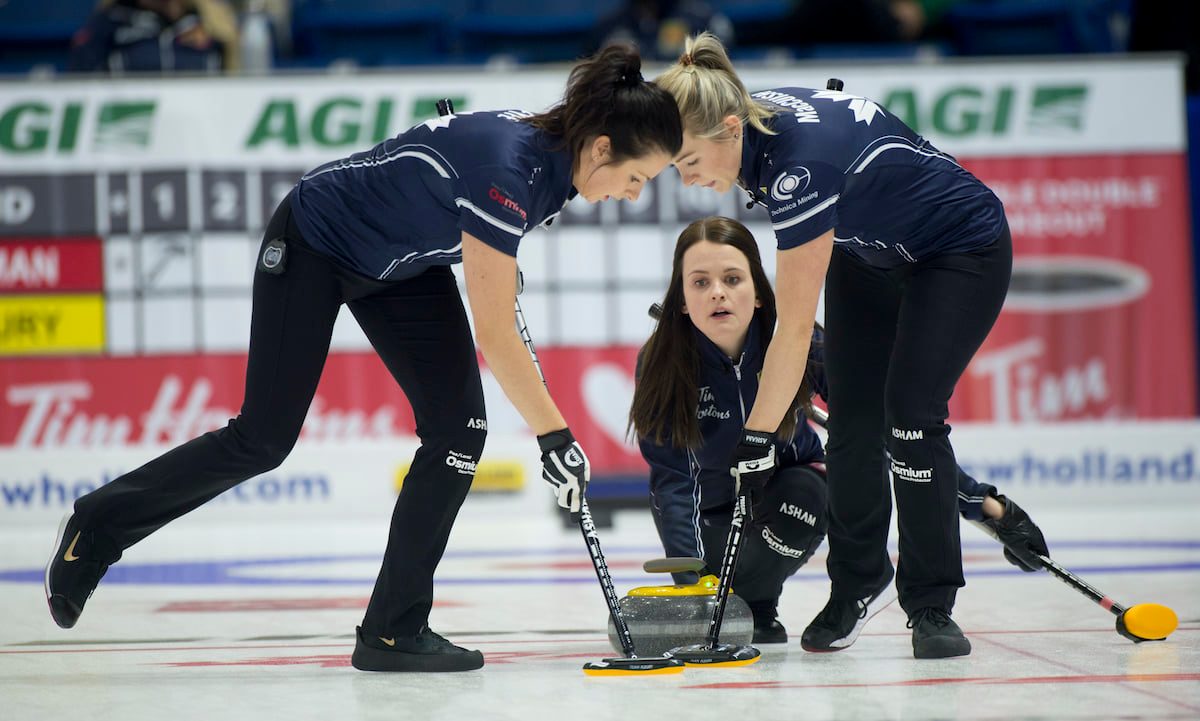 Manitoba's Team Fleury (Picture: Curling Canada) are the number-one ranked team heading into the 2022 Scotties Tournament of Hearts, which gets underway Friday in Thunder Bay, Ontario.

By: Dylan Chenier

This year's Scotties Tournament of Hearts in Thunder Bay marks the second year in a row the event has been held behind closed doors. However, the lack of fans won't stop the women competing next week from giving it their all in pursuit of a national title.

Manitoba's Team Tracy Fleury (Wild Card 1) enters the competition as the number-one ranked rink in the country. The squad from East St. Paul will be hoping to find a winning formula in order to claim their first national title.

Team Fleury has enjoyed their fair share of successes and disappointments throughout the 2021-22 season. After winning three of their first five competitions, including the 2021 GSOC Masters in Oakville, Fleury's rink experienced a heartbreaking loss in the championship final at the 2021 Tim Hortons Curling Trials in Saskatoon.

After sailing through the round-robin with an 8-0 record, Fleury would eventually fall to Team Jones 6-5 in the championship final, ending their hopes of representing Canada at the 2022 Winter Olympics in Beijing.

Team Fleury tried to put the disappointment of Saskatoon behind them at the 2022 Manitoba Scotties in Carberry, however, a record of 5-3 in the championship round was not enough to advance to the playoffs. Despite the disappointing result at their provincial championships, Fleury's rink received the first Wild Card birth into this year's Scotties, based on their number-one spot in the CTRS standings.

In Thunder Bay, Team Fleury will compete in Pool A, alongside several top rinks, including Teams Carey (WC2) and Homan (WC3).

Regina's Team Carey enters this year's Scotties as the fourth-ranked team in the competition. The new rink has enjoyed a number of positive results so far this season, including a victory at the Craven SPORTS Services Curling Classic in September.

Despite a loss in the championship final at the 2022 Viterra Saskatchewan Scotties in January, Team Carey earned a spot in this year's national Scotties as the second-placed Wild Card rink, after Curling Canada elected to expand the event due to COVID constraints on a number of provincial championships.

Wild Card 2's Skip Chelsea Carey will be looking for her third Scotties title at this year's competition; her first while curling out of Saskatchewan.

Alongside Fleury and Carey in Pool A will be Ottawa's Team Homan (WC3). While the team is one of the most recognizable names in Canadian curling, they will be sporting a different lineup next week.

With skip Rachel Homan off representing Canada in mixed doubles at the Beijing Olympics, Team Homan will be skipped by Emma Miskew. Miskew, who usually plays third on the team, will have Sarah Wilkes as her third, Alii Flaxey at second, and Joanne Courtney as Lead.

The team from Ottawa enters this year's Scotties having lost the last three-consecutive Scotties finals. A victory in Thunder Bay would reverse that slump, giving the rink their fourth national title.

Pool B is where you will find two-time defending champions Team Einarson (CA). While the rink from Gimli, Manitoba is the third-ranked team heading into next week's event, they will face some tough competition if they hope to make it three in a row.

Coming into this year's Scotties, Team Einarson has experienced a rather disappointing 2021-22 season-to-date. In six events so far, the team from Gimli has failed to win a single championship. Their best result was a second-place finish at the Sherwood Park Women's Curling Classic back in September.

At the 2021 Tim Hortons Curling Trials in Saskatoon in November, Team Einarson finished the round-robin at 4-4, earning them a spot in the tiebreakers. After defeating Team Scheidegger 8-6 in the first tiebreaker, Einarson would eventually fall to Krista McCarville's rink 4-3 in the second tiebreaker.

For the two-time defending national champions, the result in Saskatoon was likely a big disappointment. While the team will have to wait another four years for their next shot at the Olympics, a third consecutive Scotties title would likely be a nice consolation prize.

Alberta's Team Walker is the top-seeded rink in Pool B, entering the week as the third-ranked team in the country. So far this season, Walker's rink has enjoyed some strong runs, winning two of the nine events they have entered thus far.

At last year's Scotties in Calgary, Team Walker finished the championship pool with a record of 9-3, earning them a spot in the tiebreakers, where they would defeat Jennifer Jones 9-8 to advance to the semi-finals. In the semis, Team Walker would go on to lose 9-3 to the eventual champions Team Einarson.

In Thunder Bay, Team Walker will be looking for their first national women's title.

While the event features a number of the top women's teams in the country, there are several mid-ranked teams who could certainly play spoiler throughout the week.

Despite a lack of fans, hometown rink Team McCarville (NO) will be looking to pull off an impressive performance on home ice. After making it to the semi-finals at the Olympic Trials in November, McCarville's squad will be looking to maintain that momentum heading into their first nationals appearance since 2020.

Manitoba's Team Zacharias is a young rink hoping to upset some of the more experienced teams, in their second consecutive Scotties appearance. At last year's event, Team Zacharias went 3-5 in the round-robin, which was not enough to advance to the championship round.

This year, Zacharias' rink will be sporting the Manitoba colours for the first time, after winning their first-ever provincial women's title back in December.

Overall, this year's Scotties field features 18 women's rinks competing across two pools of nine. After an 18 draw round-robin,
the top three rinks in each pool will advance to an expanded playoff.

Here's a look at how the two pools are set up:

Pool A

1. Team Wild Card 1: Tracy Fleury (Selena Njegovan, Liz Fyfe, Kristin MacCuish, Robyn Njegovan, Sherry Middaugh; East St. Paul, Man.)

4. Team Wild Card 2: Chelsea Carey (Jolene Campbell, Stephanie Schmidt, Jennifer Armstrong, Rachel Erickson, Colin Hodgson; Regina)

5. Team Wild Card 3: Rachel Homan (NOTE - Homan will not be participating due to mixed doubles commitment at 2022 Olympic Winter Games; Emma Miskew to skip; Sarah Wilkes, Alli Flaxey, Joanne Courtney, Lynn Kreviazuk, Marcel Rocque; Ottawa)

8. Saskatchewan: Penny Barker (Christie Gamble, Jenna Enge, Danielle Sicinski, Amber Holland, Mark Lang; Moose Jaw, Sask.)

9. Northern Ontario: Krista McCarville (Kendra Lilly, Ashley Sippala, Sarah Potts, Jen Gates, Rick Lang; Thunder Bay, Ont.)

12. New Brunswick: Andrea Crawford (Andrea Crawford, Sylvie Quillian, Jill Babin, Katie Foward, Daryell Nowlan; Fredericton)

13. Prince Edward Island: Suzanne Birt (Marie Christianson, Meaghan Hughes, Michelle McQuaid, Kathy O'Rourke; Montague & Cornwall)

16. Newfoundland & Labrador: Sarah Hill (Kelli Sharpe, Beth Hamilton, Adrienne Mercer, Laura Phillips; St. John's)

17. Nunavut: Brigitte MacPhail (Sadie Pinksen, Kaitlin MacDonald, Alison Taylor, Donalda Mattie; Iqaluit)


Pool B

2. Alberta: Laura Walker (Kate Cameron, Taylor McDonald, Nadine Scotland, Dana Ferguson, Shannon Pynn; Edmonton)

3. Team Canada: Kerri Einarson (Val Sweeting, Shannon Birchard, Briane Meilleur, Krysten Karwacki, Reid Carruthers; Gimli, Man.)

6. Manitoba: Mackenzie Zacharias (Karlee Burgess, Emily Zacharias, Lauren Lenentine, Lori Olson-Johns, Sheldon Zacharias; Altona)

7. Ontario, Hollie Duncan (Megan Balsdon, Rachelle Strybosch, Tess Bobbie, Julie Tippin, Barry Westman; Woodstock)

10. Northwest Territories: Kerry Galusha, lead stones, (Jo-Ann Rizzo, Sarah Koltun, Margot Flemming, Megan Koehler, Shona Barbour; Yellowknife)

11. Nova Scotia: Christina Black (Jenn Baxter, Karlee Everist, Shelley Barker, Carole MacLean, Stuart MacLean; Dartmouth)

14. British Columbia: Mary-Anne Arsenault (Jeanna Schraeder, Sasha Carter, Renee Simons, Morgan Muise, Gerry Richard; Kelowna)

15. Quebec: Laurie St-Georges (Hailey Armstrong, Emily Riley, Cynthia St-Georges, Alanna Routledge, Michel St-Georges; Glenmore & Laval-sur-le-Lac, Que.)

18. Yukon: Hailey Birnie (Patty Wallingham, Kerry Campbell, Kerry Campbell, Kim Tuor, Stephanie Brown, Bill Tschirhart; Whitehorse)

The team ranked second and third in their respective pools will each crossover to play in page playoff qualifier games on Friday afternoon. The winners will then advance to play the top-ranked teams from pool play. The winners of those games go to the Page 1v2 game, while the losers will compete in the Page 3v4 game.

The remainder of the playoffs will be run using the familiar page playoff format, with the winner of the 1v2 game advancing to the championship final. The winner of the 3v4 game then moves on to play the loser of the 1v2 game in the semi-final on Sunday afternoon, with the winner advancing to the finals.

The winner of the 2022 Scotties Tournament of Hearts will earn the right to represent Canada at the World Women's Curling Championships in Prince Geroge, BC, this March.

Fans can follow the action throughout the 11-day event, by visiting www.CurllingZone.com, for live SCORES and STANDINGS.

The entire event will be broadcast live on TSN.