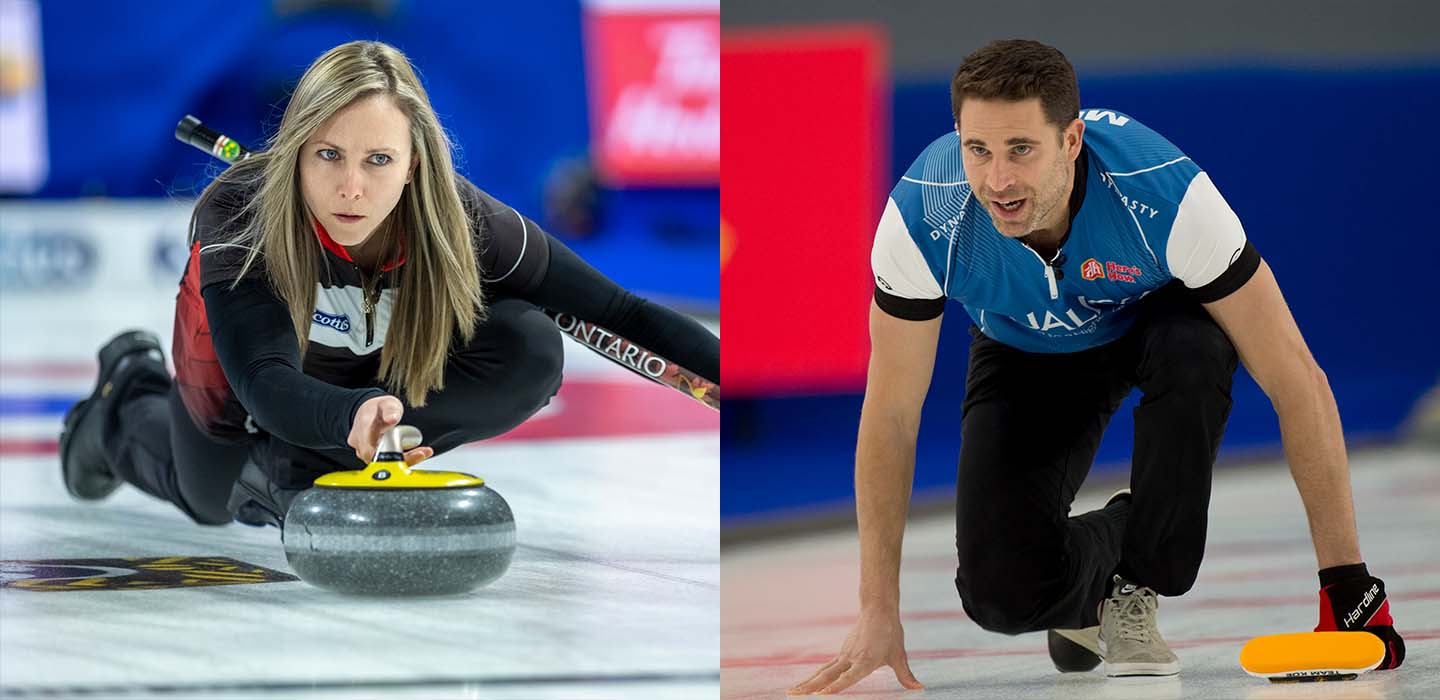 Rachel Homan and John Morris (Pictures: Curling Canada/left, Andrew Klaver, right, Michael Burns) are heading back to the Olympic Winter Games, this time as Canada's mixed doubles team.

By: Dylan Chenier

In an announcement by Curling Canada and the Canadian Olympic Committee, Rachel Homan and John Morris have been confirmed as Canada's representatives in Mixed Doubles curling at the 2022 Olympic Winter Games in Beijing.

The announcement puts an end to weeks of speculation amongst fans and the media alike, with Homan and Morris long considered

This year's Olympics mark the second-consecutive trip to the Games for both Homan and Morris. At the 2018 event in Pyeongchang, Homan skipped her Ottawa-based rink to a sixth-place finish in the women's team competition. Morris, with partner Kaitlyn Lawes, brought home Canada's only curling medal from the 2018 Games, in the mixed doubles competition.

Morris is in fact a two-time Olympic gold medalist, after winning the men's competition as part of Kevin Martin's rink at Vancouver 2010.

"Rachel and I have played a lot of mixed doubles together over the years with the dream of playing for Canada at the Olympics," added Morris. "We can't wait to get over there and give it our best. We know it's a tough field, but we've worked extremely hard this season and we'll be fighting hard for gold in Beijing."

"John and I are eager to get to Beijing and make Canada proud," said Homan. "We know these are difficult circumstances, and we truly appreciate the faith being shown in us by Curling Canada."

Normally, Curling Canada's Olympic representatives are determined through a trials competition. However, the rise of COVID-19 cases in December forced officials to cancel the Mixed Doubles Trials in Portage la Prairie, meaning Curling Canada would have to formally nominate a team to represent the country in Beijing.

"After cancelling the Trials, we engaged in extensive consultation with the Canadian Olympic Committee and Own the Podium and it became increasingly apparent that the nomination criteria for selecting athletes should put a premium on experience on the world championship and Olympic stage, as well as experience and success playing together in mixed doubles," said Katherine Henderson, Chief Executive Officer of Curling Canada.

"We are blessed with an amazing pool of mixed doubles players, and I feel nothing but compassion for the curlers who were to compete in the Trials and had that opportunity taken from them by the pandemic. But we are confident that Rachel and John will make Canada proud in Beijing."

2022 marks the second year that mixed doubles has been included in the Olympic competition, with a number of countries ready to challenge Canada for gold.

Among the teams competing in Beijing are Great Britain's Dodds/Mouat, the defending World Champions, Switzerland's Peret/Rios, the 2018 Olympic Silver Medalists, and Norway's Skaslien/Nedregotten, 2021 World Silver Medalists

As a duo, Homan and Morris have competed in six events together, having won four championships. Their most recent title came back in the fall at the 2021 Qualico Mixed Doubles Banff tournament, where they went 8-0 on the week, before defeating Team Peterman/Gallant in the final.

While the pair are familiar with each other, having competed together on-and-off since 2016, as a mixed-doubles duo they are used to competing in events that mostly feature teams from Canada and the United States. In Beijing, Homan and Morris are likely to face competition from rinks they have little to no experience with.

However, there will be at least one team that John Morris, in particular, should have a very strong understanding of. Australia's Team Gill/Hewitt are a pair Morris knows quite well, having coached them to their top finish at the Olympic Qualification Event in Leeuwarden, Netherlands.

Morris' knowledge of the Australian duo should come in handy when the two teams faceoff in Draw 12, on February 6th.

With today's announcement, a bit of clarity has also been provided regarding the 2022 Scotties Tournament of Hearts, which is set to begin in just 15 days. Last week CurlON, the sport's governing body in Ontario, announced that Rachel Homan would represent the province at this year's Scotties. However, that selection was conditional on whether the rink's skip would be competing in the Olympics.

With Rachel Homan now confirmed to be competing in Beijing, at the same time the Scotties is on in Thunder Bay, Team Hollie Duncan will officially represent Ontario at the National Championships.

The 2022 Olympic mixed doubles curling competition is set to begin February 2nd in Beijing, with Canada's first game coming in Draw 2 against Great Britain.