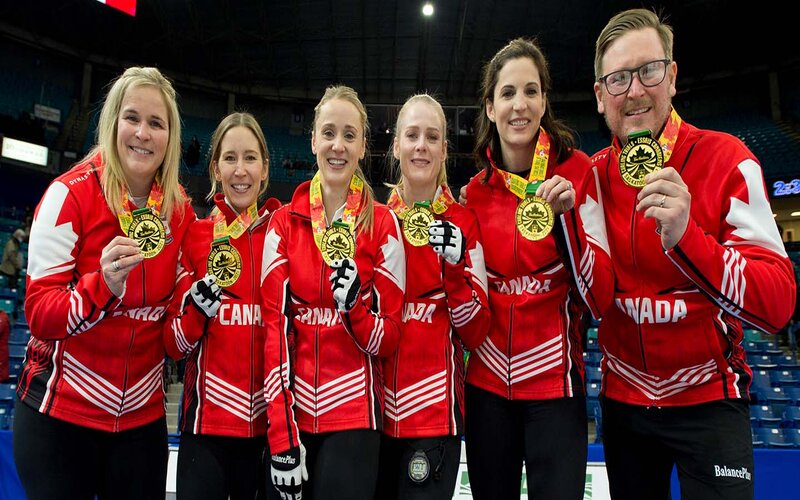 SASKATOON - Jennifer Jones is going back to the Winter Olympics after defeating Tracy Fleury 6-5 in Sunday's championship final at the 2021 Tim Hortons Curling Trials.

By: Dylan Chenier

For Jones, the win comes eight years after she skipped her team to Trials gold at the 2013 event in Winnipeg.

Sunday's draw got underway with Jones stealing one from Fleury. With her final shot in the first, Fleury attempted a tap for two but her stone rolled away too far, giving jones the steal.

A number of stones were in play in the second end, on her last throw Fleury made a flawless draw to the button for one.

Jones made a key shot for three points in the third end, taking a 3-1 lead.

In the fourth end, Fleury had an open draw for two, making her first deuce of the game and tying things up at three-all.

Jones would go on to make a blank in the fifth end, maintaining hammer with everything tied up at three.

A big moment in the sixth end, Jones had a draw for two but was a little too heavy. A measure would reveal that Fleury was second shot, meaning Jones would have to settle for just one.

In the seventh Fleury would be forced to draw for one, tying the game up at four apiece with just three ends to go.

Jones would make the blank in the eighth end, retaining hammer heading into the ninth.

In the ninth end, Jones Fleury was left sitting two on her last shot. Instead of attempting a potentially risky draw for a single, Jones opted to hit giving Fleury a steal of one. Jones would have hammer, down one coming home.

In the tenth, Jones had attempted to make a hit and stick for two and the win. However, she threw it tight allowing the stone to over curl giving her a score of just one. With the game tied at 5-all, an extra end was needed for the first time ever in an Olympic Trials final.

"I thought it was going to stop in time. It just kind of curled right at the end. I was just a little bit tight and I thought Dawn [McEwen] could hold it, and it just rolled out by a rock," Jones said of her shot in the tenth.

"It was pretty disappointing, devastating actually, but I thought we made eight good shots in the last end and made mine as good as it possibly could be."

In the extra, On her last shot, Jones was left sitting one with a guard partially covering her stone. On her final throw, Fleury's stone over curled slightly, ticking the guard and giving Jones a steal for the win.

"I felt like we were in the game from start to finish, I felt like we kinda controlled the game. I can't remember missing such a bad shot to win the game. My team hung in there and we made two good ones on my last two [shots] and made her make a tough shot to win and got fortunate enough to win," Jones said.

For Fleury, the loss comes as a result of two missed shots in the extra end.

"We felt lucky to be able to go the extra and we really wanted to pull it off there but I didn't make my last two shots. I felt close but then it kinda just caught the curl and just wasn't positive enough," Fleury said of the extra end.

"It's disappointing. for sure, but it was a really good battle out there, a close one. We gave it our best try."

For Jones, the victory was one for the history books. Not only does she now become the first-ever Canadian woman to skip a team at two Olympics, but at 47 years of age Jones is now the oldest woman to represent Team Canada.

"How do you even explain it? I started curling because I love the game and I thought if I could even compete in one Scotties my dreams would come true. Here we are going to the Olympics twice. How lucky are we," Jones remarked on making her second trip to the Games.

"It's a true privilege and honour, all I can say is we're going to do our very best to represent Canada and we will leave it all on the ice. We're going to never give up and stand in there till they tell us we can't curl anymore."

Jones, with third Kaitlyn Lawes and lead Dawn McEwen, all curled together on that gold medal-winning team in Sochi back in 2014. In China, the three will have the chance to become the first Canadian curlers to win two different gold medals in the team event. Kaitlyn Lawes could further make history by becoming the first curler to win three different Olympic gold medals after she won the debut mixed-doubles event with John Morris in 2018.

For Team Jones lead Jocelyn Peterman, the trip to Beijing will mark her Olympic debut.

"So proud of everyone on the team. This is a dream come true, it's been a dream of mine for a long time so I'm just beyond excited," said Peterman.

For Jones, having the opportunity to take Peterman to her first Olympics makes today's victory all the more meaningful.

"It means the world. If you don't know Jocelyn, she's the nicest human being in the world. She works harder than any other human being I've ever seen work. She's just such a tremendous teammate," Jones said.

Peterman actually lost the 2017 Trials final as a member of Chelsea Carey's rink, Jones is grateful to have played a part in getting the lead to her first Winter Games.

"They lost the Trials final last time and I know it was heartbreaking. Then to do it and to go with this team after we've worked so hard and figured out ways to be better, I'm super proud, it's really a privilege."

After taking a few days to celebrate their accomplishment, Jones and the team will shift their focus to the task at hand, winning Canada an Olympic gold medal. There is certain to be plenty of pressure on the team as they prepare for the Games after Canada disappointed in 2018 by failing to medal in either the men's or women's competition.

Team Jones will likely compete at the 2022 GSOC Canadian Open in late January, where they will face a number of international Olympic teams. They will then continue their prep ahead of the Games, which begin on February 4th.