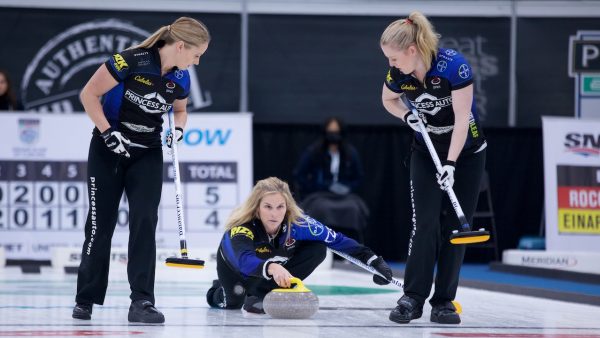 Team Jennifer Jones (Photo: Anil Mungal, Grand Slam of Curling) picked up their fourth-consecutive win of the 2021 Tim Hortons Curling Trials with a victory against Casey Scheidegger's Alberta rink.

By: Dylan Chenier

Team Jones, with third Kaitlyn Lawes, second Jocelyn Peterman, and lead Dawn McEwen, opened the Draw Seven matchup with a score of two in the first end after starting with hammer.

Scheidegger was forced to one in the second, but a stolen point by the Alberta squad in the third end evened things up at two apiece.

In the fourth end, The Manitoba-based rink opened things up again, scoring their second deuce of the game. After forcing Scheidegger to one in the fifth, Jones held a one-point lead at 4-3 heading into the break.

After two-straight blanked ends, Jones scored another double, opening up a 6-3 lead, with just two ends to go.

In the ninth end, Scheidegger's rink had a chance at a big end but opted to play conservatively and took a double, their first of the game. With just one end to go, Scheidlegger trailed 6-5 but gave hammer back to Jones.

In the tenth, Scheidegger was unable to sit two with her final shot, handing jones a single point and the win.

With their victory, Team Jones improves their record to 4-0, and are one of just two undefeated teams left in this year's field.

Jennifer Jones made some impressive shots in the game, curling 89% compared to Scheidegger's 76%. It was Jones' second-best performance of the event so far, after curling a remarkable 99% in their first draw victory against team McCarville.

Against Scheidegger, the entire Jones rink curled for a combined 88% with second Jocelyn Peterman leading the way at 90%.

Up next for the Team Jones, in their quest to win a second Tim Hortons Trials Title, is a meeting with Manitoba rivals Team Einarson.

The two rinks have met just once so far this season, with Jones taking a 5-4 victory at the Curlers Corner Autumn Gold Curling Classic in October.

In other Draw Seven results, Team Fleury picked up their third straight win of the event, downing Northern Ontario's Krista McCarville 9-2. Defending Trials champions Team Homan picked up their first victory of this year's event, after getting by Team Rocque 9-6.

Also, Kerri Einarson evened her record at 2-2, after getting by Alberta's Team walker 9-5. Walker was without third Kate Cameron, who sat out the draw due to after falling ill.

A statement put out by Curling Canada indicates that Cameron has taken two rapid tests for COVID-19 in the past four days, and has tested negative. Cameron will take a PCR test on Tuesday, ahead of Walker's next game on Wednesday morning.

After Seven Draws at this year's Tim Horton's Curling Trials, Team Jones leads the way at 4-0 followed closely by Team Fleury at 3-0. Ontario's Jacqueline Harrison sits in third at 2-1, with Team Einarson and Scheidegger tied at 2-2.

The women's competition at this year's Trials continues Tuesday Night at the SaskTel Centre in Saskatoon.

SCORES and BRACKETS at www.curlingzone.com.