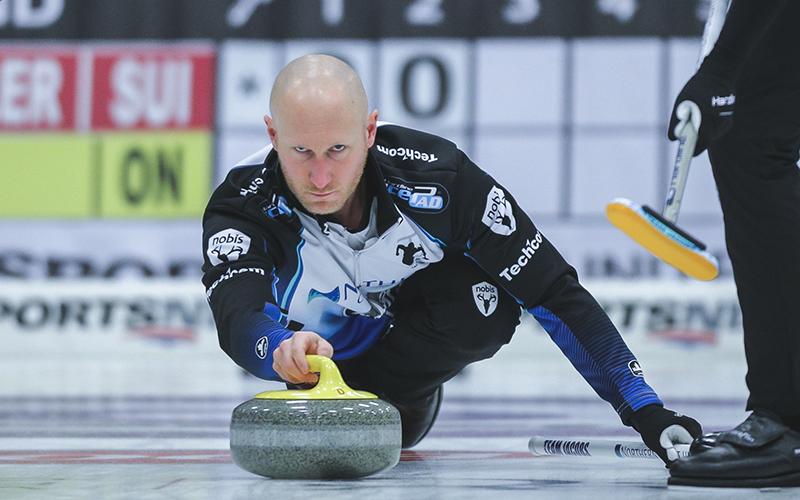 Sault Ste. Marie's Brad Jacobs (photo: Jeffrey Au) plays Regina Matt Dunstone in IG Wealth Management Western Showdown as Curling Stadium feature game at 9 am MT.

Jacobs with his team of Marc Kennedy at third, E.J. Harnden at second and Ryan Harnden at lead, went through the A-event bracket going undefeated into the playoff round.

Jacobs won their opener 8-2 against Michael Carss of Saskatoon, then won 5-3 over Ryan Wiebe of Winnipeg and finished winning the A-Qualifier game against Japan's Yuta Matsumura.


Brad Jacobs and Matt Dunstone will battle in the @IGWealthMgmt
Western Showdown Quarterfinals as our FEATURE GAME. #curling

Set Reminder to Watch Here:https://t.co/5ZIGDpn5bj

All other sheets will be available as fixed view feeds! pic.twitter.com/OzCIWnvxU0

— CurlingZone (@CurlingZone) October 11, 2021


Calgary's Kevin Koe took a more circuitous route through the triple knockout format at the IG Wealth Management Showdown, played on the ice at the Swift Current Curling Club.

Koe won their opener 7-5 over Saskatoon's Rylan Kleiter, going on to lose 8-7 to Tyler Tardi of Surrey. Koe against split their next two games, winning 8-6 over Jason Jacobson before finding themselves on the C-side due to a 4-3 loss to Dunstone.

Koe bounced back Sunday afternoon with a 6-1 win over Korea's SooHyuk Kim, then won 6-4 against Jacobson in their C-Qualifier match.

Jacobs will hold the hammer to start facing Dunstone in the Quarterfinals, the advantage of winning their way through the A-event bracket.

Jacobs has had success against Dunstone, with a career 11-3 head-to-head record, though Dunstone did win twice in the Calgary bubble last season. Jacobs won their only meeting this season, a 6-5 victory at the Stu Sells Oakville Tankard.

This morning's action will see all four quarterfinals covered through the CurlingZone Youtube channel, with Edmonton's Karsten Sturmay playing Colton Flasch of Saskatoon and Winnipeg's Pat Simmons playing Tardi.

Monday's semifinas play at 1 pm Sask Time (MT) and the Final goes from the Swift Current Curling Club at 5 pm.

Follow the scores at www.curlingzone.com and the broadcast at www.youtube.com/curlingzone.


Brad Jacobs and Matt Dunstone will battle in the @IGWealthMgmt
Western Showdown Quarterfinals as our FEATURE GAME. #curling

Set Reminder to Watch Here:https://t.co/5ZIGDpn5bj

All other sheets will be available as fixed view feeds! pic.twitter.com/OzCIWnvxU0

— CurlingZone (@CurlingZone) October 11, 2021