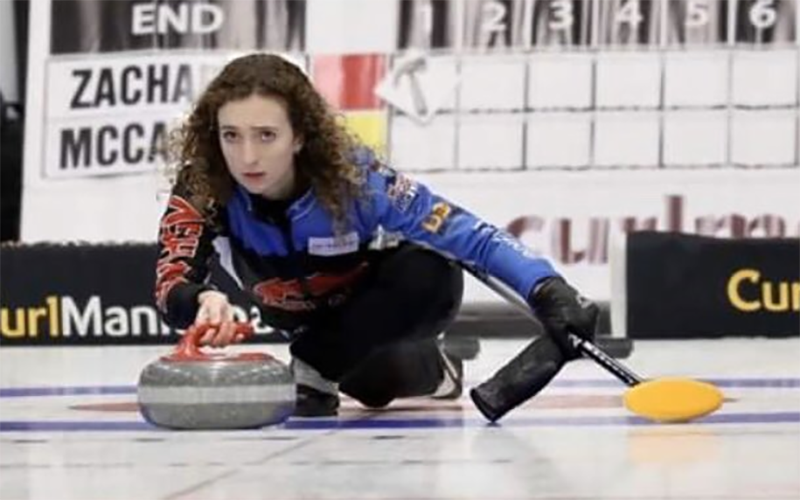 Mackenzie Zacharias (Altona, Man) won 5-3 over Beth Peterson (Winnipeg) in Mother Club Curling Classic Final on Sunday.

Zacharias with Karlee Burgess, Emily Zacharias and Lauren Lenentine won undefeated in their opening event of the 2021/22 season.

With Peterson starting with hammer, Zacharias forced Peterson into a draw against three for their single.

In the second end, Zacharias settled for two after wrecking on her draw for three. An unfortunate end for Peterson as they were protecting a steal of two late in the end. After Zacharias drew in with her first, Peterson's draw didn't curl and tapped up their oppoent's stone to leave Zacharias lying two.

In the third end, Peterson kept the pressure on; was left with a runback to score a big end but had to settle for a single point. More pressure from Peterson forced Zacharias to draw four-foot for a single point in the fourth end.

In the sixth end, the dam finally broke for Zacharias, as they used the hammer to control the middle and ended up stealing a pair to take control of the game when Peterson over curled a difficult draw to score.

Zacharias held Peterson to a single in the seventh end, then ran Peterson out of stones in the eighth end for the win.



In the semifinals, Zacharias opened scoring with two in the second end, then added four in the fourth and three in the sixth for a 9-2 win over Kristy McDonald.

With Lisa Blixhavn, Leslie Wilson and Raunora Westcott, McDonald returned to the ice competitively for the first time since the 2015/16 curling season. McDonald played two events in 2018/19 and another in 2019/20.

McDonald went 3-1 to reach the playoff round, winning 7-4 over Darcy Robertson (Winnipeg) in their opening game, then won 6-0 over Marlene Lang (Winnipeg). After losing 5-4 to Zacharias, McDonald bounced back with a 4-3 win over Kaitlyn Jones (Winnipeg).

In the other semifinal matchup, Peterson won 8-3 over Kristy Watling. Peterson finished 4-0 in the round-robin, winning 11-2 over Lang, then 7-4 over Robertson and 8-3 against Jennifer Clarke-Rouire. Peterson won 7-1 against Watling in their last round-robin game.

In their opening game, Zacharias won 6-0 over Watling, then won 8-5 over Jones and wrapped up their round-robin with a 9-2 win over Lang.

In the men's final Riley Smith won 6-4 over Braden Calvert, both of Winnipeg. Smith defeated Pat Simmons (Winnipeg) 4-3 in the semifinals, stealing the eighth end, while Calvert won 8-1 over Ryan Wiebe (Winnipeg).


It was a great weekend at the Granite Curling Club coming out on top after back-to-back semis and final today. Thank you to our family, friends and most importantly our sponsors that have allowed us to travel and compete.

Next for team Zach: Atkins Curling Classic Oct 1-3!! pic.twitter.com/ync4q9t1U1

— Team Zacharias (@TeamZacharias) September 19, 2021