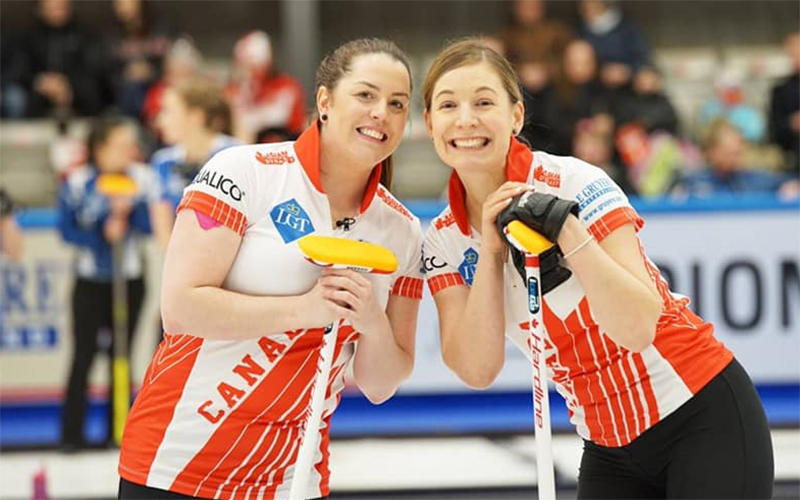 Team Rocque takes to the ice at the Sherwood Park Women's Classic opening Friday afternoon against Jennifer Jones.

By Price Atkinson

In many ways, Rachel "Pooks" Brown and Dana Ferguson are a walking sitcom. They laugh. They giggle. They joke. They smile. It never ends.

"Rachel is the funniest human in the world, I think. She always has a comment for everything, and she has lots of opinions, but that's what makes playing together so enjoyable," Ferguson said. "For me, she knows how I'm feeling at probably every second of the game."

"Dana and I laugh all the time," Brown said. "I am always actively trying to make her laugh because she has the BEST laugh ever!"

Few players on Tour have more fun with the type of infectious personalities than Team Kelsey's Rocque's front end. And they've played together for so long (14 of the last 15 years) that they're basically inseparable. They know each other backwards and forwards.

"That's the benefit of being friends and playing together for roughly 15 years now," Ferguson added. "We both do things for each other every day that the other person probably doesn't even realize or know. We both have each other's back in so many ways."

Where you find one, you'll usually find the other. On and off the ice.

"So many people confuse us as one person all the time. They just assume that we're one person," Fergie said, laughing.

Brown agreed.

"Dana and I have definitely become one person," she said. "Our friends will always start talking about something thinking that they told me, but they only told Dana and just assumed she told me already."

They even have their own Instagram account (see @PooksandFergie), so you can see why people would think they're one person or mistake one for the other.

But despite being inseparable, there are some differences.

"Rachel and I are literally like the exact opposite of each other," Ferguson said. "She is type A and I'm the ultimate procrastinator. But we have very similar views on the world and common goals. It's just the way that we get there that's different."

"We mesh so well because we have ultimate trust in each other," Brown added. "We know exactly what each other are thinking, we have been through the highest of highs and the lowest of lows and we always come out smiling and that is why our sisterhood is so special."

Brown and Ferguson previously played front end for Team Chelsea Carey, winning the 2019 Scotties Tournament of Hearts and competing as Team Canada at the 2019 Women's World Championship in Denmark. The duo linked up with the Alberta-based Rocque after the 2019-20 season when Sarah Wilkes left to join Rachel Homan. With Team Carey unable to find a new third as a replacement for Wilkes, Brown and Ferguson decided to cast their lot with Rocque and teammate Danielle Schmiemann.

"I think it goes without saying just the sheer amount of knowledge and experience that Rachel and Dana bring," Rocque said. "They're not only two of the best in their positions, but they bring a sense of confidence to our team, and I think they are incredibly key in getting us to that next level."

Without a curling season in 2020-21, the new foursome spent all last season preparing for when things began returning to normal on Tour.

Last weekend in Edmonton, they hit the ice for the first time and finished undefeated in round-robin play at the Saville Shoot-Out. Leading 5-3 in their quarterfinal against Team Laura Walker, they gave up three in the final end and were eliminated.

Their strong start has them excited for this weekend at the Alberta Curling Series' Sherwood Park Women's Curling Classic. They open the bonspiel at 2:00 pm (MT) against Jennifer Jones' rink.

"We had a good first event together, but we still have a few pieces that we would like to improve," Rocque said. "We've realistically only played five or six games together as a team, so continuing to find how we want to approach ends and ultimately just focusing on execution."

Ferguson said the fit has been perfect so far.

"The cool thing about our team is that Kelsey and Danielle also have a very strong bond and relationship," she said. "So we kind of operate as two different pods. And I think that's what makes us special, because we understand each other's pods.

"Our team is comfortable with that structure and it's also a very comfortable atmosphere because we all come from a very similar understanding."

Follow all the action from Sherwood Park this weekend at www.CurlingZone.com.