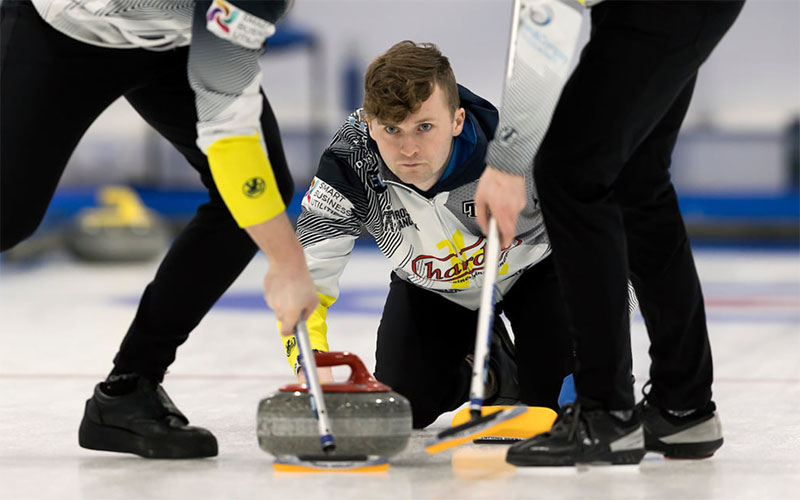 Bruce Mouat (photo: Graeme Hart, PPA) are returning to where it all started when they join a powerful field at the Stu Sells Oakville Tankard this week, including two more Scottish teams.

The quartet of Bruce Mouat, Grant Hardie, Bobby Lammie and Hammy McMillan were newly formed when they made their first trip across the Atlantic in 2017 and promptly won the title.

That sparked a remarkable run of form, which saw them win the Biosteel Fall Classic at the same venue the following week, then go on to a shock victory in their first Grand Slam of Curling competition together at the Boost National.

As they look to build on a solid performance at last week's Euro Super Series event in Stirling, it is the ideal place to head to for their first overseas competition of the season.

"We're very excited to be going back to Oakville, where all of us have played quite a bit and had really good times," said Mouat.

"Our first outings at Oakville in 2017 are great memories for us all."

Their last trip to Canada generated even greater success when they went on another stunning run by reaching the World Championship final. On the following two weekends, they made history by winning back-to-back Grand Slam titles. Still, Mouat is looking forward to a different environment from that experienced when they were playing under rigid protocols to protect against COVID.

"It will be great to go to Canada and not have to be in a bubble," he said.


Scotland's Bruce Mouat (photo: Graeme Hart, PPA) opens their schedule at the Stu Sells Oakville Tankard playing the winner of Tyler Tardi/Mark Kean on Friday afternoon! #curling

Event Schedule:https://t.co/7SNH2uc9uC pic.twitter.com/dgvy4p1Z0o

— CurlingZone (@CurlingZone) September 9, 2021


"We're obviously going to go out there and try to be as safe as possible, but it'll be nice to have a wee bit more freedom in what we can do and eat, and it won't be as challenging because we can go out for walks and runs, whatever, to keep ourselves occupied."

While that promises to make life slightly easier, they know there will be no shortage of challenges on the ice with a formidable home contingent led by the top two teams in the world rankings, skipped by Brad Jacobs and John Epping and also including four-time world champion Glenn Howard.

"The field looks as if it'll be really strong," said Mouat.

"It'll be a great way for us to ramp things up in our season, and hopefully once we get there, we'll be able to settle in quite quickly because we're only going for the one week, so we're looking forward to getting going again."

They also know it is not only the Canadians they have to worry about, since they were joined on the flight over by compatriots Team Paterson, who beat them in the first-ever all-Scottish final at a Grand Slam event to deny them a successful defence of the Boost National in 2018. Team Whyte in also travelling to Oakville, the top Scots in the men's event at last week's Euro Super Series, reached the final and were only narrowly beaten by Switzerland's Team Schwaller.

Mouat's men reached the play-offs last week only to be knocked out in the quarter-finals, and with five-time World and seven-time European champions, Team Edin also losing out at the same stage. The event demonstrated how tough competition would be in a season that sees all the leading teams targeting the Winter Olympics.

"We've learned a few things from the event last week that we're going to be taking forward and trying to improve on because we weren't necessarily happy with how we ended up," Mouat admitted.

"But I guess it shows a lot of depth in Europe, having all those teams that haven't won things like Olympics, Worlds or Europeans that make the final.

"Schwaller obviously is a great team and has been on the circuit a lot, but hasn't had international achievements like De Cruz or Edin, so it was interesting and nice to see that Scotland, Switzerland and Sweden have depth in their countries.

"This is quite a big year for a lot of teams, so leading into February, everyone's going to be trying to peak at that point, and I guess it doesn't necessarily have to happen right now, but everyone's wanting it to."

Meanwhile, Scottish youngsters on British Curling's Performance Foundation programme Team Craik and Team Henderson make their first overseas appearance of the season in St Gallen at a European Junior Curling Tour event.