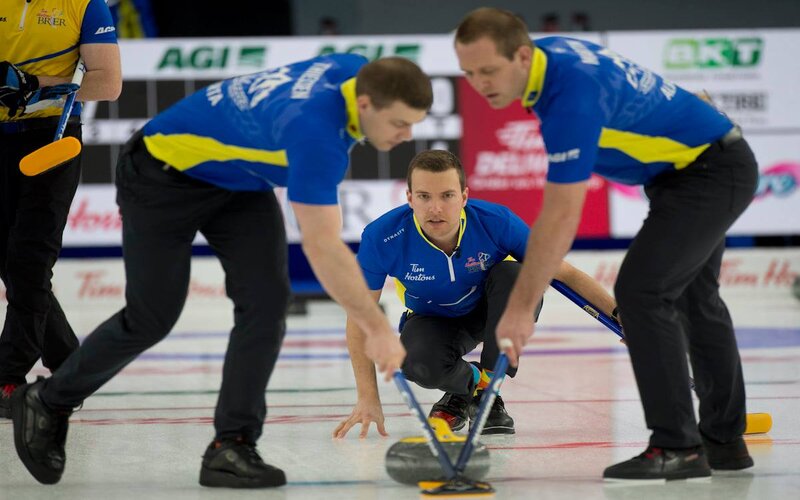 Brendan Bottcher (photo: Curling Canada) won his first-ever Brier on Sunday night in Calgary.

By: Dylan Chenier

After three straight years of disappointment, Alberta's Brendan Bottcher is finally a Brier champion.

Bottcher's rink downed Kevin Koe's Wild Card #2 team, 4-2 in Sunday's final, to take home their first career Tim Hortons Brier title.

"We knew we were going to have to come out here and play our absolute best, and we did," Bottcher said after the game.

"I'm just so proud of the boys for bringing it their all, it's just such a good feeling when you know you've worked so hard, and you come out and play your best at the biggest game there is."

The game got off to a slow start, with Koe getting on the board first with a single in the third end.

It would be three straight blanks before Alberta would open things up with three in the seventh end. Despite a brilliant shot by Koe for one in the eighth, the Wild Card team just couldn't get the breaks they needed for the win.

"Obviously it was a well-played game. I had a pick in seven, I mean, that's obviously huge in a low-scoring game like that. I had a chance to limit it to a deuce, and just missed my double which was unfortunate," said Koe.

"They played well, it was a well-played game, and when they missed, we just didn't take advantage."

The key difference in the game was the shooting percentages among skips, with Bottcher curling an impressive 97% to Koe's disappointing 74%.

With the win, Team Bottcher can put the disappointment of the last three years behind them, knowing now that they have what it takes to win a national championship.

"It's just absolutely amazing, those three years were tough, each one of them for different reasons," said Bottcher.

"It just makes tonight so much more special, that we persevered and worked so hard, we've just been so consistent over the last few years, it's just awesome."

The notion of perseverance resonated with Alberta lead Darren Moulding, who has waited a lifetime to hoist the Brier tankard:

"It's a dream that I've had since I can remember, I don't remember life ever [spent] not dreaming and wanting this," said an emotional Darren Moulding.

"It's a little overwhelming actually, but it's what I always pictured."

With their win, Team Bottcher has earned the right to represent Canada at the 2021 World Men's Curling Championship.

Getting to represent Canada at any time is a dream, [it's] something we take with a lot of pride and we can't wait," said Alberta lead Karrick Martin.

Team Bottcher will be in familiar territory once the World Championships get underway, as the event is being held in Curling Canada's Calgary bubble.

"By the time we get to worlds, this place should be home," Bottcher said.

Team Canada will begin their quest for a World Championship on April 2nd, as they open the tournament against Scotland.