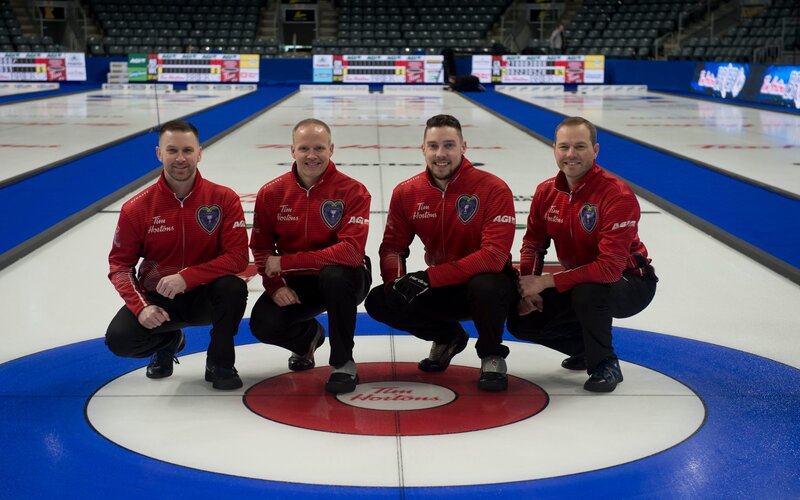 Team Gushue (photo: Curling Canada) is set to defend their Brier title this week in Calgary.

By Dylan Chenier

18 of Canada's best male curling rinks are ready to put it all on the line this week in Calgary, as the 2021 Tim Hortons Brier officially gets underway Friday night.

Due to a lack of competitive events coming into this year's Brier, it's difficult to pick a clear favourite.

However, defending champions Team Gushue are likely to have a large target on their backs this week, as they don their Team Canada jackets in search of their second-straight Brier title.

Gushue defeated Alberta's Brendan Bottcher 7-3 in last year's final in Kingston, to take home his third Canadian men's championship.

Gushue's rink is also likely to have some unfinished business, as they were robbed of the ability to represent Canada at the 2020 World Men's Curling Championships in Scotland, which was cancelled due to COVID-19.

If team Gushue is to repeat as Brier champions, they will be guaranteed a spot in this year's worlds, which will also take place in the Calgary bubble later this spring.

Other contenders at this year's Brier include Alberta's Team Bottcher, who have dropped the last three-consecutive Brier finals.

At last year's event, Bottcher went 10-1 through the championship round and was a force to be reckoned with all week.

2020 Brier bronze medalists team Dunstone (Saskatchewan) will also be a rink worth watching this week. In the off-season, the team parted ways with second Catlin Schneider, and have added Kirk Muyres in that position.

Kevin Koe's rink (Wild Card 2) is another team that made a significant lineup change in the off-season, bringing on former Olympic gold medalist and three-time Brier champion John Morris. Morris will replace Colton Flasch at second, reuniting him with former teammate Ben Hebert.

Northern Ontario's Team Jacobs will be looking to win their first Brier since 2013. The rink was successful in the only full event they contested this season, taking home the trophy at the Stu Sells Oakville Tankard.

Four-time national champion Glenn Howard will make his return to the Brier this week in Calgary, skipping Team Wild Card 3 in his 18th appearance at nationals.

Unlike previous years, the 2021 Brier will see a field of 18 teams contest a two-pool round-robin, following which, the top four teams from each pool will carry their records over to a four-game championship round.

Other notable teams in this year's field include Mike McEwan (Wild Card 1), Jason Gunnlaugson (Manitoba), and Ontario's John Epping.

Just like last week's Scotties Tournament of Hearts, there will be no page-playoff in this year's expanded Brier. Instead, the top-ranked team following the championship round will earn an automatic birth in Sunday night's final, with the second and third-ranked teams battling it out in the semi-finals.