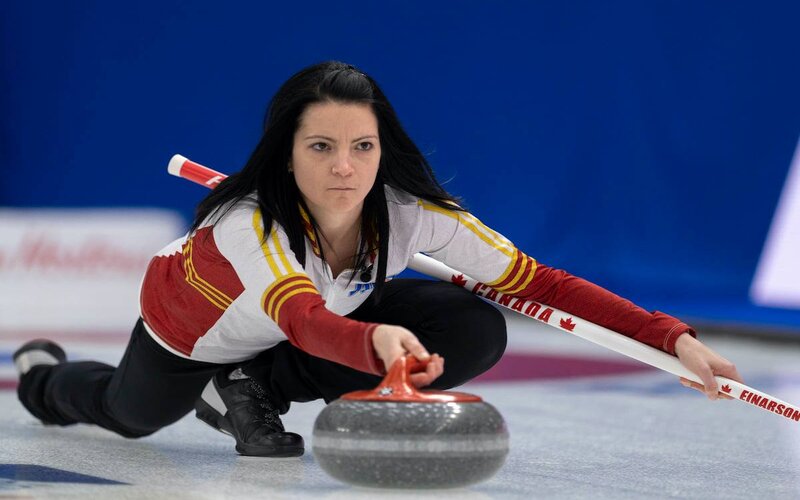 Kerri Einarson (photo: Andrew Klaver / Curling Canada) was able to get by Ontario's Rachel Homan to claim her second-consecutive Scotties title.

By: Dylan Chenier

It was a close battle for Team Canada's Kerri Einarson on Sunday night, as her rink beat Ontario's Rachel Homan 7-9 to take home their second-straight national women's curling title.

The win makes Einarson's rink the first team to win back-to-back Canadian championships since Homan did so in 2013 and 2014.

"It means the absolute world to be able to repeat," said Einarson. "To do it again, playing against all these amazing teams, we had to fight really hard, and I'm just so proud and honoured to be able to wear the maple leaf again.

It was a relatively close game between the two rinks. A score of three in the fifth end gave Canada a 5-3 lead going into the break, Ontario was only able to get one in the sixth, but a score of two in the seventh put Canada in the driver's seat in the homestretch.

However, a steal of two in the ninth by Homan, tied the game up heading into the final end. But, it was a heavy draw on Homan's final shot that handed Einarson the win.

The loss marks Homan's third-consecutive defeat in a Scotties final, after falling to Chelsea Carey in 2019, and Kerri Einarson in 2020.

Despite the disappointment of losing three-straight Scotties, the team is looking at the positives:

"We had a great game out there, [and] I'm really proud of my team," Homan said after the final. "I'm unbelievably proud of these girls, battling through all week, and sticking with me."

"Unbelievable that [she] curled that well, all women should aspire to do that, it's just amazing," said Team Ontario third Emma Miskew, of Homan's ability to finish runner-up in a Scotties, while 8 months pregnant.

Typically, the winners of the Scotties would be getting ready to head to the World Women's Curling Championships. However, the 2021 event, originally set to be held in Switzerland, was cancelled last month due to the COVID-19 pandemic. It is believed that the World Curling Federation is exploring alternative options for the event.

While uncertainly remains surrounding the status of the world championships, both rinks are set to return to the Calgary bubble later this spring, for the Grand Slam of Curling's Champions Cup and Players' Championship.