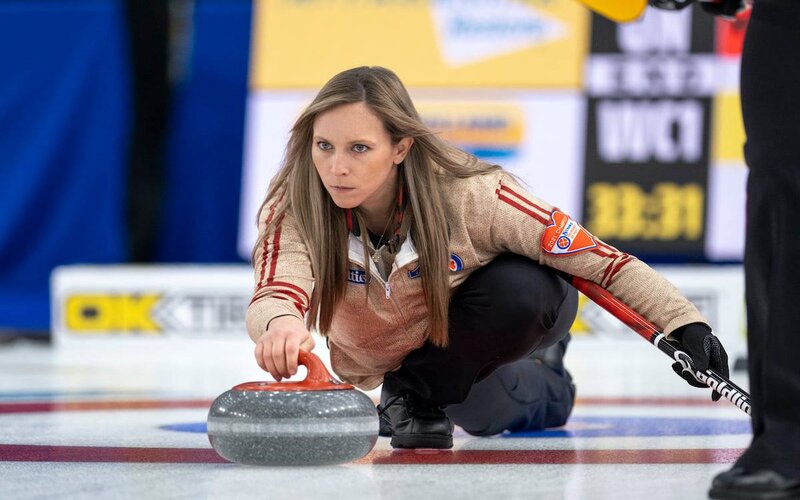 Ontario's Rachel Homan (photo: Andrew Klaver / Curling Canada) is through to the championship final at the Scotties Tournament of Hearts.

By: Dylan Chenier

After nine thrilling days of competition, the Scotties Tournament of Hearts is set to head into Championship Sunday, with four teams left in contention for the title.

With a 10-2 record through two rounds of competition, three-time Scotties champions Team Homan (ON) are through to Sunday night's final, finishing the championship round in first-place.

The bye provides Homan with some much-needed rest after the rink played four intense games over the last two days.

"Personally, it's pretty huge for me to not play three games tomorrow," said Homan, who is currently eight months pregnant, and in need of some much-deserved rest.

"I know we were ready to do whatever it took to be in that final, [but] thankfully, the way it fell, we were able to get that bye, [and] get some rest," Homan said.

While Homan's team will be in their hotel rooms, resting up for the finals, they do plan to tune into the tiebreaker and semi-finals.

"We usually get a lot out of watching the draws on TV," said Team Ontario lead Joanne Courtney.

Team Homan will await the winners of Sunday afternoon's semi-final, a game defending champions Team Einarson (CA) have already qualified for.

Despite the fact that Einarson and Homan finished with identical records through the championship round, Homan was able to earn a bye into Sunday's final as her rink beat Team Canada earlier in the week.

Einarson's opponent will be determined through a tiebreaker between six-time Scotties champion Jennifer Jones (MB), and Laura Walker's rink from Alberta. Walker is on the hunt for her first Scotties title in her second appearance at the Tournament of Hearts.

Both Manitoba and Alberta finished the championship round with records of 9-3.

It could be a long day for one rink in particular, as the team who wins the tiebreaker will be forced to play three consecutive games if they are to take home the title.

"It's a good thing we didn't play many games coming in, [so] we're well-rested," joked Jones, following her team's win Saturday night against Einarsson, a game they needed to win in order to force a tiebreaker.

"Hopefully we'll be able to play three [games], at the end of it we'll be tired but I think when you're playing you'll be fine," said Jones of the prospect of playing three games in one day.

If Jones does in-fact find a path to victory come Sunday night, it would mark her seventh Scotties title, setting a new record for most Tournament of Hearts championships.