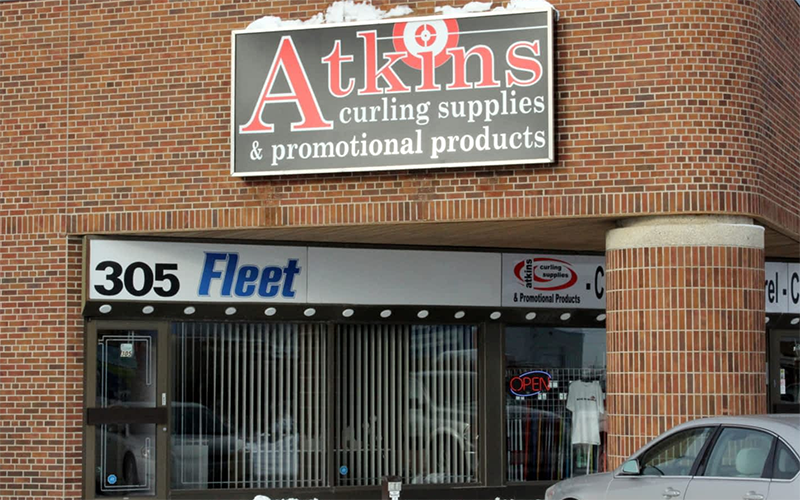 Over 25 years ago, Rob Atkins left the corporate world to jump into business forming Atkins Curling Supplies.

"Looking back over the years, it has been great to work in the curling supplies market," said Atkins. "Curlers are some of the most friendly people on the planet, and I have met curlers and curling fans from all over the world."

After finding himself downsized in the early 90's, Atkins bounced around until he combined his passion for curling, with a drive to start his own business.

Atkins Curling Supplies began as a small home-based business, outgrowing several locations before settling into the current location at 310-550 Century Street in Winnipeg in 2012.

The business focus has also expanded over the years, expanding to include all of the curling manufacturers. Atkins Curling Supplies also added a wide range of promotional products and in-house embroidery and heat press equipment to decorate apparel catering to many clubs, teams and businesses.



Covid 19 has been very tough on many businesses, large and small and has been very tough on the curling industry in general.

"Our suppliers placed and paid for orders before the Covid outbreak, then after the first shutdown, many dealers and pro-shops were unable to place orders because of the uncertainty of the effects of the pandemic on the sport."

"When we placed our orders for this season, we had no idea what the future would bring."

"Now with most curling clubs closing or running limited seasons, the industry has come to a grinding halt, and most curlers are not thinking about curling and purchasing curling supplies."

The retail store has been temporaily closed by local COVID-19 restrictions, with online sales with shipping or curbside pick-up available to people local to the store.

"Our overhead costs have remained the same," added Atkins. "We still have rent, utilities and many other expenses to pay. Our suppliers have been very understanding, but they are also in the same situation, and have their own bills to pay too."

Small businesses need our support more than ever. Please support your local small businesses by purchasing from them instead of big box stores or large online retailers.

Share any social media, follow them on Twitter, Instagram or Facebook, and sign up for their newsletters. It allows them to reach out to you and let you know of new products or sales.

"In the curling world, many of the manufactures, dealers & club pro shops have supported teams and events in the past," added Atkins.

"Now, they need your support more than ever."