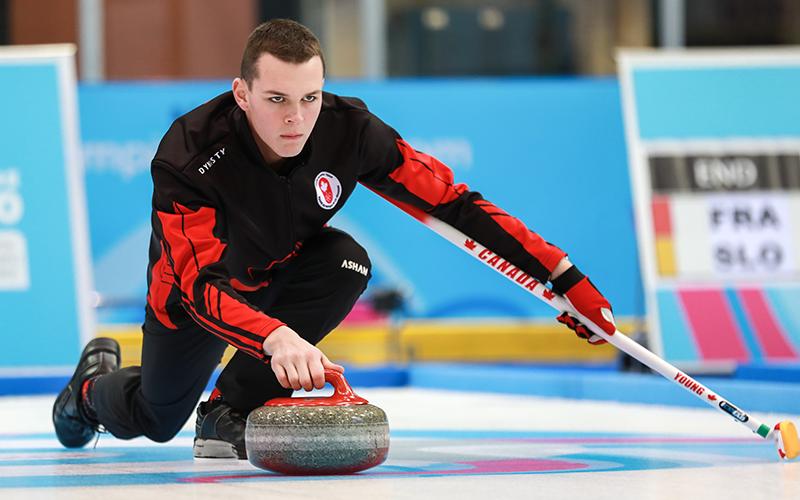 Torbay's Nathan Young (Photo: Alina Pavlyuchik/WCF) and Isabelle Ladouceur of Halifax won Sunday's Finals at the Bally Haly.

Ladouceur's Halifax foursome of Jamie Smith, Kelly Middaugh and Kate show won 6-5 over Mackenzie Mitchell of St. John's and finish the weekend with a 5-0 record for the title.

Ladouceur won 8-6 over Heather strong to open the weekend, then won 8-0 over Erica Curtis and 7-2 over Mitchell. In their final round-robin game, Ladouceur dropped Cailey Locke 8-1.

Young, with Sam Follett at third, Nathan Locke at second and Ben Stringer at lead scored a single point in the eighth end to win 5-4 over Trent Skanes of St. John's in the championship game.

Skanes opened with hammer, scoring a single point in the second end, then stealing the third end to lead 2-0. Young came back with two in the fourth end, then stole the fifth and sixth ends for their first lead of the game.

Skanes, with Cory Schuh at third, and Adam Boland and Spencer Wicks on the front-end, evened things up at four with two in the seventh end.

Young won 7-1 over Greg Smith of St. John's in the semifinals, while Skanes dropped Mark Noseworthy 6-2. In the quarterfinals, Smith won 7-1 over Randy Turpin and Noseworthy won 4-2 over Colin Thomas.

Young went 3-0 through the triple-knockout preliminary round, qualifying for the playoff round through the A-event bracket. Young opened with a 6-4 win over Liam Quinlan, then knocked off Smith 7-2 to reach the A-Qualifier game where they won 6-5 over Thomas.

The 18-year-old Young has been rising up through the curling ranks, seemingly ahead of his time after representing Canada at the Youth Olympic Games last February in Lausanne, Switzerland.

Related:
> This Torbay teen is at the helm of Canada's curling team at the Youth Olympics
> Gold For Young!