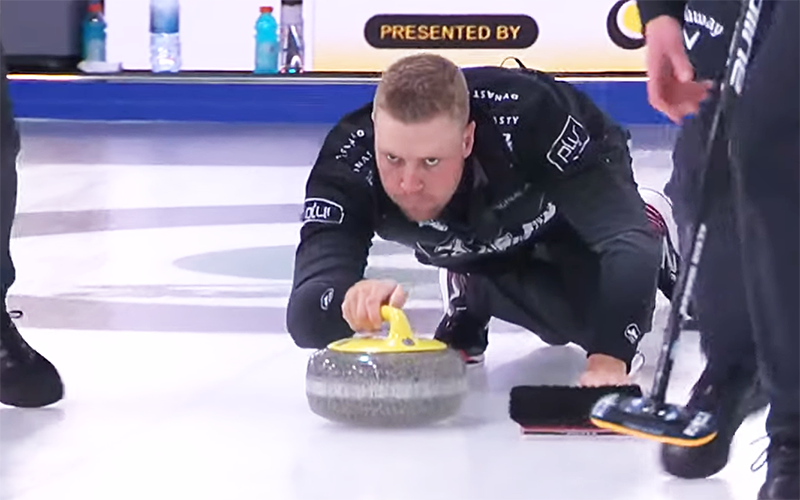 Colton Flasch (Saskatoon) defeated Jason Jacobson 6-5, scoring a single point in the eighth end to seal the win in the Sask Tour North Spiel, played at the Nutana Curling Club in Saskatoon.

Flasch with Catlin Schneider at third, brothers Kevin and Daniel Marsh on the front end, went undefeated over the weekend, finishing with a 6-0 record.

Flasch fell behind early in the game as Jacobson blanked the first end, then scored three in the second end to get off to a quick start. Jacobson added a steal in the third end, extending the lead to 4-0.

Flasch came back strong in the fourth end, scoring two of their own, then stole two more in the fifth end and another point in the sixth end to take a 5-4 lead.

After forcing Jacobson to a single in the seventh end, Flasch held the hammer coming home needing the score for the title win.



Jacobson, with Dustin Kalthoff at third, Jake Herikorn at second and Quinn Hersikorn at lead reached the final with a 5-4 win over Michael Carss (Regina) in the semifinals.

Flasch advanced with an 8-1 win over Nathan Pomedli in the semifinals, after posting a 4-0 record in round-robin qualifying.

Flasch won 5-3 over Dustin Mikush (Wadena) in their opening game, going on to win 9-4 over Carss, 10-3 over Bryden Tessier (Saskatoon) and then finishing the round-robin with a 9-2 win over Scott Manners (Saskatoon).

After the cancellation of last weekend's 24-team modified double knockout last weekend, CurlSask and the Saskatchewan Health Authority came together and agreed to a 50-player maximum, creating two events this weekend with the Sask Tour Southern event played at the Moose Jaw Ford Curling Club in Moose Jaw.