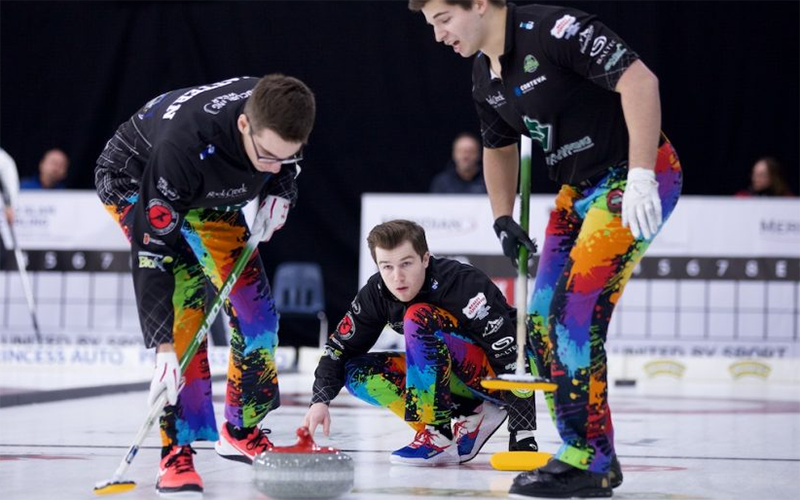 Rylan Kleiter's junior grads (photo by Anil Mungal) went undefeated in last weekend's Sutherland Test, riding high into Vaderstad Saskatchewan Super Series showdown.

With juniors behind them, the young foursome from Regina with a long history together, booking four Junior Championships and another three Under-18 championship titles would qualify as a Saskatchewan curling dynasty for Kleiter and his team of Joshua Mattern, Trevor Johnson, and Matthieu Taillon.

The team finished their junior season with a bronze medal finish at the New Holland Canadian Junior Curling Championships in Langley, BC is not standing pat as they look for the best lineup going into this season.

"We were super lucky to have early ice at home this year for the Sask high-performance program, " said Mattern ahead of this weekend's action.

"We have been going hard since the beginning of September practising."



The team made a lineup change, swapping Mattern to third stones with Johnson now at second stones, test-driving part of the lineup, with Steve Laycock replacing Johnson last weekend as they went 5-0 taking down their half of the first men's event playing in the province this season.

"It was great to get out on the ice again, and we had a solid performance getting better each game."

Kleiter opens play against Matt Dunstone at 9 pm Sask Time, after receiving a bye on the opening draw.

"We are so thankful for the invite and the opportunity," said Kleiter about being considered for the event.

Kleiter's support is highlighted by First Avenue Endodontics, Ritchie Bros. Auctioneers and ICR Real Estate, along with several other great sponsors who stepped up and continue to help the team through the quieter season.

"With travel restricted, we knew we would have limited exposure to the elite teams in the country, and this is a great opportunity to play those top teams."

"We look forward to seeing how we stack up to the top teams in Saskatchewan," added Mattern.

"Big thanks to Team Dunstone for organizing this and we look forward to an awesome weekend."