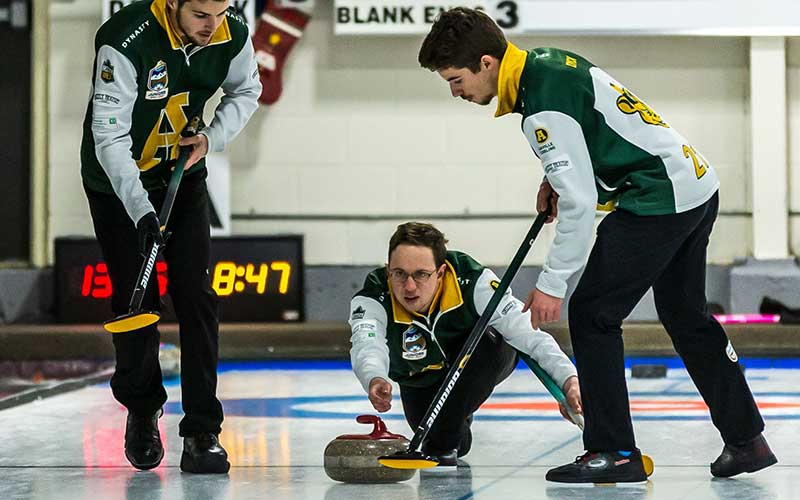 Edmonton's Ryan Jacques (photo by Susanne Pawliuk) head into the ATB Banff Classic coming off a win in Airdrie at the McKee Homes Fall Classic last weekend.

Jacques, with Desmond Young at third, Andrew Gittis at second and Gabriel Dyck at lead went on to win 5-3 over Karsten Sturmay in the championship final on Sunday.

"It's good to be back on the ice after a long summer of curling withdrawal," said Jacques following the win.

Young, joining the team for their last competitive season of junior together as part of the University of Alberta Golden Bears curling program.

"Having just aged out of juniors and this being our first event as a men's team, we came in wanting to prove ourselves and perform to our full potential."

Playing the first men's event of the season in Alberta, Jacques strung together six straight wins after losing their opening game, 7-6 to Tracy Steinke of Dawson Creek, BC.



Jacques won 6-4 over Jacob Libbus of Okotoks, then with a 7-4 win over Aaron Sluchinski (Airdrie) and a 6-4 win over Evan van Amsterdam (Edmonton) to qualify for the playoffs through the B-event.

Wins over Bert Martin (Airdrie) 7-0 in the quarterfinals and Sluchinski again, 6-4 in the semifinals advanced Jacques into their first final in men's play.

"It is something really special to win my first WCT event alongside my amazing teammates, some of the best guys I know, and I wouldn't have it any other way," added Jacques.

"Not long ago, we would have been ecstatic to make the playoff round and say 'Wow! That's good enough, we can put our feet up now' but we arrived with no self-imposed limitations or ceilings and decided to compete as hard as we could, and see how far we could take ourselves."

Jacques follows in the footsteps of both Sturmay, as well as Brendan Bottcher's foursome, now ranked fourth on the World Curling Federation World Team Rankings, as teams built inside the Golden Bears program.

"I am so proud of the guys for their fantastic performance and how well we all supported each other through our non-throwing roles."

Jacques played a mix of juniors and men's events last season, winning the Curlers Corner U21 Bonspiel in Calgary in September, before going on to reach the final of the Avonair Cash Spiel.

The team would go undefeated at the Alberta Junior Provincials, advancing to the New Holland Canadian Championships in Langley, BC, where they went 6-4 finishing in fourth place. Photo by Michael Burns, Curling Canada.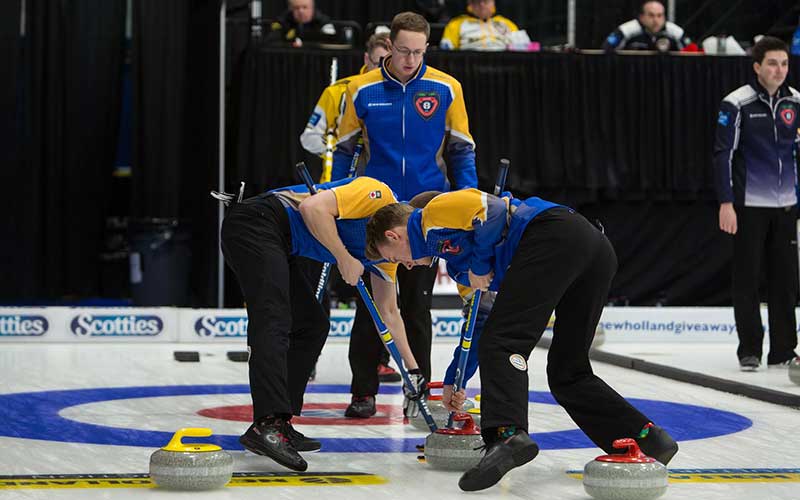 Sturmay, ranked 30th on the WCF world rankings, reached the final with a 5-1 win over Calgary's Colton Goller in the semifinals, advancing from the quarterfinals with a 6-3 win over van Amsterdam.

Calgary's Kevin Koe went 3-1 in their opening event, losing 6-4 in the quarterfinals to Sluchinski after a missed draw resulted in a steal of two in the final end. Goller defeated Jeremy Harty of Calgary 6-5, also stealing the final end to win.

Jacques returns to the ice this weekend at the ATB Banff Classic, with their opening game today at 4 pm MT against Harty. Scores will be available all weekend at www.curlingzone.com.

"While we started off our season with a bang, there is a lot more season ahead, and we are looking forward to striving for continual improvement with each bonspiel, in pursuit of excellence."

"A huge thank you goes out to the Airdrie Curling Club and club manager Don DeLair for putting on a phenomenal bonspiel while keeping everyone safe."