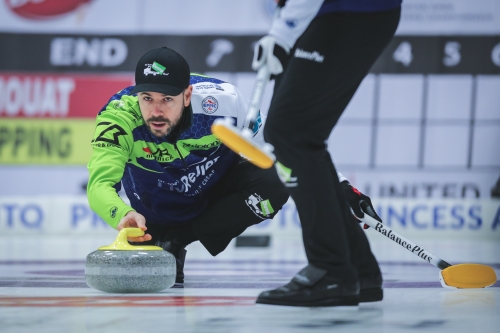 Toronto's John Epping won 3-2 over Glenn Howard in the Stu Sells Toronto Tankard Final.

Playing at the KW Granite Club in Kitchener-Waterloo, Ontario, Epping and his team of Ryan Fry, Patrick Janssen and Brent Laing used a conservative style to keep the game tight and rode a couple steals in the first five ends to lead 2-0.


2020 Stu Sells Toronto Tankard Champs!🏆🥌 Very close, great game against Team Howard.

Huge thank you to @Stusellsto for your amazing support of #curling.
Thank you to our sponsors, fans, friends and family cheering us on 🧡 and let's not forget super spare @patjanssen15 pic.twitter.com/O3HYxr1g9t

— Team Epping (@TeamJohnEpping) October 12, 2020


Howard, with Scott Howard at third, David Mathers and Tim March on the front end came into the final on a 10-game winning streak to start the season.

With a chance in the second end to score two, Howard's soft weight hit caught on the straighter side and rolled out, giving Epping a steal. The hit and roll, part of the struggles for Team Howard to generate much offence against Epping, found themselves forced to a single point in the seventh end.

Howard stole a single in the seventh end, before Epping made the open hit in the eighth end for the win.

Epping won 10-5 over Ottawa's Jason Camm in Monday morning's semifinal.

Epping went 4-1 in the round-robin, with their only loss coming to Howard, a 7-1 decision on Saturday evening.

Epping won 8-3 over Sam Steep (Seaforth), then 12-4 over Rylan Hartley (Brantford) before their loss to Howard, then finishing with a 7-2 win over Camm and 8-3 over Brandon Tippin.

Howard went undefeated through the round-robin, advancing directly to the Championship Final.