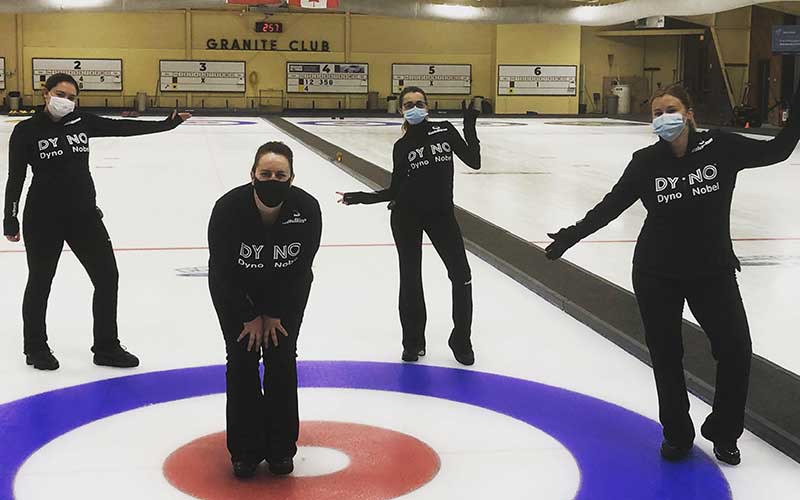 Ottawa's Lauren Mann won 7-1 over Winnipeg's Jennifer Jones to win the Stu Sells Toronto Tanard, held at the KW Granite Club in Kitchener-Waterloo, Ontario.

Mann, with Kira Brunton at third, Cheryl Kreviazuk at second and Karen Trines at lead opened the game with three straight steals before the Jones side got on the scoreboard.

In the first end, on a hit against two, Jones needed to roll to score, but stuck it on the nose. After another miss in the second end, Jones was left with a slash double to score two in the third end.

Instead, the double, made nearly perfect, ended up jamming and leaving two Mann stones left in the rings.

Jones got one point back in the fourth end, but was unable to get back into the game after that point.


Winner, winner, turkey dinner!

HUGE shoutout to all the organizers of the @Stusellsto Toronto Tankard, Matt Wilkinson, and Gerry from @CurlingZone who put so much work into making this event as safe as possible! pic.twitter.com/1YHn95kfVg

- Team Mann (@TeamMannCurls) October 12, 2020


For Brunton, added this year to the Mann team after a move to Ottawa, has now won the Stu Sells Toronto Tankard the last three years in a row, skipping her former junior teams to titles in 2018 and 2019.

Mann went 3-1 in the round-robin portion of the tournament, winning 9-3 over Sierra Sutherland (Ottawa) in their opening game, then losing 7-6 to Abby Deschene (Sudbury). Mann responded with a 5-3 win over Cathy Auld on Sunday afternoon, then won again 8-6 over Emily Deschenes (Ottawa) to book their spot into the Championship Final.

Jones, with Jocelyn Peterman and Lisa Weagle, playing as a three-player lineup with Kaitlyn Lawes departing Friday due to a personal family matter, also went 3-1 in the round-robin.

Jones lost their opener 6-4 to Deschenes, bouncing back with an 8-7 extra-end win over Cathy Auld, then 8-3 over Thea Coburn (Toronto) and Sutherland.

Deschenes defeated Auld 11-6 in the third-place game.