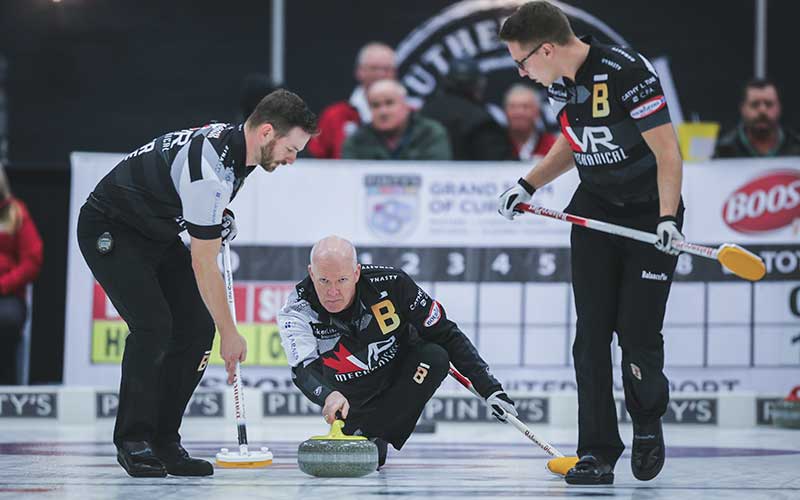 Eight games into the 2020/21 curling season and Glenn Howard has yet to lose, knocking off John Epping Saturday evening at the Stu Sells Toronto Tankard.

Howard of Penetanguishene, Ontario with son Scott Howard throwing third stones along with David Mathers and Tim March on the front end jumped out to an early 4-0 lead on Epping after getting three in the first end and then stealing a point in the second end.

Howard went 5-0 last weekend at the Stu Sells Oakville Tankard, before bowing out due to a warning notification on a player's COVID Alert app.


Read below ⬇️our statement from Sunday's events at the Stu Sells Oakville Tankard. #TGH pic.twitter.com/gzu7OoXIye

— Team Glenn Howard (@TeamGlennHoward) October 7, 2020


Howard opened with a 7-1 win over Brantford's Rylan Hartley, then knocked off Jason Camm of Ottawa by an 8-4 score.

Howard has two games remaining, beginning at 10 am on Sunday against Brandon Tippin of Brantford, then finishing off the round-robin portion of the event with a tilt against Seaforth's Sam Steep. The Steep game will be the feature match-up on the Live stream at 5 pm on Sunday.

Epping and Camm are both at 2-1, tied for second place, set for a date on the Live stream at 10 am Sunday.



In women's action, Sudbury's Abby Deschene won 6-5 over Emily Deschenes of Ottawa, then won 7-6 over Lauren Mann, also of Ottawa to improve to 2-1, joining Winnipeg's Jennifer Jones and atop the leaderboard.

Jones bounced back from their opening draw loss to Deschenes with an 8-7 extra end win over Cathy Auld, then took control early against Toronto's Thea Coburn, cruising to an 8-3 victory.

The women return to the ice at 1:30 pm with Mann taking on Auld in the feature match-up, followed by Mann and Deschenes in the late game of the day, with a playoff spot on the line.