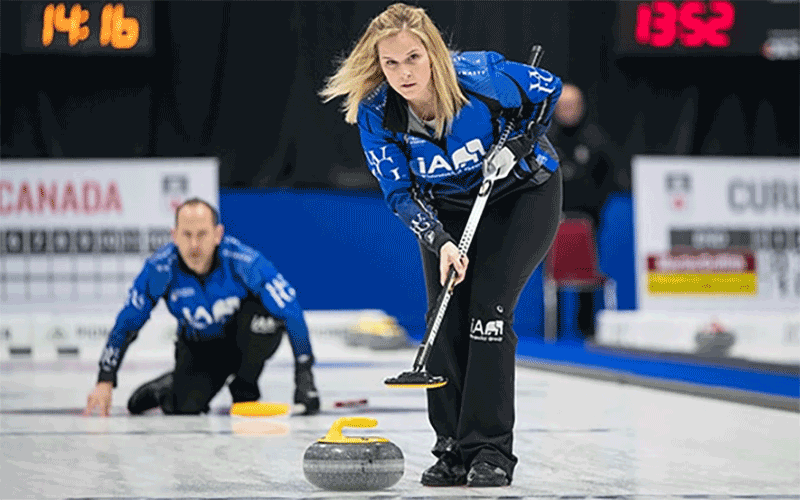 A welcome back to curling in Ontario as Jennifer Jones and Brent Laing (Photo: Curling Canada/Rob Blanchard Photography), John Epping and Lisa Weagle highlight entries into the Cameron's Brewing Mixed Doubles, the first of four events playing in Kitchener-Waterloo to start the season.

"Super excited to be on the ice, " said Jones following her practice on Friday evening ahead of Saturday's opening draw.

"We had a few slides and threw some rocks. It's been a long time, but it was so great to be back, it's so much fun."

While Jones and Laing don't play a lot of doubles together, they have had a lot of success when they do team-up. They won last year's Canad Inns Mixed Doubles Classic in Portage la Prairie, Manitoba along with reaching the quarterfinals in the Qualico Mixed Doubles in Banff in January. Jones/Laing also won the Winter Games New Zealand Mixed Doubles competition in August 2018.

"It's our happy our place and we're very thankful this event is happening."



Jones' four-player teammate Lisa Weagle, added to the lineup over the summer will also be competing this weekend with partner John Epping, their friendship and relationship going back to bantam age competition.

"I'm really thankful that the KW [Granite] got their ice in and has everything in place and all the protocols and I think this is a great weekend, especially with Mixed Doubles with [fewer] players," said Epping.

"This is a great chance to test the waters and make sure that we get everything set."

Planning an preparation for the event has been taking place since the spring, with the Cameron's Brewing Classic initially scheduled for early September at the Oakville Curling Club. Still, with the pandemic throwing a wrench into all plans, the event was lucky to find a home in Kitchener-Waterloo.

"We're working hard to ensure that the games go off safely and that we can set a good template for future events," organizer Gerry Geurts said about planning for this weekend.

The KW Granite Club has put several safety protocols in place as all curlers to follow, including a temperature for everyone entering the build, along with multiple tracking applications actively being used.

"All athletes are required to install the COVID Alert app offered by the government of Canada to participate," Geurts added.

"This, along with the club tracking application that is being tested by Stephen Chenier and CurlON will help to create multiple levels of security should a case of COVID show up during the event."

The KW Granite Club mandates that masks be worn throughout the facility with players even wearing them on the ice during the curling, though players will be able to lower their masks while throwing and sweeping.

"While this is a time players are active and engaging play, it will still significantly decrease the amount of time that someone potentially caring the virus can spread it into the air."


It's been a while since I packed a curling bag! On the road to KW to play mixed doubles with @EppingJohn this weekend.

How great is this corgi print mask @trianglecurling sent me! Very appropriate for my road trip with Trooper👌 pic.twitter.com/PWXJ1m2PTO

— Lisa Weagle (@lweagle19) September 24, 2020


Weagle/Epping will open play against Mackenzie Kiemele and Oliver Campbell of Niagara Falls, while Jones/Laing will play Jodi and John McCutcheon of Toronto in their opener at 11 am Eastern Time. All teams will return to the ice at 2:30 pm for their second game, the wrapping up the round-robin portion with their third games at 6 pm.

All teams will return Sunday morning for the semifinals, with the top 4 ranked teams overall playing for the title.

"We're trying to take everything as it comes and day by day, you can't control a lot of things," added Jones.

"We're just trying to go with the flow and making the best of it. We feel like we have a really good plan. At the end of the day, we'll figure it out as it goes."

While there is no organized streaming coverage of the event this weekend, some teams will be working on trying to stream their own games.


Hey curling fans! If we get 1,000 Youtube subscribers by tomorrow morning Weagle and I can livestream our games for you! #curling #mixeddoubles #weappinghttps://t.co/cEOYb8zAZ9

— John Epping (@EppingJohn) September 25, 2020


The KW Granite Club will play host to a number of events in the coming weeks, with the Stu Sells Oakville Tankard scheduled for next weekend with 12 men's teams and 12 women's teams playing for the title. Teams return on Thanksgiving for another event with a similar format followed by the KW Fall Classic on October 23-25.

"Hoping we can set the standard for the season and mainly looking to Ontario, which is where we'll play most of our spiels with the way the world is right now, " Epping continued with what the season will look like.

"We're really thankful that KW is doing this and to the teams that are going to show up this weekend and step onto the ice and compete against each other."

"It's going to be a blast."