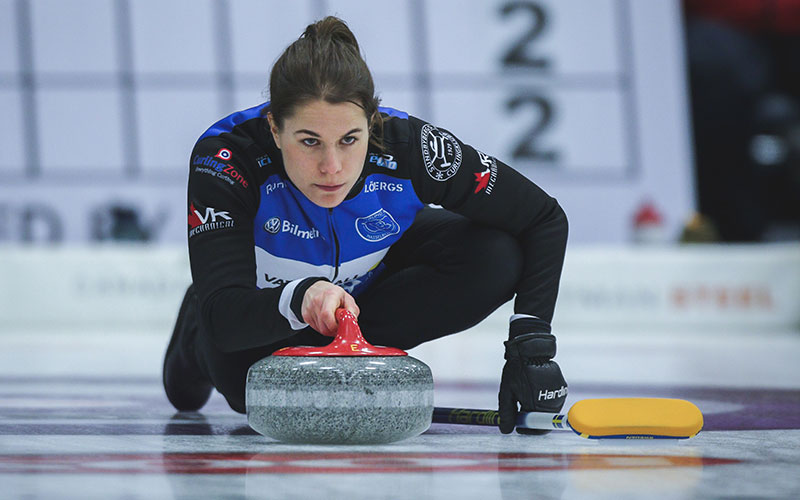 Sweden's Anna Hasselborg (photo by Jeffrey Au) joins Switzerland's Silvana Tirinzoni, Elena Stern, and Germany's Daniela Jentsch competing this weekend in a trimmed-down 13-team Women's Masters Basel field.

"It feels fun and exciting to start competition again," said Sara McManus, third of Team Hasselborg.

Agnes Knochenhauer and Sofia Mabergs round out the front end on the 2018 Olympic Gold Medalist as they prepare for their first competition of a limited 2020/21 season.

"We feel that the best thing for us is to take one competition at a time and one day at a time."




"We will do everything we can, based on the current situation to develop and improve," McManus continued.

The Women's Masters Basel begins Friday at 9 am Swiss Time (3 am Eastern Time) with Hasselborg playing Switzerland's Nadine Reider, Daniela Jentsch playing Nora Wuest (Switzerland) and Italy's Veronica Zappone playing Irene Schori (Switzerland).

With the challenges in preparation for the event, teams have had to find alternative ways to get games in and stay sharp.



"It was a really good experience for us, that they asked us if we wanted to come to Biel," said Jentsch.

"We didn't think twice. We just said yes, 'we want to do this'. The ice conditions were just perfect, [so], we could finally practice all the finesse shots, because at our rink here it's a little tricky."

It's a half-open arena to the other side where they play hockey and all that kind of stuff, [so] it's always tricky to have perfect conditions."




For Team Jentsch, they have been on the ice since the beginning of August in their home base of Fuessen, located in the south of Germany near the Swiss border.

"We were just happy that we could get out of here as we've been in summer training for so long now and just unusual for us to not be travelling so we were ready to go."

For Jentsch, the addition of Alina Androsova to the lineup at second is something that they need games.

"She is Russian, married to a German," Jentsch added.

"She lives in Berlin and we asked her if she wants to join the team and she's very enthusiastic and is working hard, but she also knows she still has to practice a lot and catch up with the rest of us."

"I think she's willing to do that and we're practicing as much as we can together."

Jentsch and Hasselborg find themselves both in Group A, with their meeting scheduled for Saturday afternoon, the last game of their round-robin.

"We're very fortunate that we can go to Switzerland, it's just a 4-hour drive, so it's very easy for us and we don't have to quarantine."

"We're still very very lucky, if you look at some of the other European teams, some of them had to cancel last minute because situations are changing quickly."

"We don't want to jinx it, but we're very lucky still."