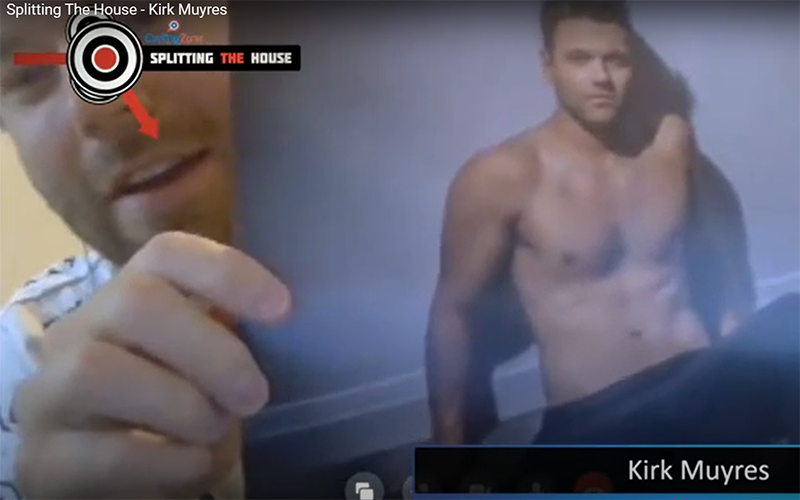 For Kirk Muyres, the Men of Curling Calendar opportunity raises $5,000 for the Do More Agriculture Foundation, a not-for-profit he helped found to support mental health for farmers.

"The ag industry is extremely important to me. I grew up on a farm," said Kirk Muyres about growing up on a 2500 acre grain farm near St. Gregor, Saskatchewan.

His father, Lyle Muyres won the 1986 Saskatchewan championship and headed to the Labatt Brier with his all-brother team from Humboldt.

Related Stories:
> Family affair: Team Muyres Brier-bound, 33 years after a first appearance
> Men of Curling Calendar Now On Sale!

For Muyres, the curling career sees a change for the upcoming season, as he's joining forces with Matt Dunstone at second stones. Dunstone and Muyres were teammates for Saskatchewan at the 2018 Tim Hortons Brier with Steve Laycock, with Muyres defeating Dunstone to go to the 2019 Brier, then Dunstone returning the favour this past season, capturing a bronze medal in Kingston.

Muyres has fostered relationships through the Ag industry that have helped to support his curling career.

"A lot of our sponsors are in the Ag industry," said Muyres when talking about his passion for pairing the sport he loves with his rural roots.



"This started the first time I was in the Men of Curling calendar, and I was looking for a way to support the Ag industry as the industry has done so much for me."

Muyres saw Kim Keller and Lesley Kelly speak about the need for farmers to be more vulnerable and talk about the issues farmers are facing and he reached out to them to find ways he could support mental health and agriculture.

From their discussions, it became clear there were limited resources for farmers to support mental health. In joining with Himanshu Singh, an Agtech innovator, the four founded the Do More Agriculture Foundation.



"The need for farmers to feel ok talking about some of the struggles they're going through is huge."

"It's especially true in the ag industry; I saw it growing up, you were told just to suck it up and get through it."

"I think that is something that needs to change, [as] everyone is going through a lot."

"I always think about a lot of farmers in Canada," Muyres went on.

"These farmers are running multi-million dollar businesses essentially by themselves remotely, and people don't necessarily realize that all the time."

"We talk about corporate farms and that sort of thing, but that doesn't exist that much in Canada."

"Most are family farms that have been legacies from generations before. You're trying to build a legacy for the next generation, and you're in isolation for 12-15 hours a day on the farm."

The Do More Agriculture Foundation was founded in 2017, as a not-for-profit championing mental health in agriculture across Canada. It was formed with several objectives in mind to help support the Ag industry.

"We want to educate the Ag industry on mental health," Muyres went on talking about the goals of the Do More Agriculture Foundation.


DID YOU KNOW:
40% of producers across Canada reported that they would feel uneasy about seeking professional help due to what people may think.
> domore.ag

"We need to break the stigma that currently exists about talking about some of the mental struggles and the mental health well-being of our producers in the Ag industry."

"We need to create a community of belonging for these farmers, many come from remote places. They could be an hour or two away from the closest city and they're alone on the farm for long periods of time."


DID YOU KNOW:
35% of producers met the criteria for DEPRESSION classification.
> domore.ag

"We want to have support and resources for people who need it."


DID YOU KNOW:
45% of producers were classified as having HIGH STRESS.
> domore.ag

"We want to ensure funding and research can still be done on mental well-being and help research projects that support these goals."
"I'm a small part of it, and they've really taken the reigns as three of the most amazing people you could meet."


DID YOU KNOW:
58% of producers met the criteria for ANXIETY classification.
> domore.ag

> Related Video: Muyres Joins Team Dunstone:


"We've been to offer mental health first aid throughout Canada to small communities," added Muyres, reflecting on some of the successes of the organization.

"We've really worked to help farmers get access to resources as well as really break the stigma around discussing some of the mental health struggles that everyone does face."

"Realizing that a lot of times you compare your inner-self to everyone else's outer-self and they're usually putting on a shell, and a show that there's nothing wrong in their lives, so you think you're the only one dealing with any issues."

"It's just of matter of talking about these issues, so everyone else realizes that they're going through it as well."

The discussion around mental health continues to be the great awakening of this generation, that it's a health problem, like anything else we deal with and the work Muyres and the Do More Agriculture Foundation is doing helps break that stigma.

"I'm very proud to be part of the organization and honoured to be able to do that with the other three founders."