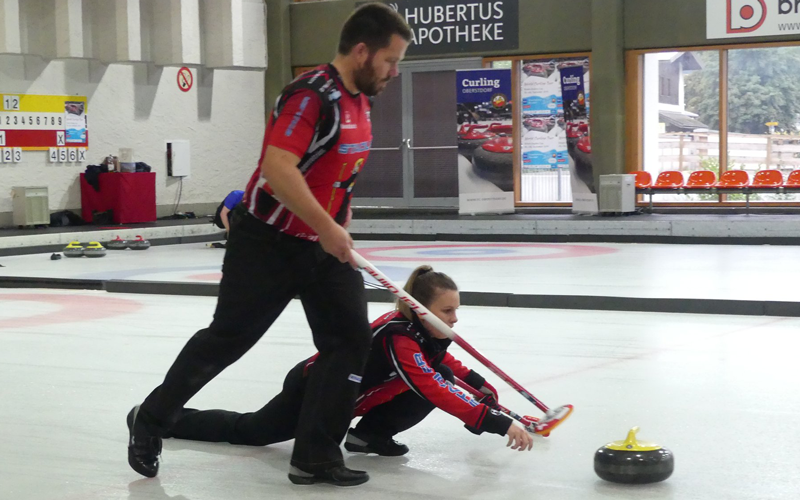 For Mixed Doubles pair Jenny Perret and Martin Rios of Glarus, Switzerland (Photo: Oberstdorf), ranked #2 in the world, their season begins in Germany.

"For us, on the ice it's pretty much the same, it's just around the sport, it's a little bit different," said Rios ,following their 8-5 win in the opening draw against Nina Summerova and Jan Horacek of Slovakia.

"You have to admit it and just try to adapt and in the end, when you step on the ice, just play curling."

The mixed doubles game has fewer players on the ice and has seen no suggested changes at this point to the rules to adapt the game to the pandemic.

"No different rules in Mixed Doubles, so that's the good part of it."



Perret and Rios captured three events last season, winning the International Mixed Doubles in Sochi, Russia, along with the Schweizer Cup and SwissCurling National Championship. They reached the playoffs in ten of the thirteen events they played last year, leaving them ranked behind only Kristen Skaslien and Magnus Nedregotten on the World Curling Federation World Team Rankings.

The opening season rust is still there though for the team, as they're getting their legs back on the ice.

"We won [the opening game], but we were struggling, " continued Rios.

"We struggled with the ice a little bit. In the end, we won it somehow, but we have to keep up our performance and to play better than this morning."

Perret/Rios dropped their afternoon game to the Spanish pair of Oihane Otaegi and Mikel Unanue to sit at 1-1. Otaegi/Unanue join Johanna Heldin and Daniel Magnusson of Sweden at 2-0, atop Pool A.

"We're trying to play good curling, give every opponent a hard time on the ice and then we'll see what the result will be in the end."

In other Pool A games, Heldin Magnusson won 8-2 over Almida de Val/Oskar Eriksson (1-1) and then 11-2 over Summerova/Horacek (0-2). De Val/Eriksson won their afternoon game 9-6 over Swiss/Canadian pair of Aline Fellman and Chris Kovalchuk (0-2).

Daniela Rupp/Kevin Wunderlin and siblings Isabella and Rasmus Wrana lead Pool B at 2-0, while Zuzanna Paulova/Tomas Paul and Therese Vestman/Robin Ahlberg won their opening games to lead Pool C.

For teams, getting back on the ice has been possible in Europe due to organizers of events like Oberstdorf as the distraction is needed during this difficult time.

"It helps a little bit to have a good time apart from the virus," added Rios.

"Be nice to each other, I think better times beside the game will come up, we gotta go through this and help each other."

Round-Robin pool-play games continue through Saturday, with the eight-team Championship round beginning Sunday morning.

Live scores can be found at www.curlingzone.com.