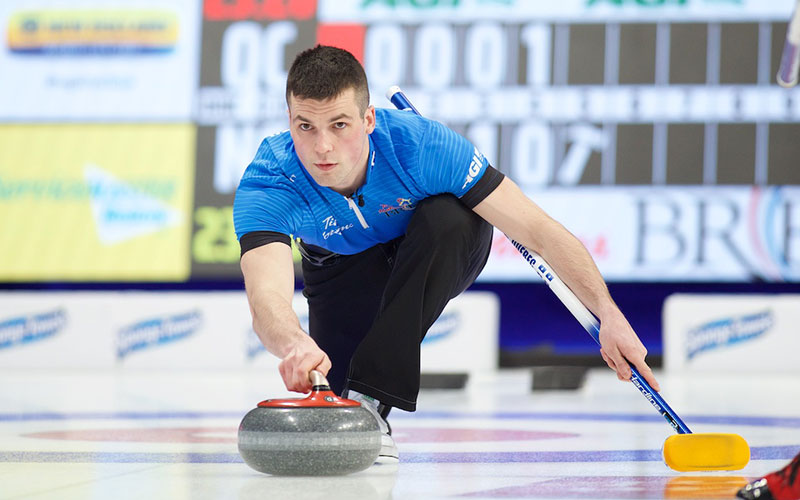 Rookie skips Alek Bedard (Quebec)(Photo by Anil Mungal) and Jake Higgs (Nunavut) enjoying first-time out at the Brier.

By Price Atkinson

KINGSTON, Ont. - All the familiar faces and skips are here at the 2020 edition of Tim Hortons Brier.

Brad Jacobs, Kevin Koe, Brad Gushue, John Epping. Even some "newer" skips like Matt Dunstone and Jason Gunnlaugson are known by most curling fans around the country.

But several skips are making their Brier debut in Kingston, Ontario that may not be as readily known. Nunavut's Jake Higgs and Quebec's Alek Bedard are two skips who are taking the ice under the brightest of Canadian curling lights this week.

Twenty-three year old Alek Bedard skips one of the youngest teams in the field this week. Team Quebec is looking to surprise playing in front a vocal contingent of their fans packing into pockets of the Leon's Centre.

"Coming to the Brier, this has been my dream since I started curling," Bedard said. "I know we have the chance to play against people I've been watching my whole life. It's crazy. I can't describe the feeling."

So far Quebec is 0-2 but took Gunnlaugson to the final earlier this afternoon, needing a draw for one and the win. It was heavy and sailed too far, giving Manitoba the steal and win.

Like most rookie teams here it's all about managing expectations.

"I can't lie, it's quite stressful," Bedard said. "I want to improve last year's record and the year before. For sure we're aiming for the championship pool, but we'll just go one game at a time and do our best."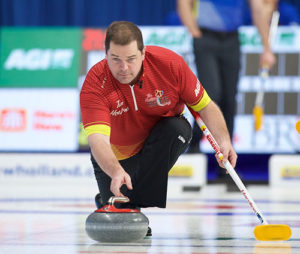 Another first-time skip at the bonspiel this week is Jake Higgs. The Ontario import for Nunavut is also living out a longtime dream.

"There will be five thousand people in the stands. It's my first Brier and will be a little overwhelming but we're looking forward to it," Higgs, a 44-year old high school teacher said.

"It's nice for me kind of like a home game with me actually living in Ontario," he added. "Lots of family and friends are tuning in, so it's gonna be a lot of fun."

A few weeks ago at the Scotties, a fellow rookie import skip for Nunavut guided her rink to a pair of wins. Could Higgs follow suit like Nunavut rookie skip Lori Eddy from two weeks ago in Moose Jaw?

"We're realistic about our chances," Higgs said. "We're trying to get on the scoreboard here and win a game or two. If we're able to do that we'll be able to call it a major success."

Like Quebec, Nunavut sits 0-2 overall in Pool B but that hasn't deterred Higgs and his merry band of ice warriors from having fun. They've enjoyed the Patch across the street from the arena, including their "Up Close and Personal" this afternoon.

Bedard and his Quebec squad wore big smiles meeting fans this evening during their autograph session at the Patch.

In the end, both Higgs and Bedard are just soaking up and enjoying the experience.

"I know we have to step up our game," Bedard said. "But this is a really good experience. When we go on the ice, we for sure want to win but we'll definitely learn from every game we play against those teams."