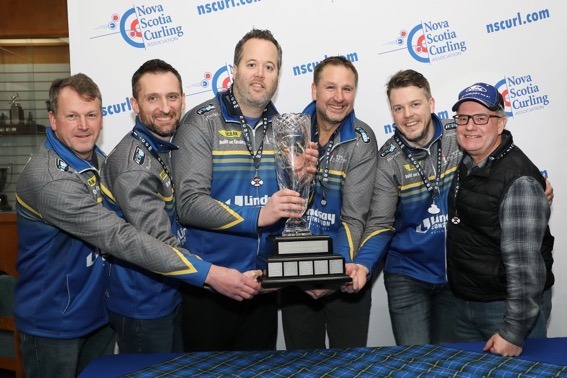 Jamie Murphy (Halifax) wins the Deloitte Nova Scotia Tankard, defeating Kendal Thompson (Halifax) 10-4 at the Dartmouth Curling Club in Dartmouth, Nova Scotia. Murphy with Paul Flemming at third, Scott Saccary and Philip Crowell on the front end will advance to the Tim Hortons Brier in Kingston, Ontario where they will join 15 other teams for the National Championship. With the win, Murphy added 17.719 world ranking points, while Thompson receives 12.994 world ranking points for their second place finish.

Having received a bye to the Final with their first place finish after the round-robin, Murphy started with hammer, blanking the first end, then got on the board scoring 1 in the second end. Murphy then forced Thompson to a single in the third end, then scored 2 in the fourth end to lead to 3-1. Murphy added aa steal in the fifth end with Thompson scoring 2 in the sixth end to cut the deficit to a single point. Murphy responded in the seventh end scoring 2, and then after holding Thompson to a single in the eighth end, broke the game open with 4 in the ninth end to clinch the win.

In the semifinal, Thompson defeated Chad Stevens (Truro, NS) 7-2. To reach the semifinal, Stevens won tiebreakers over Matthew Manuel (Halifax) 9-6 and Stuart Thompson (Dartmouth) 8-6.

Murphy finished 6-1 in the 8 team round-robin qualifying round. In their opening game, Murphy defeated Alan O'Leary (Halifax) 9-4, then won 7-3 against Manuel and 9-1 against Andrew Gibson (Halifax). Murphy won 8-4 against Stevens, then won 9-7 against Brent MacDougall (Halifax) to hold the top spot in the round-robin. Murphy went on to lose 6-5 against Kendal Thompson, before bouncing back with an 11-4 win over Stuart Thompson in their final qualifying round match.