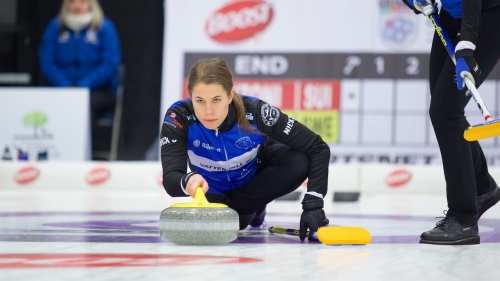 Anna Hasselborg (Sundbyberg, Sweden) wins the Boost National, defeating Jennifer Jones (Winnipeg, MB) 7-3 at the CBS Arena in Conception Bay South, Newfoundland & Labrador. Hasselborg with Sara McManus at third, Agnes Knochenhauer and Sofia Mabergs on the front end take home the $35,000CDN first place cheque along with 89.033 world ranking points, while Jones receives $20,000CDN and 65.291 world ranking points for their second place finish.

Starting with hammer, Hasselborg scored 2 in the first end for the early lead. After a blank end, Jones was held to a single, after which Hasselborg responded in the fourth end scoring 4 to extend lead to 6-1. After a blank end, Jones scored 2 in the sixth end to extend the game, though Hasselborg to a single in the seventh end and got handshakes for the 7-3 win.

In the semifinals, Hasselborg defeated Satsuki Fujisawa (Kitami, Japan) 5-4 in an extra end and Jones defeated Tracy Fleury (East St. Paul, MB) 10-9 in an extra end. Fleury and Fujisawa earned $15,000CDN and 50.452 ranking points for their semifinal finishes. In the quarterfinals, Hasselborg defeated Chelsea Carey (Calgary,AB) 9-2, Jones defeated Muirhead 7-5, Fujisawa won 9-3 over Elena Stern (Oberwallis, Switzerland) 9-3 and Fleury doubled up Robyn Silvernagle (North Battleford, SK) 6-3. Carey, Muirhead, Stern and Silvernagle received $10,000CDN and 35.613 world ranking points for their quarterfinal finishes.

Hasselborg finished 3-1 in the 15 team round-robin pools qualifying round. In their opening game, Hasselborg defeated Sayaka Yoshimura (Sapporo, Japan) 6-2, then went on to lose 5-3 against Stern. Hasselborg responded with a 4-3 win over Silvernagle, then won 6-2 against Rachel Homan (Ottawa, Ontario) in their final qualifying round match to advance to the playoff round.