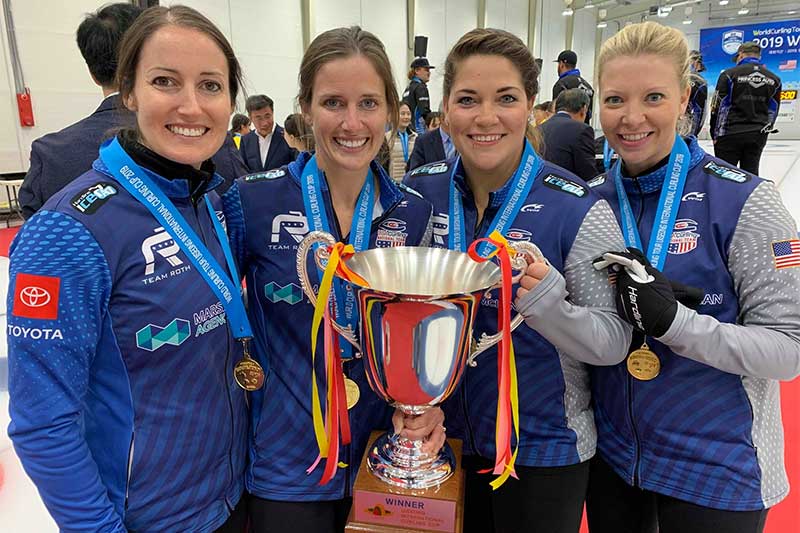 In dramatic fashion, Roth scored a 5-4 win against Eun-jung Kim in an extra end to capture their first tour title since winning the Canad Inns Classic in October 2017. But like in the semifinal against Silvana Tirinzoni earlier in the day, the Americans had to come from behind.

Trailing 2-1 after three ends, skip Tabitha Peterson drew for two in the fifth giving her squad a 3-2 lead. In the sixth, they escaped major trouble and got a close measurement to go their way and more importantly, the force.

Peterson again drew to the edge of the four foot in the for a single in the seventh. However, the "Garlic Girls" attempted a raise tap for two and the win in the eighth but it was unsuccessful sending the game to an extra.

Draw weight was once again Peterson' speciality of the day, drawing to the button for the win.

"It feels amazing. Mission accomplished," Peterson said after winning back-to-back events, winning the U.S. Open of Curling the previous week. "We have been prepping ourselves this season to win tournaments, and that was our goal going into the week, to play well and win it."

After the final draw concluded, both winning teams and so many players raved about the quality of the ice, the spectacular venue and the wonderful host people and volunteers of Uiseong, South Korea.

"It's wonderful to come here, the facility is incredible, and the volunteers have so many people. To play in conditions like this at an event like this, it kind of takes it to a different level sometimes."