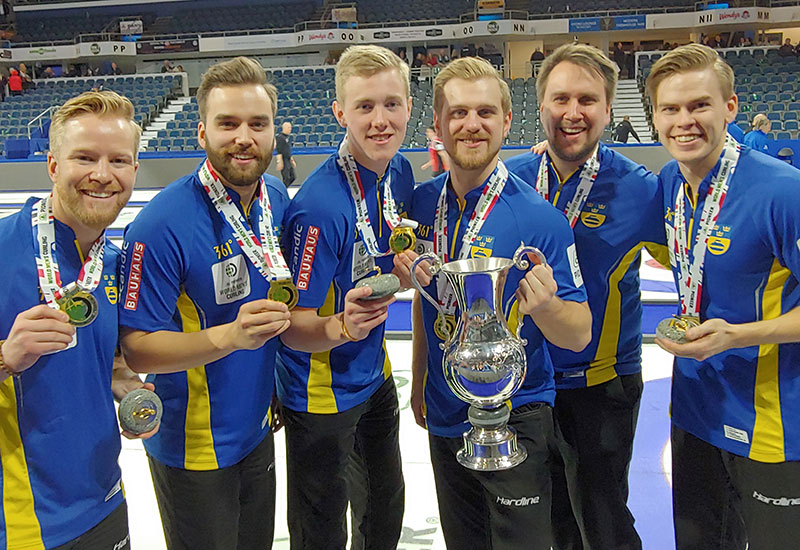 Lethbridge, Canada - Sweden successfully defended their title when they beat hosts Canada by 7-2 in the gold medal final of the Pioneer Hi-Bred World Men's Curling Championship 2019, in the ENMAX Centre, in Lethbridge, Canada, a win that gives their skip Niklas Edin a fourth world crown.

In this achievement, skip Edin was supported by third Oskar Eriksson, second player Rasmus Wranaa, and lead Christoffer Sundgren, assisted by alternate Daniel Magnusson and coach Fredrik Lindberg.

The Canadian silver medallists were: skip Kevin Koe, third B. J. Neufeld, second player Colton Flasch and lead Ben Hebert, supported by alternate Ted Appelman and coach John Dunn.

A delighted Edin said, "It feels amazing. This was probably the sweetest win of my career. We?ve never played better than this for an event, it felt like we were dominating the whole week."

Speaking about his opponents he added, "Kevin Koe and his team have played so solid. We knew it was going to be a really tough game, but we?re so happy to make it."

Meanwhile, a subdued Kevin Koe said, "We wanted to win this so badly and it's very disappointing. It's unfortunate, but they're a great team."

He took time to praise the packed house of Canadian fans saying, "The support has been awesome, it's just a pity that we couldn't win it for them."

During the closing ceremony, it was announced that SooHyuk Kim, skip for Korea, was the winner of the Collie Campbell Memorial Award, voted for by all the players to recognise the athlete they think best exemplified curling's values and sportsmanship throughout the event.