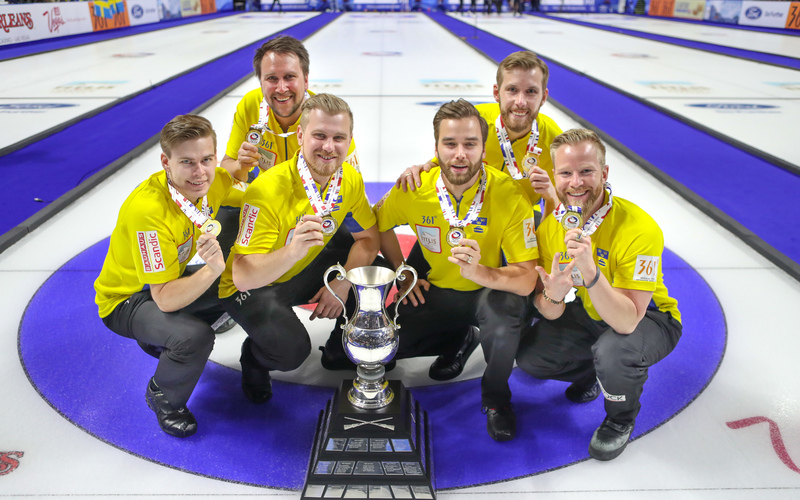 Team Edin (Photo by Richard Gray, World Curling Federation) pounds Canadians into submission en route to 7-3 win in the World Curling Championship Final.

By Price Atkinson

LAS VEGAS - Niklas Edin and his team of third Oskar Eriksson, second Rasmus Wrana, lead Christoffer Sungren, alternate Henrik Leek and coach Fredrik Lindberg arrived in the desert on a mission. After a season of heartbreak, Team Sweden was looking for redemption.

Playing against the weight of a nation and throngs of Canadian fans packing every section of Orleans Arena, Team Edin scored a resounding 7-3 win against Canada and Brad Gushue in the final of the World Men's Championship.

"This is a big win for us I'm not going to lie," Edin said after winning his third World Championship in the last eight years. "Especially losing that Olympic final. Not winning that final after playing the curling of our lives in the round robin and the semifinal was one of the best games I've seen when we didn't miss anything."

Which is precisely what Team Edin did Sunday night in Las Vegas. They didn't miss.

Curling at 95 percent for the game, the Swedish skip blanked the first two ends before patience paid off in the third, picking up their first deuce of the game.

One of the most lethal teams in the world when playing with an early lead, Edin kept the pressure on in the fourth by removing a pair of Team Canada stones and Sweden now lying two. Gushue's final shot of the end was well short and the Swedes stole two, virtually ending the game before even getting to the fifth-end break.

"Yeah, when we got the 4-0 lead we usually don't lose games," vice skip Oskar Eriksson said. "We're a good defensive team and that's a mistake we usually don't see from (Gushue). We got lucky with Niklas' last (shot) and were not sure if we could lie two. We got lucky and squeezed it out and fortunately for us he missed the draw."

Edin's rink went on to steal the fifth for a 5-0 lead at the break.

Reportedly, Gushue asked a World Curling Federation official if they could shake hands but was told no, leaving him angry the lop-sided affair would have to continue. Rules state in the playoffs the teams must play eight ends. The last three were simply an afterthought.

Determined to atone for their loss in the gold medal final of the Winter Olympics in PyeongChang, Edin and crew punctuated a dominating week after going 11-1 in the round robin and then by pounding the Canadians into submission. It was the perfect way to put a stamp on an outstanding week.

"After the loss in the Olympic final, this was our opportunity to get a piece of the cake back," Eriksson said. "To be able to play so good over the whole week and beat Canada in the final, that's an honor."

It was similar to the recent Olympic Games where Team Edin ran over the field in the round robin. But all of a sudden came the crushing defeat to Team Shuster and the Americans in the gold medal game, leaving the Swedes hurting.

However, Edin was resolute that this was a piece of hardware and a title he simply wasn't going to let go.

"Losing that one, it's been a struggle. For the first two weeks to be honest," he said. "I don't think I talked to too many people. I didn't do too much. We tried to stay away, not think too hard about that loss and not think about curling that's for sure.

"We went back to play Nationals and kind of felt it all coming back. Then we all started working together and when we took off for Vegas, we felt like we have to win this one. I especially felt like I had to win this one and was just never going to let this one go."

For all the teams it was a long, grinding week with the 12-game, round-robin format. But for the road-weary Swedes, it was a taxing mental and physical grind. They lost in the Olympics, took a brief break, came back to Canada for the Elite 10, headed back to Sweden for their Nationals and then immediately got back on a plane and flew to Las Vegas.

There's still more to go with a pair of Grand Slams in this week's Players Championship in Toronto followed by the Champions Cup in Calgary at the end of the month.

"Winning this is just huge for our mental approach, the way we look at the game and the way want to continue our run toward the next Olympics and hopefully many more after that," Edin said. "I'm just so proud of the guys. We have worked so hard for this. Our closest ones know how much this one means to us.

"To come out here and perform the whole week, is just unreal. I'm just getting tears in my eyes thinking about this journey and travel that we've gone thru."

Despite the emotional ups and downs of the grueling Olympics cycle and a rollercoaster season, Team Edin is now back on top and proud to be bringing home another World Championship to Sweden.

"It's an honor to, first of all, represent Sweden and to be able to be a World Champion, it's just an amazing feeling," Eriksson said.