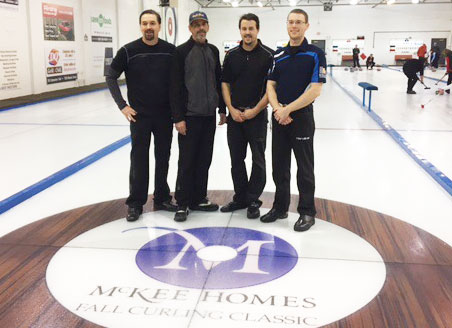 Kevin Park (Edmonton, AB) wins the McKee Homes Fall Curling Classic, defeating Aaron Sluchinski (Airdrie, AB) 4-3 in an extra end at the Airdrie Curling Club in Airdrie, Canada. Park with Shane Park at third, Robert Collins and Ben Savage on the front end take home the $3,200CDN first place cheque along with 15.450 world ranking points, while Sluchinski receives $2,000CDN and 12.139 world ranking points for their second place finish.

Sluchinski opened the scoring stealing 1 in the first end. After a blank end, Park scored 2 in the third end, then forced Sluchinski to a single in the fourth end who then added a steal in the fifth end. After blanking 2 ends, Park scored a single in the eighth end, then stole the extra end for the 4-3 win.

In the semifinals, Park defeated Scott Garnett (Calgary, AB) 6-3 and Sluchinski defeated Jeremy Harty (Calgary, AB) 10-7 in an extra end. Harty and Garnett earned $1,400CDN and 9.380 ranking points for their semifinal finishes. In the quarterfinals, Park defeated Josh Lambden (Calgary, AB) 7-4, Sluchinski defeated Rob Johnson (Calgary, AB) 9-4, while Garnett defeated Chad Dahlseide (Calgary, AB) 8-5 in an extra end and Harty defeated Scott Webb (Grande Prairie, AB) 8-7. Webb, Lambden, Dahlseide and Johnson earned $1,000CDN along with 6.621 ranking points for their quarterfinal finishes.

Park went 3-1 in the 16 team triple knockout qualifying round. In their opening game, Park defeated Mike Hutchings (Morinville, AB) 6-3, then won against Sluchinski 9-1, before losing the A Qualifier to Garnett 8-2. Park then responded with a 8-2 win over Harty in the B Qualifier to advance to the playoff round.