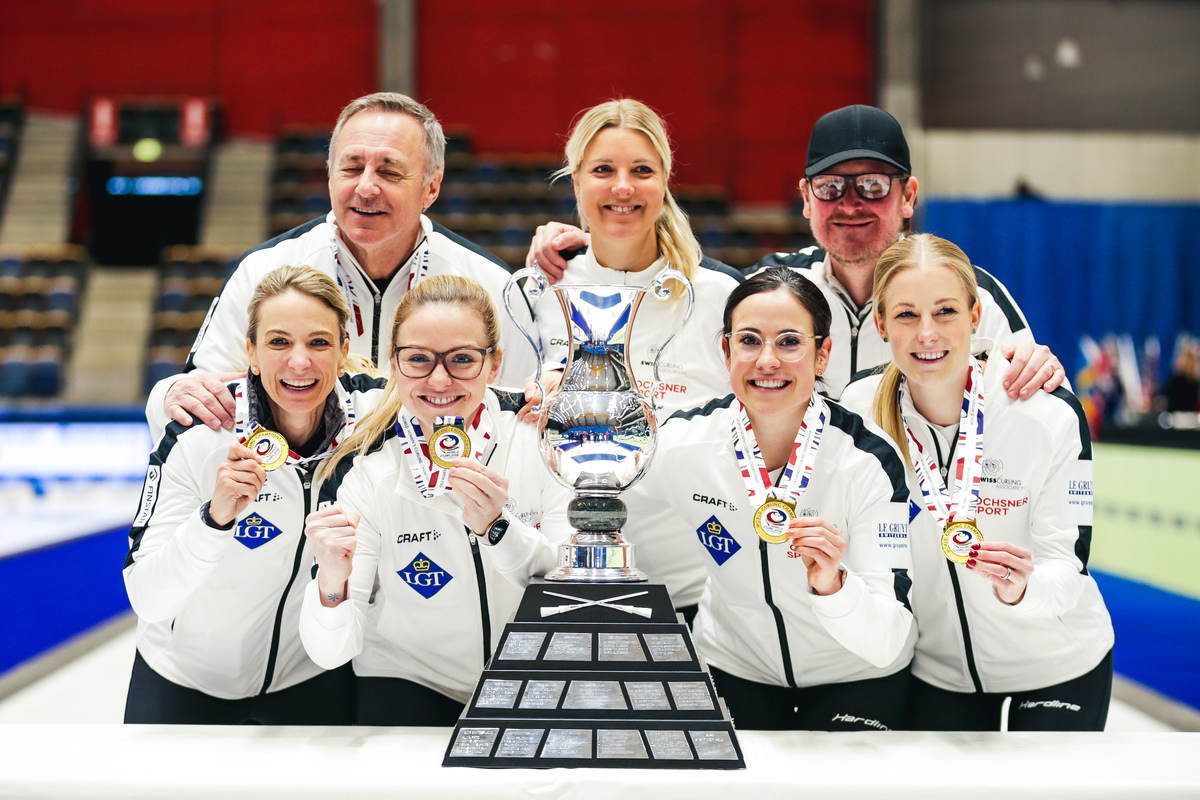 With a 6-3 victory over Team Norway in Sunday's gold medal game at the 2023 World Women's Curling Championship, Silvana Tirinzoni's Team Switzerland (WCF / Jeffrey Au) secured its fourth straight world title.

By: Dylan Chenier

For the fourth year in a row, Silvana Tirinzoni and Team Switzerland are world women's curling champions, after the rink defeated Marianne Roervik and Team Norway 6-3 in Sunday's gold medal game in Sandviken, Sweden.

After blanking in the first, Switzerland- with fourth rock thrower Alina Paetz, second Carole Howald, and lead Briar Schwaller-Huerlimann- would get on the board in the second end with a score of one. The Swiss would add one more to their tally in the fourth, as Norway's fourth rock thrower Kirstin Skaslien gave up a steal one on her last throw.

The rink from Oslo would finally put up their first points of the game in the fifth end, with Skaslien making a draw to score two. At the break, the teams were tied at two apiece.

Coming back in six, Switzerland would opt for the blank, before scoring one in the seventh end to lead 3-2. Skaslien would go on to make a runback to score one in the eighth end, tying the game at three apiece with just two ends remaining. Norway would force the Swiss to one in nine, retaking the hammer down by one heading into the final end of play.

Facing two Switzerland stones on her final throw in ten, Skaslien's rock would come up short, allowing Tirinzoni to steal two for a 6-3 victory. With the win, Switzerland secures its fourth consecutive world women's curling championship gold medal.

Despite ending the day with the win, skip Tirinzoni didn't feel as though her team was the best rink on the ice. "I don't know how to describe it, they [outplayed] us today. It didn't look very good for us at the end. To stand here as world champions again is unbelievable," the 43-year-old said after the gold medal game.

"We expected the game to go that way. We had to be patient and they played a smart game." Tirinzoni's team has won a staggering 35 consecutive games at the tournament, with the rink's most recent loss coming in the round-robin of the 2021 tournament in Calgary.

"The record of winning 35 games in a row is unbelievable. I don't know how we do it but we have a great team," added the skip.


Huge congratulations, Switzerland 🇨🇭, on winning the LGT World Women's Curling Championship 2023 undefeated and defending your title!

Unbelievable achievement! 👏👏👏#Curling #WWCC2023 pic.twitter.com/3uA6ZLQrUN

— World Curling (@worldcurling) March 26, 2023


Switzerland also becomes the second-ever country to win four consecutive gold medals at women's worlds, after Canada first achieved such a feat in 1987. No country has ever won more than four straight championships, giving Tirinzoni a new record to strive for when the tournament heads to Sidney, Nova Scotia in 2024.

For Switzerland's fourth rock thrower Alina Paetz, Sunday's victory marks the sixth world title of her career, as the 33-year-old won titles in 2012 and 2015 as part of a different rink.

Meanwhile, for Marianne Roervik and Team Norway, the squad will take home the silver medal, marking the country's best performance at worlds since 2004. Norway has won a total of 14 medals over the years at women's worlds, with their last gold coming back in 1991.

"They are the best team here and if we were to have had a chance to beat them, we had to play that way. When the opponents makes all the shots, it's difficult. We played very well, but it's not to be. We always hoped to reach the final and win. But to make the final is really cool," said Roervik.

On paper, the two teams were rather evenly matched, with Norway curling 82 per cent compared to Switzerland's 80 per cent. The strongest performance of the game came from Norwegian lead Martine Roenning, who curled 89 per cent on 20 shots.

Rounding out the podium in Sandviken were Kerri Einarson and Team Canada who secured a bronze medal after they defeated hosts Anna Hasselborg and Team Sweden in the third-place game in Sunday morning. The result marks Einarson's second consecutive bronze medal in three straight appearances at the world championship. Canada remains the tournament's all-time winningest country with 36 medals in total.