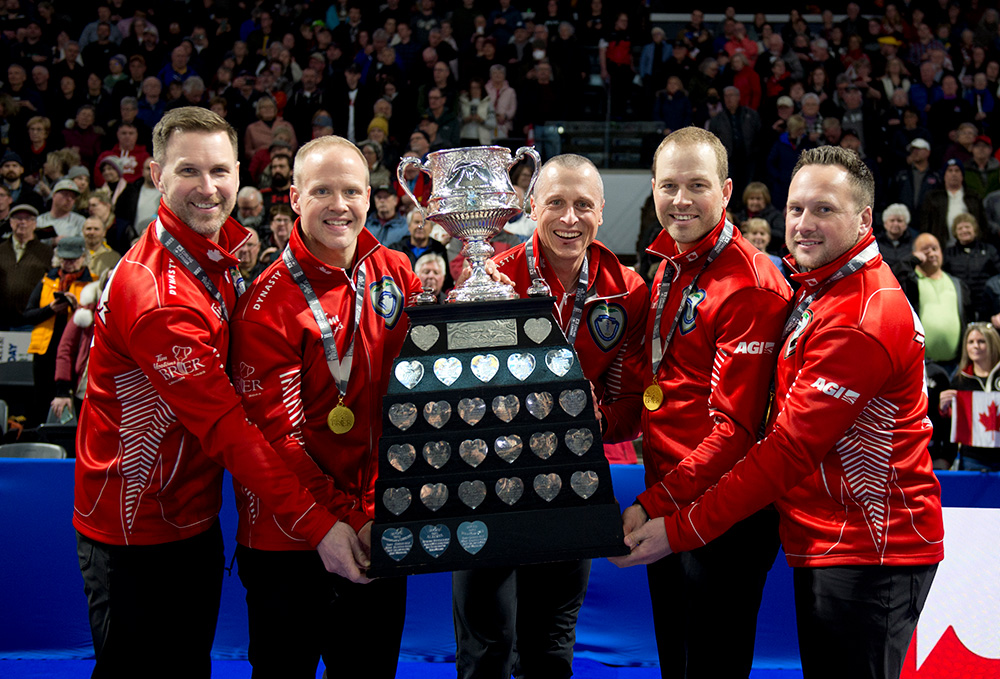 With a thrilling 7-5 victory over Matt Dunstone and Team Manitoba in Sunday's championship final, Brad Gushue and Team Canada (Photo: Michael Burns) are your 2023 Tim Horton's Brier champions.

By: Dylan Chenier

Brad Gushue and Team Canada have successfully defended their Tim Horton's Brier title, with the St. Johns-based foursome- with third Mark Nichols, second E.J. Harnden, and lead Geoff Walker- defeating Matt Dunstone in Sunday night's gold medal game in London. The victory marks Gushue's fifth career championship, making him the winningest skip in Brier history.

Sunday's championship final got underway with Gushue taking a blank in the first end, after which Team Canada was forced to settle for one in the second with Gushue making a draw to score a single point. The team would then go on to force Dunstone to one in end number three.

After forcing Canada to a single in the fifth, Dunstone was left with a narrow draw for one on his last shot, with the skip just barely avoiding the guard to score a single. At the break, the game was tied 2-2, with Canada reclaiming the hammer heading into the break.

Coming back in six, Gushue would have a chance to draw for two, but the skip would end up heavy on his final throw, with Canada settling for another single point. Team Canada would force Dunstone to one in seven before blowing things wide open in the eighth with a score of three. With two ends to go, Gushue held an impressive three-point lead.

Dunstone would answer back in the ninth with a soft hit for two, putting Manitoba within one heading into the final end. Gushue would have hammer coming home in ten.

Facing two Manitoba stones on his last shot of the game, Gushue would make a draw to the four-foot to score one, with Team Canada taking the win 7-5. "What a finish, what a game. I was more nervous there in the last couple of ends... losing a little bit of the feel. It's a little unnerving when you're playing in a championship game," Gushue said of his performance in the final ends of play.

With the victory, Brad Gushue becomes the winningest skip in Brier history, with five championships to his name. He wins his latest gold medal six years to the day after claiming his first national title at the 2017 event in St. Johns. "It's easier when you win a couple [of titles]... You don't need that for any legacy... any personal reasons, or anything that brings out the nerves or any selfish thoughts... It was just about our team winning and that made it easier, although, I did get nervous at the end, probably more nervous than I usually do," added the skip.



At the conclusion of Sunday's final, Gushue was also awarded the Hec Gervais Most Valuable Playoff Award for his performance throughout the entire playoffs, which included three straight wins en-route to the title.

Meanwhile, with today's loss, Matt Dustone and Team Manitoba officially take home the silver medal at this year's Brier, marking the 27-year-old's best finish at men's nationals after two bronze medals in 2020 and 2021. "I don't really know what to say. I'm just really, really proud of the team [and] what we did. I mean, we were down and out after the eighth, then we made him throw a tough shot to win the Brier," Dunstone said after Sunday's final.

Sunday's final marked the second consecutive playoff game between the two rinks, with Gushue taking the victory in both contests after Team Canada won Saturday night's 1v2 page-playoff game. Both matches were close, with each game being decided on the final throw in the tenth end.

"They play so strong and they make those runbacks and you never feel safe. Matt was playing incredible all weekend and you knew if you left them with a double he was going to make it... They're an incredible team, he's going to win this very soon," Gushue said of his opponents.

Further history was made on Sunday between the two rinks with Gushue's second E.J. Harnden and Dunstone's lead Ryan Harnden becoming the first brothers to appear against eachother in a Brier final, with E.J. emerging as the victor. "I wouldn't have wanted it any other way, if Ryan and I were going to be on different teams. I loved this scenario, as hard as it was, for one of us to win and know that if it wasn't me, it was going to be him, which was amazing," E.J. told reporters after Sunday's game.

For Harnden, the win was also special as it marked his first title in ten years after he won the 2013 Brier as a member of Brad Jacobs' Northern Ontario rink. "I'm so proud of myself and I'm so proud of the team. This is why I wanted to keep playing. I said 'guys, I want at least one more Brier,' and I got it in my first year," remarked the Team Canada second.

Now, Team Gushue gets ready to represent Canada once more at the World Men's Curling Championship, which will be played this April in Ottawa, Ontario, giving the foursome home-ice advantage. "We got to play a home worlds in Edmonton [in 2017], and that was unreal," said Team Gushue third Mark Nichols. "Hopefully, there's family and friends looking at flights to go to Ottawa to cheer us on at worlds."

Rounding out the podium at the 2023 Tim Horton's Brier in London was Brendan Bottcher's Team Wild Card 1, who took home the bronze medal after falling to Dunstone in Sunday afternoon's semifinal.