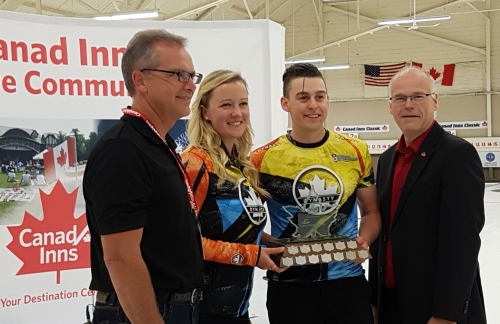 Chelsea Carey/Colin Hodgson (Calgary, AB) wins the Canad Inns Mixed Doubles Championship, defeating Jocelyn Peterman/Brett Gallant (Red Deer, AB) 7-3 at the Granite Curling Club in Winnipeg, Manitoba, Canada. Carey/Hodgson take home the $10,000CDN first place cheque, while Peterman/Gallant receives $7,500CDN for their second place finish.

Carey/Hodgson opened the scoring stealing 1 in the first end, then forced Peterman/Gallant to a single in the second end. Carey/Hodgson scored a single in the third end, added a steal of 2 in the fourth end, and another steal in the fifth end. Peterman/Gallant scored 2 in the sixth end to trail 5-3, after which Carey/Hodgson responded in the seventh scoring 2 for the 7-3 win.

In the semifinals, Carey/Hodgson defeated Becca Hamilton/Matt Hamilton (Madson, USA) 7-2 and Peterman/Gallant defeated Jennifer Jones/Brent Laing (Winnipeg, MB) 7-3. The Hamiltons and Jones/Laing earned $5,000CDN for their semifinal finishes. In the quarterfinals, Carey/Hodgson defeated Rachel Homan/John Morris (Ottawa, ON) 10-5, Peterman/Gallant defeated Laura Crocker/Geoff Walker (Edmonton, AB) 8-6, while The Hamiltons defeated Breanne Knapp/Mark Nichols (Regina, SK) 7-3 and Jones/Laing defeated Monica Walker/Jason Smith (Blaine, USA) 7-5. Walker/Smith, Crocker/Walker, Homan/Morris and Knapp/Nichols earned $2,800CDN for their quarterfinal finishes.

Carey/Hodgson went 4-1 in the 32 triple knockout team qualifying round. In their opening game, Carey/Hodgson lost 7-6 to Sherry Just/Ryan Deis (Saskatoon, SK), then responded with a 9-4 win over Nancy Martin/Catlin Schneider (Saskatoon, SK). Carey/Hodgson won against Marliese Kasner/Dustin Kalthoff (Saskatoon, SK) 8-5, then won against Nicole Westlund Stewart/Tyler Stewart (Kitchener-Waterloo, ON) 7-5, finally winning their B-Qualifier game against Vicky Persinger/Jared Zezel (Blaine, USA) 8-6 to advance to the playoffs.