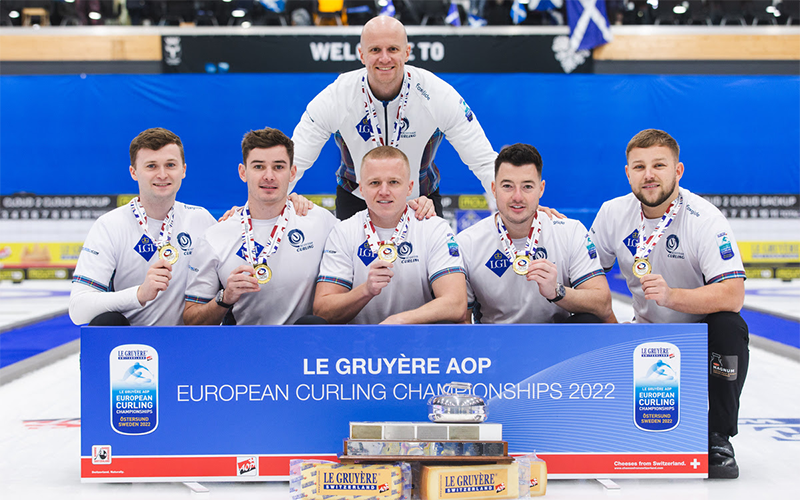 This is now a third European Title for this Scottish team (photo: Celine Stucki, WCF).

Oestersund, Sweden – Scotland completed the defence of their European title with a 5-4 win over Switzerland on Saturday at the Le Gruyere AOP European Curling Championships at Oestersund Arena in Oestersund, Sweden.

After a blank first end, Switzerland's fourth player Benoit Schwarz played a hit on a Scottish stone in the second end to open the scoring with one point.

The third end was also blanked and then, in the fourth, Scotland's Bruce Mouat had a hit, looking for a score of three. But after an umpire's measure, he only scored two points, and the Scots took a 2-1 lead.

In the fifth end, Switzerland's Schwarz played a well-judged draw into a busy house to score one point and tie the game at 2-2.

The Scots took the lead again in the sixth when Mouat played a draw, nudging inside a Swiss stone sitting in shot position. This gave the Scots a 3-2 lead.

By the eighth end, the Scots still led by 3-2 and Schwarz played a hit to score one point and tied the game again, this time at 3-3.

The Swiss stole a single point in the ninth to take the lead for the first time in the game since the second end, at 4-3, and, with his first shot of the tenth end, Scotland's skip Mouat played a raise double take-out to get rid of two Swiss stones sitting in the house.

Then, with his last stone, Mouat played another complicated raise to score two points and take the win, by 5-4.

After his victory, Scotland skip Bruce Mouat said, "I'm elated and totally buzzing. Having to make two shots in the tenth end like that is pretty special. This one means a lot, having to finish off a game like that... amazing!"

The Scots came dangerously close to running out of time in the tenth end, and about that, Mouat said, "I had a calm panic, if there is such a thing. You play a lot of games in those situations, and you get used to it. Luckily, it worked out for us this time."

More generally, he added, "It was a roller coaster. It probably wasn't our strongest Europeans performance but, to win the event after playing a couple of slack games feels amazing."