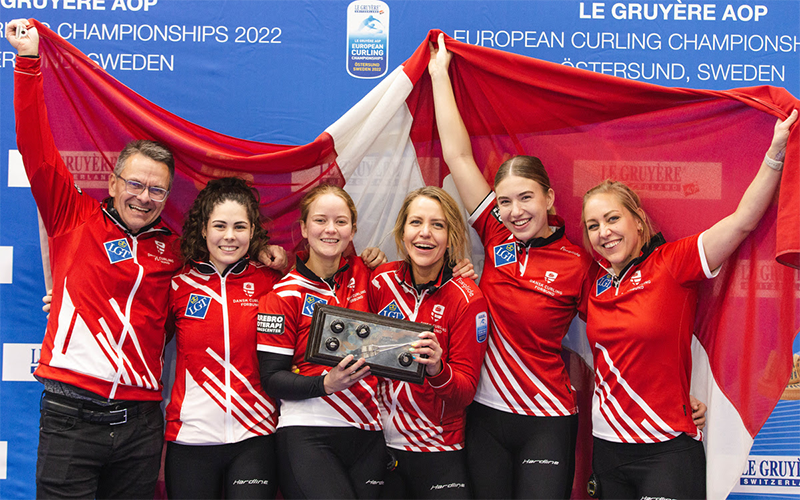 Oestersund, Sweden -- Denmark (photo: Celine Stucki, WCF) became the women's 2022 Le Gruyere AOP European Curling Champions after an extra-end win over Switzerland on Saturday morning in the Oestersund Arena in Oestersund, Sweden.

Denmark opened the scoring with a single point in the first end, then, in the second, Switzerland's fourth player Alina Paetz had an open hit and stay to score one point and level the score at 1-1.

After two blank ends, the score was still 1-1 when, in the fifth end Switzerland's Paetz played a double take-out with her final shot, forcing Denmark's Dupont to bring her last draw into position around other stones already sitting in the house, to score one point and take a 2-1 lead.

In the sixth end, Switzerland's Paetz attempted to tap out for three points, but her own stone rolled out of the house, meaning Switzerland only took two points from the end, for a 3-2 lead.

Denmark blanked the seventh, then levelled the game at 3-3 in the eighth end, when Dupont elected to throw away her last stone.

In the ninth, Switzerland's Paetz had to draw inside four Danish stones already sitting in the house, to score one point and take a 4-3 lead.

The tables were turned in the tenth, and, facing five Swiss counters, Denmark skip Dupont got her draw right and nudged into position to score one point from the end, level the game at 4-4, and force an extra end.

In the extra end, Paetz was left with a double take-out attempt for the win, but her angle was slightly wrong and jammed the target stone, leaving Denmark with a score of four for an 8-4 win.

This was a second-ever European title for Danish women, with the previous win coming in 1994, and triggered celebrations twenty years after Madeleine Dupont and her sister Denise, playing second, last played in a European final.

After the game, an excited Madeleine Dupont said, "That was unexpected! I did not expect her to miss [Alina Paetz's last shot]. She's too good to miss that."

Asked how it felt to be a European champion, Dupont said, "I don't know how it feel. I've just tried it [being champion] for a minute. It's going to be a really good feeling for the rest of the year. I can't remember the last time I got a gold medal in anything in curling. It has been a good week, hasn't it? I don't know what to say, I'm just very excited."