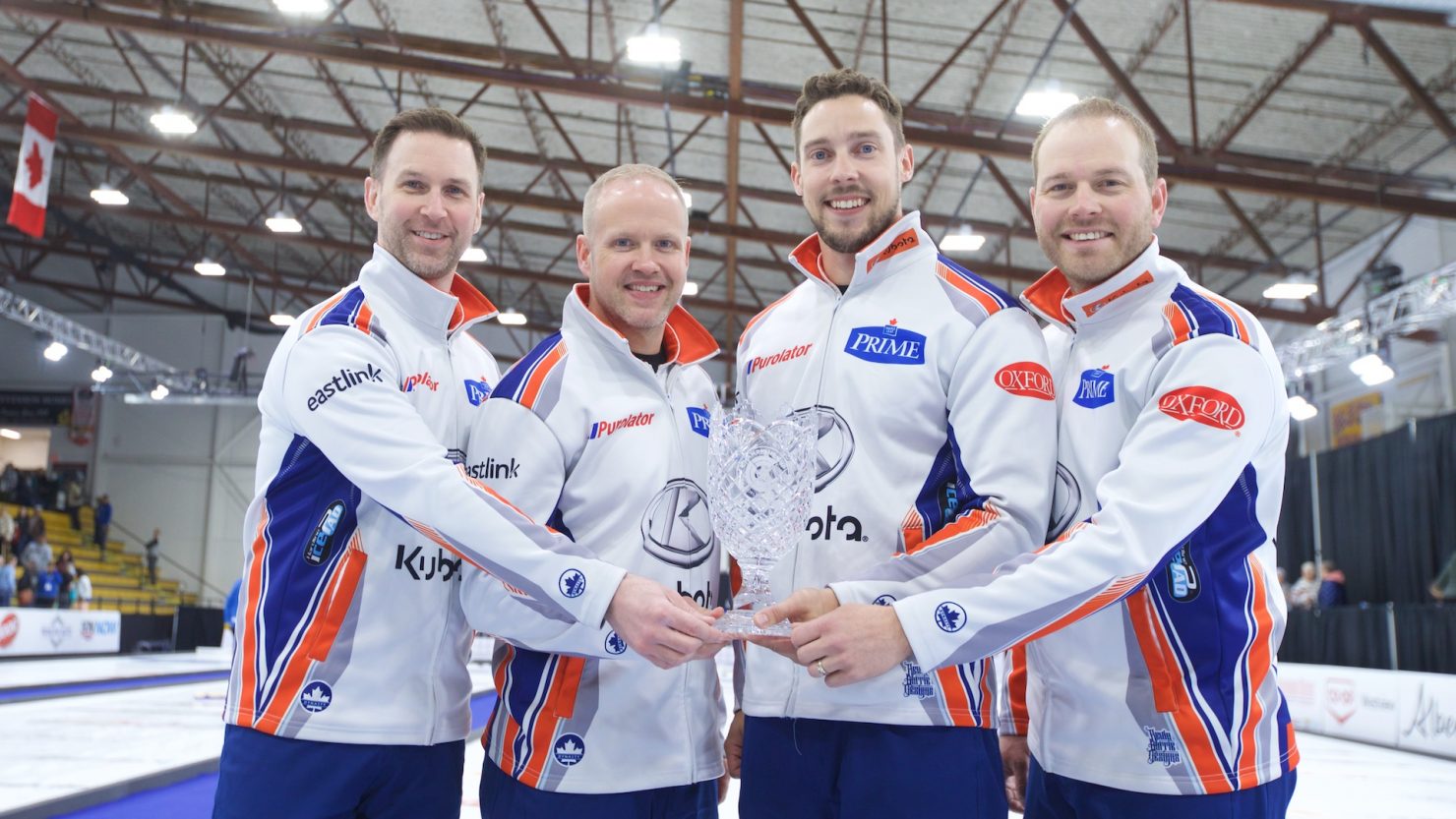 Brad Gushue (Picture: Anil Mungal/ GSOC) won the 2022 Champions Cup on Sunday afternoon, with an 8-5 win over Alberta's Team Koe in Olds, Alberta.

By: Dylan Chenier

Newfoundland and Labrador's Brad Gushue won the 2022 KIOTI Tractor Champions Cup with an 8-5 victory over Kevin Koe, adding another championship title to a truly remarkable season for the rink.

Sunday's final got underway with Team Koe scoring two in the first end after starting with the hammer. Gushue's rink then started to take control of the game in the second with a deuce of their own, after which the Newfoundland squad stole one in three, and two in four. At the break, Gushue held an impressive 6-2 lead.

Coming back in five, Gushue would go on to steal two more points from Koe, putting the 2022 Olympic bronze medalists ahead by six.

Team Koe would finally get back on the board in the sixth end with a score of three, cutting Gushue's lead to three points with two ends to go.

Koe would end up conceding after his final shot in the seventh end, handing Gushue an 8-5 win and the championship title.

What an amazing run! #champions pic.twitter.com/zhhESNAWIx

— Team Gushue (@TeamGushue) May 8, 2022


With today's victory, Brad Gushue officially picks up his second Champions Cup title; he first won the event in 2018 in Calgary. This latest championship marks the end of a successful 2021-22 season for the Gushue rink, which saw the team win bronze at the Beijing Olympics, a fourth Brier title in Lethbridge, and a silver medal at the World Championships in Las Vegas.

The Gushue foursome will undergo some changes ahead of next season, with longtime second Brett Gallant departing the team to join a new squad in Alberta next year.

Similarly, Team Koe saw their tenure as a rink come to an end today, with the squad falling to Gushue in a championship final for the second time this season, the two rinks met in the 2022 Brier final in March.

Koe's rink will disband at the end of the season, with John Morris set to retire, while Koe, BJ Neufeld, and Ben Hebart all join new squads next season.

The 2022 Champions Cup officially brings the 2021-22 curling season to an end, with the women's final set for 1:30 PM MT, which sees Manitoba's Kerri Einarson take on Team Gim from Korea.