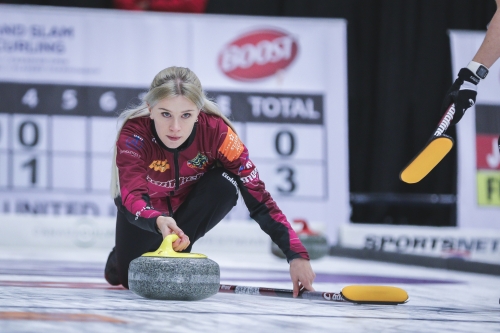 Trailing from the opening game, Isabella Wrana found a way to put it all on the line on the last shot, a draw-off win for eight skins on club rival Anna Hasselborg.

Trailing 7-4 entering the Sunday Skins games, Wrana and her team of Jennie Wahlin, Almida de Val and Fanny Sjoberg split the opening match at three skins a-piece. Wrana and Hasselborg also split the first four points of the second 'Skins game, leaving the 2018 Olympic Gold medalists with a 12-9 lead with four ends to play.

With each of the final four ends worth two points, it required Wrana to win three of four to take the series.

Wrana carried the fifth, sixth, seventh and eighth ends into an extra time draw-off for the win. Wrana, 2017 World Junior Champions and 2019 Winter Universiade Gold medallists put their stone closest to the button for the series win.

"It was a very close race!" An excited Wrana said following the win.

"We are super happy about our performance this weekend."

"We managed to win the competition because we had a good go in the skins games with many points to play for."

Played in Sundbyberg, Sweden, the country under a strict lockdown where only professional athletes can continue to train and compete.
Both Wrana and Hasselborg train out of the club in Sundbyberg, making it much easier to organize a competition during this time.

"We are fortunate to be two teams from the same club, enabling us to do this kind of event within the recommendations of our national covid-19 safety plan," said Agnes Knochenhauer, second for skip Hasselborg, her teammates Sara McManus at third and Sofia Mabergs at lead.



The matchup was a six-game series, with four regular games played last Friday and Saturday, and then wrapping up with two Skins games on Sunday.

"We've really missed competing, and it was great to feel some heat again," Knochenhauer continued.

"We initiated the format of the event to make it as competition like as possible with a point system where the games got more valuable later in the week."

"It was a fun format with both skins and regular games. We are so thankful to everyone that made this event possible," added Wrana, coming into the weekend on a 12-game losing stream to Hasselborg.

"It's always fun and playing Team Hasselborg."

"You know beforehand that every single game is going to be tough but also exciting and fun."

"It's great to have the opportunity to play against them here at home. We're getting good games and can gain some experience at the same time."

Each game was assigned a point value, with 18 of the 29 points available into Sunday's two Skins games.

"This really worked for us to put the pressure and focus on," said Knochenhauer.

Hasselborg won the first three matches, going 6-2 and 8-4 on Friday, then winning 7-6 in an extra end on Saturday morning to earn the first seven points of the weekend (2-2-3).

Wrana salved four points in an 8-2 win in Saturday afternoon's final regular match. Wrana got their offence going, scoring twos in the second and fourth ends, then four in the sixth end to blow open the game.

"In true 2020 spirit, we had coach Wayne Middaugh with us for all games through video," Knockenhaur continued.

"He watched the games live and contributed in the timeouts, 4th end breaks and team meetings."

"Very cool to be able to continue our work on a distance to be ready as soon as we get to compete on the world scene again."

"Congratulations to Team Wrana on claiming the most points. We look forward to getting another shot soon."