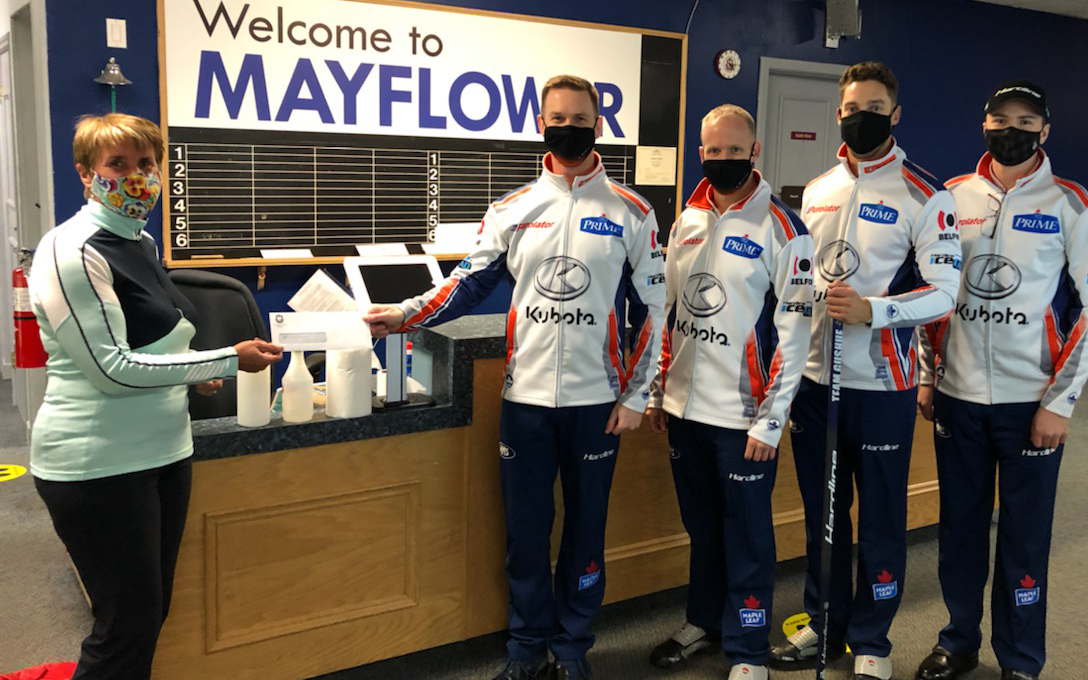 Brad Gushue of St. John's went undefeated to win the Stanhope Simpson Dave Jones Mayflower Classic in Nova Scotia.

Gushue finally got back on the ice for the first time since winning the Tim Hortons' Brier in Kingston, taking down Stuart Thompson of Halifax 8-4 to go undefeated en-route to the title.

Gushue, with regulars Mark Nichols at third and Brett Gallant at second, were joined by 2020 Canadian junior men's finalist Joel Krats at lead as Geoff Walker was unable to travel for the competition.

Related:
> Canadian junior men's finalist Krats, 18, gets shot to fill in on Team Gushue

The first end didn't start quite the way Gushue was hoping.

Facing two in the four-foot with his last in the first end, Gushue attempted the hit and roll to score, but didn't roll far enough giving Thompson a steal to start.

In the second end, Gushue was left with a draw to score two, then stole two more in the third end when Thompson was heavy on his last shot draw.

Thompson hit against two Gushue counters in the fourth end to score their single point, then stole one in the fifth end, when Gushue slid deep just past the button on his last shot draw.

Thompson tied the game at four-a-piece with another steal in the sixth end when Gushue was heavy attempting to dig out shot stone, buried under a corner guard.

In the seventh end, Gushue took advantage of Thompson's double-centre guard, piling a number of stones under the middle. Controlling much of the end, Gushue finished it off with the double takeout to score four and clinch the 8-4 victory.

Final vs. Thompson


Gushue won 6-1 over Andrew Gibson (Halifax) in the semifinals, while Thompson knocked off Jamie Murphy (Halifax) 7-5.

Gushue advanced to the playoff round through the A-event bracket.

Gushue opened with a 9-3 win over Glen MacLeod, then won 7-3 over Matthew Manuel and 7-3 again over Thompson to reach the A-qualifier, where Gushue dropped Murphy 6-5.

The event was the first for Gushue on the season, with plans to play in the Atlantic bubble for the time being.

As for Walker, his recent appearance in the Men of Curling Calendar for 2020 has raised $16,255 for the Sandra Schmirler Foundation.