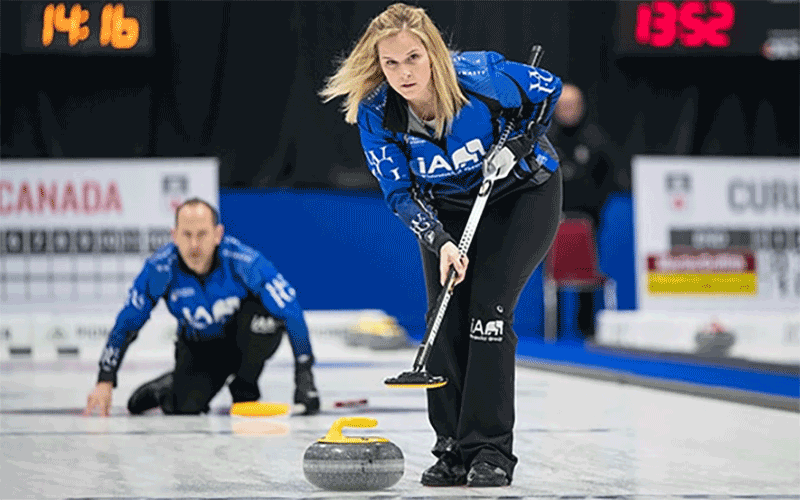 Jennifer Jones and Brent Laing cap off a 7-1 win over Warriner/Richard to go undefeated in winning their opening event of the 2020/21 curling season.

It was a strong performance from the pair, as they dominated the final game. Jones made a key shot with her last in the first end, facing three, and from there they controlled the game.

"It felts great. We headed into weekend just wanting to have some fun and see how it felt to be back on the ice," said Jones following the win.

"We felt like we played well from the first game to the final. Really happy how we performed on the weekend."


JENNIFER JONES AND BRENT LAING FOR THE WIN.

A championship title in a pandemic. And they were outstanding throughout.

Here's my postgame chat with @jjonescurl and @blaing99 #cbccurl @CBCOlympics pic.twitter.com/G5y4Z8zEXY

- Devin Heroux (@Devin_Heroux) September 27, 2020


Maddy Warriner/Charlie Richard of Woodstock upset Lisa Weagle/John Epping 8-7 in the semifinal to set up the final game.

"It feels great; obviously the longest both of us have ever been off the ice, so we're still trying to find our feel," said Warriner following their win over the heavily favour Weagle/Epping side.

"But, it might have helped us stay relaxed and focus on the process."

Jones/Laing won 9-3 over Adrienne Belliveau and Jordan McNamara of Ottawa in the semifinals to advance to the final.

Jones/Laing were in mid-season form throughout the weekend, winning 9-3 over Jodi and John McCutcheon in their round-robin opener, then knocking off Belliveau/McNamara 7-5 and Susan Froud/Joey Rettinger 10-4 in Saturday's evening draw.

"We approach it the same as most curling, you just need to go out and make a whole bunch of shots," added Laing.

"We enjoy spending time together and we see the game the same way and always have. That's a bonus for us. It's fun to be out there with Jen. We both compete a lot but it's great to be out there together."

Warriner/Richard won 7-2 over Jestyn Murphy/Ryan O'Neill in their opener on Saturday morning, following up with a 9-8 extra-end win over Mackenzie Kiemele/Oliver Campbell (Niagara Falls) and then 9-4 over Jessica Guibault and Ben Jones (St. Catharines).

"Playing Lisa and John was such a blast, we're thrilled with the opportunity to play the best of the best," said Richard.

"Both teams had some early season shakes, but Maddy is a cool customer. Made it look easy for the first time in sixe months."

Both Warriner and Richard focus on the four-player game, with Warriner playing out of Dundas with Alyssa Blad, Madison Fisher and Shannon Warriner while Richard is part of the Alex Champ foursome, joined by Terry Arnold and Scott Clinton out of Toronto.

"We mesh really well," added Richard.

"Great at keeping each other positive! Although it's not our first discipline, maybe we should stick with it?"

Related:
> Jennifer Jones talks about returning to play:


Our friends at Curling Geek streamed the final with Doug Suerich hosting and a guest appearance from CBC's Devin Heroux.


Live stream from the Cameron's Brewing Mixed Doubles final, starring @jjonescurl / @blaing99 vs Warriner / Richard. Starts at 1pm ET. https://t.co/lLrXwy9PCK#MaskedCommentator pic.twitter.com/4dkiJ73pC3

- CurlingGeek (@curlinggeek) September 27, 2020