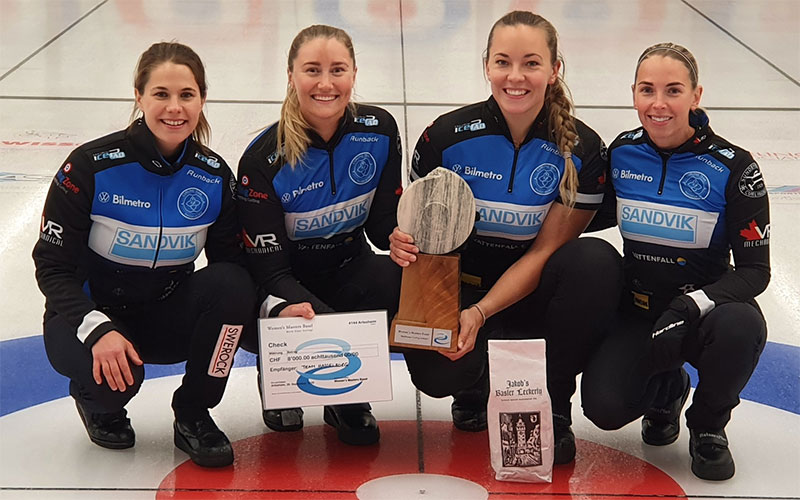 Sweden's Olympic champions are back on the ice with an 8-2 win over Switzerland's Raphaela Keiser.

Anna Hasselborg, with Sara McManus at third, Agnes Knochenhauer at second and Sofia Mabergs at lead opened the first end by scoring two on a delicate tap. Out of the gate quickly, the team then stole 4 more points over the next three ends to lead 6-0 at the halfway point.

"It feels great to start the season with a tournament win," said Knochenhauer following the win.

"Just competing after such a long break has been truly amazing. We really enjoyed every second together out there on the ice."

Hasselborg, returning to the ice following the birth of her first child in June, adding a new element to balancing the demands around the team, though this group is very much a strong family unit.

"It's been fun bringing Anna's little family on tour and it's been working out perfectly well."

"Coming out with a win really is a proof that we have done stuff the right way during this off season and that gives us strength too."

Hasselborg went 7-0 through the 13-team event, posting an average scoring rate of nearly 11.5 points per game while allowing 4 points against.




For the Keiser team, the loss should not spoil what was a strong result, for the recently graduated juniors.

Keiser won 9-4 over Elena Stern (Switzerland) in the semifinals, setting up the meeting with Hasselborg's Swedish side.

Hasselborg won 6-4 over Switzerland's Silvana Tirinzoni in the semifinals earlier this morning, after winning their quarterfinals match over Celine Schwizgelen, 7-1. Keiser won 6-5 over Corrie Huerlimann in their quarterfinals match, needing an extra end to advance.

Stern defeated Nora Wuest (Switzerland) 5-4, and Tirinzoni eliminated Irene Schori (Switzerland) 8-7, both in extra ends in the other quarterfinals matches.

To add to their experience, the team, based out of St. Moritz, added Binia Feltscher to the coaching bench.




Keiser, registered as the skip but throwing second stones with Selina Witschonke throwing fourth, Elena Mathis at third and Marina Loertscher at lead went 2-1 in the round-robin, with wins over Corrie Huerlimann (Switzerland) 5-2 and Isabella Wrana (Sweden) 6-4, then losing to Silvana Tirinzoni 7-6.

"Happy for the teams that can come here to play a tournament," said Thomas Siegrist, as part of the organizing committee.

"And we are happy to be able to provide teams allowed to travel to Basel a tournament under excellent conditions."

Basel, originally scheduled as a 24-team triple knockout format, saw recent changes to the travel restrictions created challenges for many teams to travel.

The host committee put together a draw to allow the remaining teams able to come a chance to get back on the ice.

"We want to send a big shout out to the Women's Masters Basel [committee]", wrote Hasselborg following the win.

"For hosting a great tournament during these challenging circumstances."

Missed the games? Below are the links to re-watch the exciting action from Basel!

FINAL: Hasselborg vs Keiser



SEMIFINAL: Hasselborg vs Tirinzoni


QUARTERFINALS: Tirinzoni vs Schori


ROUND-ROBIN: Stern vs Schori


ROUND-ROBIN: Wrana vs Huerlimann


ROUND-ROBIN: Tirinzoni vs Wrana


ROUND-ROBIN: Hasselborg vs Wuest